Games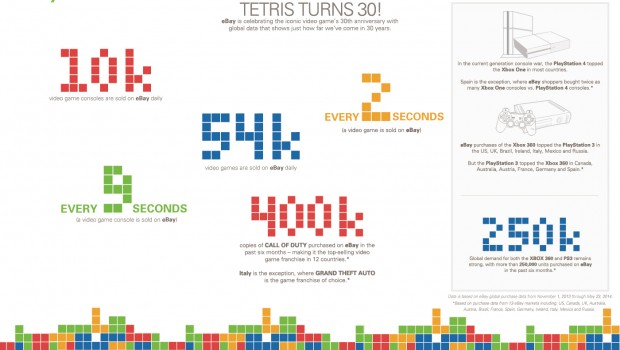 Published on June 6th, 2014 | by admin
Tetris Turns 30 – eBay Releases Global Video Game Data
Today marks the 30th anniversary of Tetris – a game that has sold more than 170 million copies and topped the charts as one of the greatest video games of all time. To celebrate the milestone, eBay takes a look at today's gaming industry – influenced by the falling shapes that hooked a generation.
Three decades later, Tetris still stacks up – with more than 4,000 listings for Tetris on eBay.com. While Tetris still sells, today's gamers are fairly united across the globe when it comes to their favourite franchise: in the past six months, 400,000 copies of CALL OF DUTY games have been purchased on eBay – making it the top-selling video game franchise in 12 out of the 13 countries for which data is available. Italy is the exception, where GRAND THEFT AUTO is the game franchise of choice.*
Any gamer knows that popular consoles and games often sell out quickly in stores, so eBay is often the first place they look to find the most exclusive items. In fact, every day, more than 10,000 video game consoles and 54,000 video games are sold globally on eBay. To break it down even further, a video game is sold every two seconds and a video game console is sold every nine seconds on eBay.  
For additional eBay gaming data, check out the attached infographic that shows just how popular gaming has become in the past 30 years. There is also a dedicated collection of must-have gaming items, which can be found here –http://www.ebay.com.au/cln/homecurator/Happy-30th-Birthday-Tetris/100558102014.