Hardware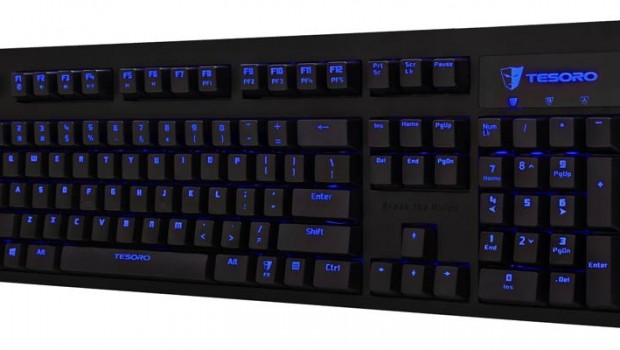 Published on November 30th, 2014 | by Admin
Tesoro Excalibur Gaming Keyboard Review
Summary: The Tesoro Excalibur Gaming Keyboard is a great performer that comes with a great price
The Tesoro Excalibur has arrived for gamers which is a compact full sized keyboard that delivers a bang for gaming due to the high quality mechanical switches with N-Key Rollerover and a 1000Hz polling rate that ensures that you never miss a key when the action commences. However the first thing that you notice about the Tesoro Excalibur Gaming Keyboard is the compact design that boasts a traditional Windows layout with some wicked illumination.
The keys also make that "mechanical" sound when clicked which is ideal for gaming because you really know that you have pushed the key. Furthermore, the keyboards comes with three different switches that include brown, red and blue. The backlighting of the keyboard works quite well which can be tweaked depending on user preference. Each key also feels quite sturdy with hopefully will last a long time and you can push multiple keys which do get registered by the Excalibur.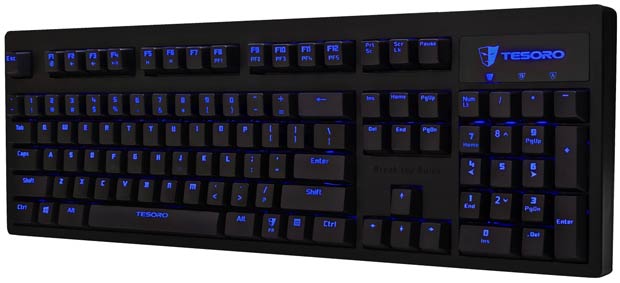 FEATURES
No missed keys with N-Key Rollover (NKRO)
Gaming grade mechanical switches with 60 million key actuations
Switches availability: Blue, Brown, Red
512kB on-board memory for macros
Instant Game mode function key
4 level LED backlighting with dimming capability
5 level LED key lighting with single key illumination mode
Rubberized Anti-slip bottom for intense gaming
Compatible with Windows XP / Vista / 7 / 8.1
The design of the keyboard is a little basic when compared to other gaming keyboards but overall, the design works well but it is missing that wow factor a little. In terms of installation, Windows 7 automatically recognised the keyboard once it was connected to the PC via USB. However to get the most out of the keyboard, you do need to download the software and drivers for it. For gamers, the keyboard has anti-slip rubberized feet which ensures that the keyboard doesn't slip around when you're playing PC games.

Another highlight of the Tesoro Excalibur Gaming Keyboard is the use of LEDs which definitely helps you identify the keys in a dimly lit room and this setting can be easily tweaked. As it's a Windows based keyboard, it does have the traditional F1 to F6 multimedia keys with F8 to F12 used for gaming profiles.
The software used by Tesoro is a little basic and not as professional as some other companies but it definitely allows you to do the job such as setting up macros, key assignment or choosing particular keys to launch software. The keyboard also boasts a standard PC mode and up to 5 user profiles. The keyboard comes with 512kb of internal memory to assist with setting up macros without the use of software. The internal memory can basically hold up to five profiles, 300 macros keys and a whopping 2000 macro keys for each profile.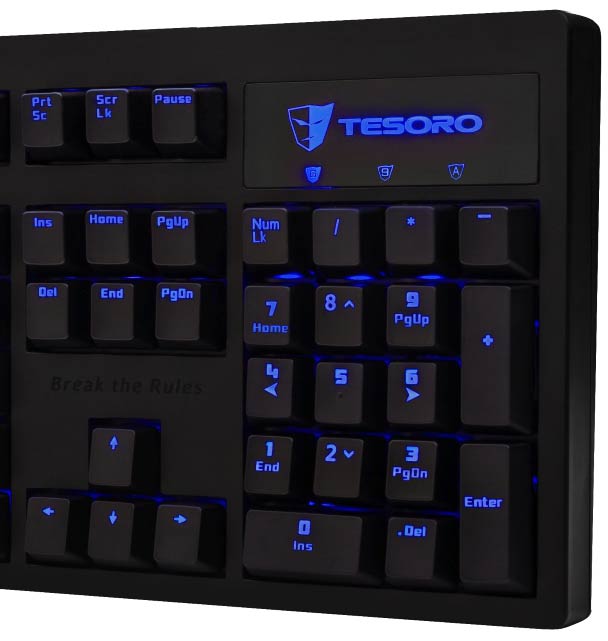 Having used this keyboard for almost two weeks now, I had no issues with my gaming and I'm a huge fan of the mechanical switches used in its creation. The keyboard is quite accurate but I did feel that at times you do need to extend a little bit more force than a traditional keyboard. Nonetheless, I tested the keyboard with Far Cry 4, Dragon Age Inquisition, StarCraft II, Diablo III and Battlefield 4 with the Tesoro Excalibur performing exceptionally well, especially in the realm of macros.
FINAL THOUGHTS?
The Tesoro Excalibur Gaming Keyboard is a well designed keyboard that doesn't try to be too clever but gives the gamer a very fast and down to Earth keyboard. It may not have a detachable cable or USB pass through ports but when it comes to accuracy and profiles, it succeeds exceptionally well in this aspect.
It also looks quite cool with the LED's, especially with the Tesoro logo in the top right hand corner which does give it that gamer look, even though it also looks like a normal keyboard. Nonetheless if you're looking for a very affordable and decent gaming keyboard than check out the Tesoro Excalibur.
ADDITIONAL OVERVIEW
OVERVIEW
Full N-Key Rollover/ USB 6 N-Key Rollover
Named after the legendary sword of King Arthur, the Excalibur offers gamers the power of switchable N-Key Rollover(NKRO) for full- anti-ghosting functionality or USB 6 N-Key Rollover. Depending on the requirements, , users can press any and all keys at the same time without worrying that some key may not be registered. A fast 1000Hz polling rate helps makes sure no keystroke is missed, and with instant game mode switching, users don't have to worry about accidental key presses taking them away from the action.
512kB of Macros
With 512kB of onboard memory, the Excalibur allows gamers to instantly record sophisticated macros without need of external software. A user-friendly GUI allows for advanced macro settings. Personalized settings are stored in the built-in-memory allowing the keyboard to be fully synchronized for better performance and even during tournaments, where it is prohibited to install external software. Additionally, every single key is fully programmable, allowing for 5 sets of profiles, 300 macro keys and 2000 macro key presses per profile.
Thoughtful Design
The Excalibur looks as good as it plays with 4 levels of LED backlighting with dimming and 5 levels of on-key LED illumination. Keys can also be individually illuminated. Embedded multimedia keys make it easy to control your music straight from the keyboard. An anti-slip rubberized foot design keeps the keyboard in place during the most intense gaming.