Comics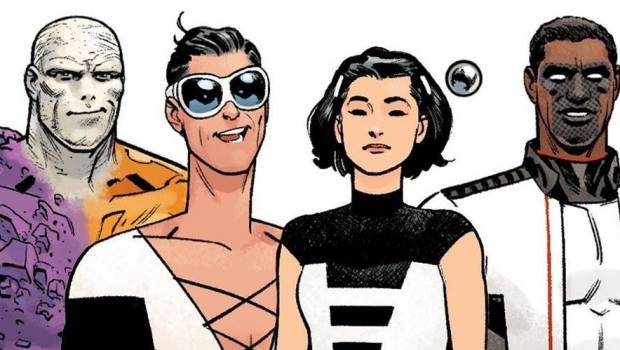 Published on March 3rd, 2018 | by Andrew Bistak
The Terrifics #1 (The New Age of Heroes!)
Summary: The Terrifics issue #1 is well... terrific!
By Ivan Reis and Jeff Lemire, The Terrifics is a spin-off from Dark Nights: Metal which creates DC Comics's very own Fantastic Four inspired adventure and with the dangers of the Dark Multiverse very real, it's up to the world's 'third' smartest man and his team to protect our reality. The issue opens up with Mr Terrific, a 'maybe' member of the Justice Society of America attempting to stop industrialist Simon Stagg from opening a doorway to the Dark Universe thanks to captured hero Metamorpho.
Needless to say, things don't go smoothly for Mr Terrific as Metamorpho has been corrupted by the energies from the Dark Universe as the two get drawn into this darkness, however our universe-hopping hero throws a wildcard into the mix. This is Plastic Man who was last seen in Dark Nights: Metal as an 'egg'. We also learn that Batman tried to use Plastic Man as a probe in the Dark Multiverse which resulted in him coming back as this egg.
Although Plastic Man manages to save the duo, they find themselves on something other than a planet and to quote Obi Wan Kenobi, that's no moon, that's a space station… in actual fact, it's a the corpse of a certain celestial and powerful being. It is also here where the trio meet the new Phantom Girl and not that heroine from the futuristic Legion of Superheroes. The issue ends with this new team stumbling on a recording from the one and only Tom Strong who gives them a dire warning that it is up to them to save the universe.
Wow… what a great first issue and the creative team successfully create an interesting group with relatable characters, decent dialogue and some entertaining world-building (or should that be universe-building) post Dark Nights: Metal. Mr Terrific is definitely the straight man in this comic but the stars of this issue are Plastic Man and Metamorpho who bounce off each other well with some witty dialogue. The artwork of Ivan Reis also adds to the summer blockbuster feel of this comic who helps create this otherworldly adventure.
Bring on issue #2
Gallery