Hardware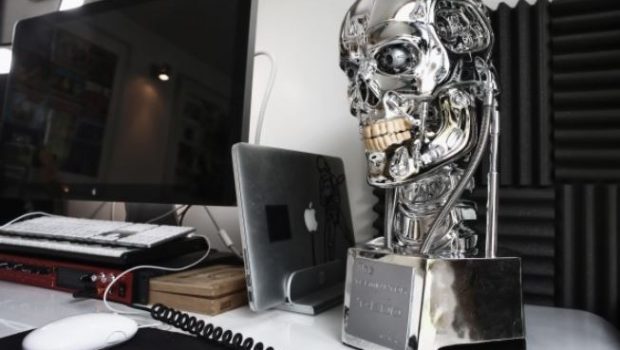 Published on July 29th, 2017 | by Admin
Terminator T-800 ACW Multimedia Speaker
AC Worldwide have produced some amazing and authentic helmet replicas that also double as Bluetooth speakers. From Darth Vader to Master Chief and back to C-3PO and a Storm Trooper helmet, these products are not only damn impressive in their designs but make the perfect piece for your home or office. They are also great bragging rights to your friends and family!
This time AC Worldwide are creating a T-800 ACW Multimedia Speaker that also includes a HF Camera and they need your backing with their latest Kick Starter campaign which can be found here https://www.kickstarter.com/projects/acworldwide-cool/the-terminator-tm-multimedia-speaker-built-in-amaz?token=98417779.
About the Campaign
The Terminator T-800 is undoubtedly one of the most distinctive and original sci-fi robots of all time. We want to bring you the next generation in wireless speaker technology with our very own T-800 Wi-Fi and Bluetooth speaker, truly multimedia with our exciting new, additional features.
Standing 45cm (18 inches) tall, this is big, in fact one of the largest reproductions of the Endoskeleton skull ever produced.  Our T-800 speaker, made from polished alloy, provides a combination of tweeter and subwoofer producing crisp, clear sound and powerful bass. Each eye features illuminated red sockets for further authenticity. What's more, the left eye is actually a high-definition camera which records video for live viewing or upload to Cloud storage with our App.
The fine detail of the Endoskeleton skull utilises a special manufacturing process that ensures that every single speaker is absolutely unique.
Kickstarter community members pledging for our limited availability special serial numbers T-800, will have your pledge shipped in a deluxe collectors' box made from durable, non-board materials, and never to be made available at retail, for added collectibility. You also get to specify a personalised plaque on your speaker featuring your name or other script – this, too,  will never be offered at retail.
Technology: the T-800 speaker connects via Bluetooth, Wi-Fi and even by Aux cable. Included is  Amazon's Alexa voice-controlled AI giving access to music streaming services, weather, news, traffic and other real-time information; empowering complete control of your home with simple voice commands.  When connected to a mobile phone, you can make and receive hands-free calls through the speaker's built-in microphone. Our smartphone App gives you full control over the audio and the camera. Shipped in a special Kickstarter-edition giftbox, the T-800 is an advanced, fully-functional audio and video device, a virtual 'personal assistant' that doubles as a beautiful display piece and collectible.  Mains powered (supplied with multiple adaptor for use worldwide).
Key Features
High-quality sound from combination tweeter and ported sub-woofer
Powerful bass and crisp, clear range
HD camera in left eye streams video to your smartphone
Complete Amazon Alexa AI functionality: T-800 becomes your 'intelligent personal assistant'.
Bluetooth connection to smartphone, tablet or PC. Aux, too
Hands-free phone calls using internal microphone
Connect to your home or office network with Wi-Fi
Controllable with our smartphone App
Polished alloy exterior
App includes
Camera connectivity, live stream video with two-way audio, motion detection activation, Cloud storage
Audio control
Wi-Fi and Alexa connectivity
Personalise the T-800's Bluetooth pairing greeting with your own voice and message.