Films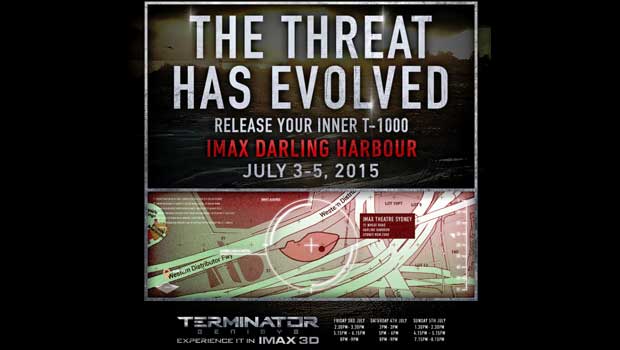 Published on July 2nd, 2015 | by admin
TERMINATOR FANS TO TRANSFORM INTO A T-1000 AT IMAX DARLING HARBOUR
To celebrate the opening weekend of Terminator Genisys from 3 to 5 July, IMAX Darling Harbour will host a special interactive display, the Threat Has Evolved, giving fans the opportunity to become a liquid metal T-1000 Terminator.
The Human Resistance has created a Skynet simulator to help educate Resistance forces on the abilities of the T-1000. The simulation allows its user to take the form of a T-1000 and go through a training exercise, replacing their hands with blades and hitting targets to deliver lethal blows.
Using Microsoft Kinect camera technology, the Threat Has Evolved is a one-of-a-kind immersive experience where fans can unleash their skills and afterwards share a personalised video of their transformation with friends through their social channels.
Exclusive to IMAX Darling Harbour over opening weekend, the Threat Has Evolved will not appear in any other Sydney cinemas and is an experience not to be missed. 
What: The Threat Has Evolved Interactive Display
When: 3 to 5 July 2015
Where: IMAX Darling Harbour – 31 Wheat Rd, Darling Harbour
Terminator Genisys Release Date: From 1st July 2015
Tickets: Adult $33.50; Child $24.00; Concession $29.50; Family pass (2 adults and 2 children) $94.00
Bookings: Via the Box Office, online at www.imax.com.au or PH: (02) 9213 1600
URLS: http://www.threathasevolved.com/ & http://www.terminatorgenisys.com.au/