Films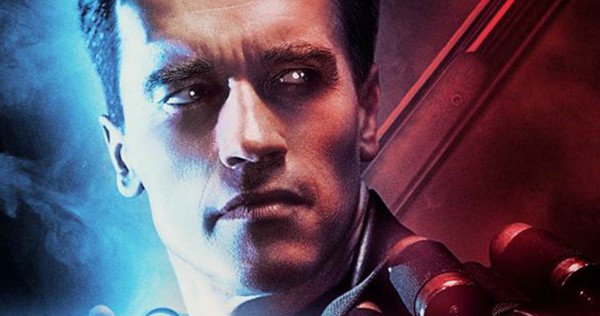 Published on August 20th, 2017 | by Curtis Mayfield
Terminator 2: Judgement Day (3D) – Film Review
Reviewed by Curtis Mayfield M-H on the 10th of August 2017
StudioCanal presents a film by James Cameron
Written by James Cameron & William Wisher
Produced by James Cameron
Starring: Edward Furlong, Arnold Schwarzenegger, Linda Hamilton & Robert Patrick
Music by Brad Fiedel
Cinematography: Adam Greenberg
Edited by Conrad Buff IV, Mark Goldblatt & Richard A. Harris
Running Time: 144 minutes
Rating: M
Release Date: the 24th of August 2017
It really is a bit of a challenge to rate and review a movie that not only came out 25 years ago but is also one of the most seminal action movies of a generation—so much so that it's rooted itself into the fabric of pop culture with endless parodies and incessant sequels that never even come close to the original. Terminator 2: Judgement Day is a sequel that's part of the very exclusive club of being a step up from its predecessor. While the first Terminator movie boasts some classic movie moments, with the "I'll be back" catchphrase passing through the heavily accented mouth of Arnold Schwarzenegger, T2 has a lot more to offer, whether its phrases that are burnt into our pop culture lexicon (tell me you didn't ever say "hasta la vista baby" as a kid right before you blasted your little brother with a water pistol), or its brilliant use of character development. Or just simply the kickass action that had popcorn eating audiences high-fiving across the globe. 2017 marks the 25th anniversary of this action movie landmark and for one short week there's the chance to see it on the big screen in 3D no less.
For anyone who's been living under a rock since 1986 here's a quick outline of the plot. Set ten years after the events of The Terminator, cyborg-hating Sarah Connor (Linda Hamilton) is locked up in a mental institution due to her rants and visions of a fiery and robotic end to the human race. Her ten-year-old son John Connor (Edward Furlong) is part of the foster care system and raids ATMs with the help of his computer smarts and his ginger mulleted friend. Unknown to John there are two cyborgs sent back in time, both with opposing objectives. One is sent back to protect the little troublemaker while the other has his heart set on murdering Connor with his liquid shifting body parts. A story for the ages really. Schwarzenegger switches from baddie to goodie as protector and surrogate father figure to the misunderstood John, which really adds up to some emotional scenes (especially for an action movie!).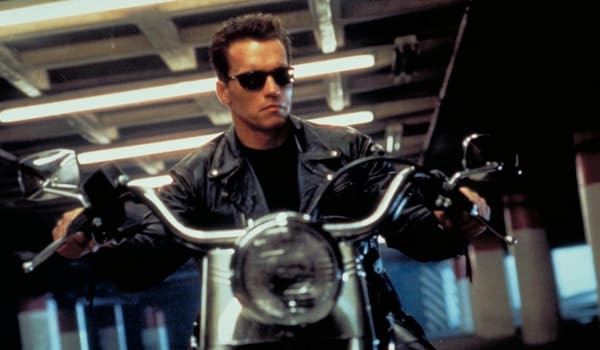 For those who follow my taste in films it's clear that the money grabbing attempts from Hollywood with their relentless sequels and extra charges for a 3D screening is something of which I am not a fan. Buuuuuut there's something really special about watching a movie from your youth from a literal new perspective. Director James Cameron himself has guided the transition from 2D to 3D through his production company Lightstorm. There's obviously an element of cashing in here but Cameron's passion comes from a place that enhances the moviegoing experience. If the man really wanted to cash it all in he would have overseen Terminator 3, 4 and 5 but luckily for his legacy he's stayed away from these subpar sequels (no comment on Avatar 2, 3,4 or 5 though). Witnessing Robert Patrick as the T-1000 turn to ooze in order to walk through a caged door is a pretty freaking great example of converting a classic movie into 3D without tarnishing its original aesthetic. For nervous T2 fans that are worried that Cameron has gone the way of George Lucas by adding extra CGI into the film please rest easy knowing that this is not the case. The only addition here is now we can witness John Connor getting chased through L.A.'s waterless canals by murderous cyborg in the third dimension.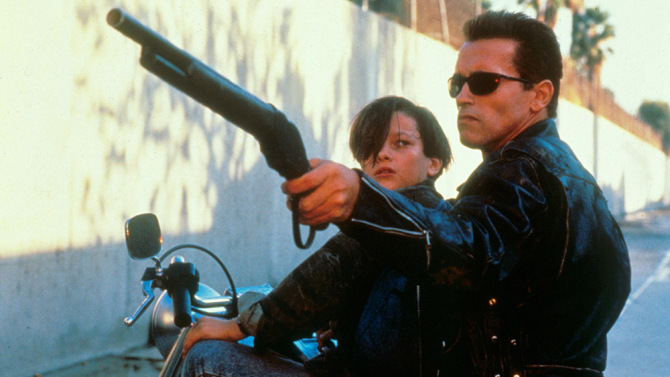 Besides the ultra-cool 90s nostalgia factor this movie from over two decades ago rarely has any outdated cinematic themes. In fact, there's a lot that modern day action movie makers can learn from this action sci-fi thriller. Most notably, there's an amazingly strong performance from Linda Hamilton who (shockingly) is a woman who's completely awesome as a lead in an action blockbuster. Watching Edward Furlong as a teenage actor crush some intense scenes makes for a really sad realisation that we haven't seen him on the big screen in the last decade or so. There's also great character development between all three main characters. Is there a better pseudo rag-tag family than the Connors and the Terminator? Cameron and his co-writer William Wisher fleshed out an amazing screenplay that has enough action that it doesn't impose on the development of the characters and vice versa.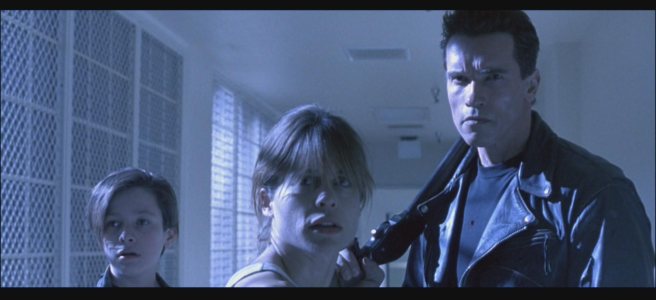 The two pulled off an amazing balancing act with their lead characters resisting the end of humanity while learning what being human means along the way; the film  also features some really cool things like cop cars exploding in the background. No new ground is broken here but sometimes it's nice to travel back to an era where action movies were great without being overly cheesy and action stars had impossible to spell names. Let's just hope Arnie doesn't feel the need to reprise his role as the aging killer robot anymore and lets the past be the past.
Summary: No new ground is broken here but sometimes it's nice to travel back to an era where action movies were great without being overly cheesy and action stars had impossible to spell names.