Games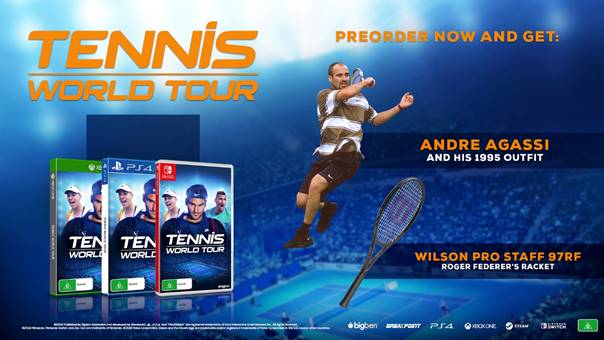 Published on June 15th, 2018 | by Admin
Tennis World Tour is now available
The Court is Yours!
Sydney, Australia – 15th June 2018 – Tennis World Tour, the upcoming video game simulation developed by Breakpoint is now available in Australian Retailers on PlayStation®4 and Xbox One.
Check out the launch trailer here
Tennis World Tour, it's the new standard, developed by veterans of tennis simulations: play as one of 30 professional tennis players, learn all the shots, master each type of surface and experience a realistic career mode. Define your style of play and tactics to become number 1 in the world!
31 of the best tennis players in the world including Roger Federer, Angelique Kerber, Stan Wawrinka and many of the sport's legends.
18 types of courts: hard, clay, grass, carpet and even hardwood. Each surface affects the playing conditions.
Create your player and experience a career inspired by a professional's life: training, tournaments, staff management, equipment purchases, etc.
Decide what strategy to adopt for each match and use your skill cards to defeat your opponents.
In quick matches, ranked matches or weekly challenges, you'll have ample opportunity to rise your level of play and rise through the permanent online rankings.
Tennis World Tour is available in Australian Retailers now on PlayStation®4 and Xbox One and Late June on Nintendo Switch™