Games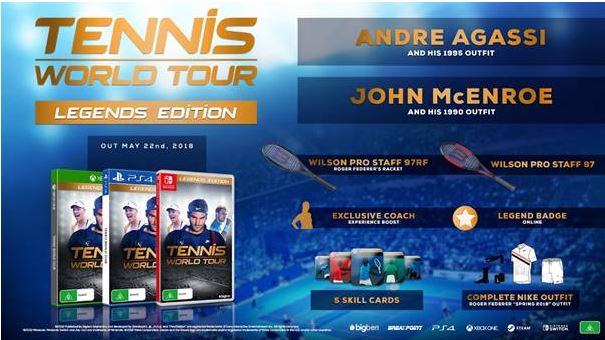 Published on April 18th, 2018 | by admin
TENNIS WORLD TOUR CAREER MODE
Sydney, Australia – 18th April, 2018 – Bigben and Breakpoint are revealing the content of Tennis World Tour's Career mode in a new commentated video.
Watch the Career Mode video here!
In Tennis World Tour's Career mode, your main goal with your avatar is to become the best in the entire world. To do that, you'll have to learn to manage both your schedule and your form. Take part in an exhibition match or a tournament, train or rest — your choices are crucial and will have an impact on your career. If you string multiple matches together, or travel relentlessly around the planet, fatigue will sneak up on you, your performance will diminish, and you risk hurting yourself.
The best strategy? Find the right balance, win tournaments, and win credits to hire staff, buy equipment, and pay the entry fees to ever more prestigious tournaments.
Once you've reached the top, you'll have to fight to stay there by accomplishing specific objectives: win the four Grand Slams, go undefeated for a season… there are numerous challenges open to you.
Tennis World Tour's Career mode is a unique and complete mode that will let you experience a career befitting a professional tennis player! 
Tennis World Tour will be available 22nd May on PlayStation®4, Xbox One and Nintendo Switch™.