Events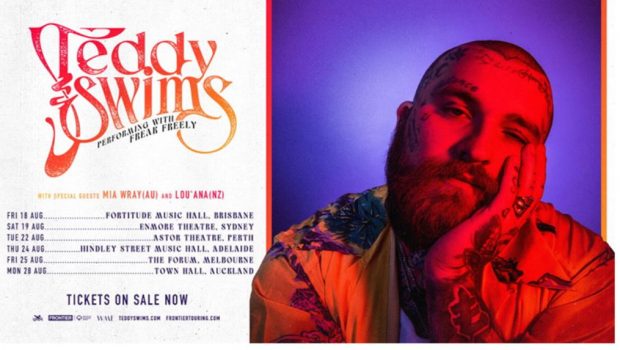 Published on July 5th, 2023 | by Adrian Gunning
TEDDY SWIMS (USA) ANNOUNCES SPECIAL GUESTS MIA WRAY (AU SHOWS) & LOU'ANA (AUCKLAND ONLY)
On tour August 2023 – final tickets on sale now!
Atlanta, Georgia vocal powerhouse Teddy Swims returns in August 2023
Special guests Mia Wray (AU shows) and Lou'ana (Auckland only) added
Final tickets on sale now via com/teddyswims
2023 is seriously heating up for American vocal powerhouse Teddy Swims!
The genre-blurring star makes his highly anticipated live return to Australia next month, with final tickets on sale now for five huge headline shows in Sydney, Brisbane, Perth, Adelaide and Melbourne. If last year's sold-out performances were anything to go by, these shows are not to be missed!
Boasting a soaring chorus that showcases the singer-songwriter's extraordinary range, Swims' latest emotional anthem 'Lose Control' is out now. It's the first taste of Swims' highly anticipated debut album I've Tried Everything But Therapy (Part 1), due September 15.
Watch: Teddy Swims – Lose Control (Live)
Today, Frontier Touring is pleased to announce Teddy Swims will be joined at his upcoming shows by two incredible special guests, who both possess their own incredible voice: Australian singer Mia Wray (AU shows) and Kiwi Pacific singer-songwriter Lou'ana (Auckland).
Thanks to a belter of a voice, no holds barred lyrics and endless charisma, Melbourne's Mia Wray is on a rapid rise. Originally hailing from Noosa, Mia honed her craft playing bars, restaurants and country clubs up the coast, just her and her guitar. Debut single 'Work For Me' was one of the most exciting in recent years, blowing up the triple j textline and gaining widespread support from Spotify, Apple, and one Elton John – whose been busy singing Mia's praises in 2023 via his Beats 1 radio show. Recently joining Maisie Peters on her sold out European tour, Mia's five-track debut EP Stay Awake featured #1 most-played triple j single 'Monster Brain'.
Inspired by American funk, soul & disco, NZ singer Lou'ana infuses these nostalgic grooves with her own spirit and stories. With over a million streams on Spotify, Lou'ana's debut album Moonlight Madness landed her with Best Pacific Female Artist at the 2021 Pacific Music Awards and a #18 spot in NZ's Top 20 Album charts. Meanwhile her 2023 released dance-banger, 'Night Creature', hit #2 on the Hot 20 NZ Singles Chart.
Reigning from Atlanta, GA, vocal powerhouse Teddy Swims masterfully blends genres from pop, soul, hip-hop, to R&B. Throughout the last four years, Teddy has spent countless hours honing his craft by writing original music and solidifying who he is as an artist. His remarkable debut album I've Tried Everything But Therapy (Part 1) is a transformative record that pushes boundaries, inviting listeners to come along on his personal journey of self-discovery and growth. With his soul-stirring voice and heartfelt lyrics, Teddy delivers an intimate and cathartic experience, delving into themes of love, loss, and the complexities of life. With nearly 1 billion global streams across his catalogue, Teddy Swims has become a force to be reckoned with, amassing a social following of over 10 million devoted fans and selling out tours across the globe. His undeniable talent has also attracted collaborations with renowned artists like Meghan Trainor, Thomas Rhett, and ILLENIUM, showcasing his versatility and musical prowess.
Don't miss singer-songwriter Teddy Swims and special guests Mia Wray and Lou'ana next month! Tickets for all cities are on sale now via: frontiertouring.com/teddyswims.