Films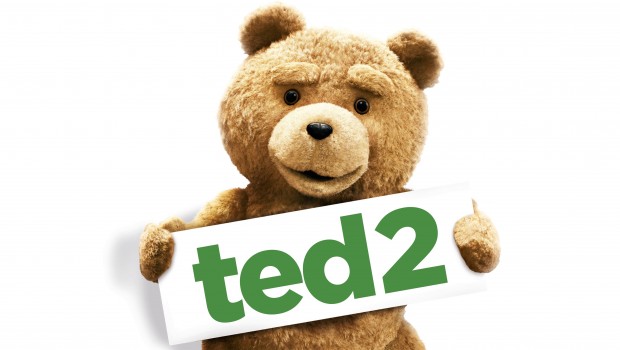 Published on June 30th, 2015 | by Curtis Mayfield
Ted 2 – Film Review
Reviewed by Curtis Mayfield M-H on June 24th, 2015
Universal Pictures presents a film by Seth MacFarlane
Written by Seth MacFarlane, Alec Sulkin & Wellesley Wild
Produced by Jason Clark, John Jacobs, Seth MacFarlane & Scott Stuber
Starring: Mark Wahlberg, Amanda Seyfried & Seth MacFarlane
Music by Walter Murphy
Cinematography: Michael Barrett
Edited by Jeff Freeman
Running Time: 115 minutes
Rating: MA15+
Release Date: June 25th, 2015
Crude and hilarious. That's the best way to describe both Seth MacFarlane's overall comedy style and his latest offering, Ted 2. As the movie poster says, "the thunder buddies are back". The buddies being stoner John (Mark Wahlberg) and his magical teddy bear, Ted (voiced by MacFarlane) who came to life after John made a wish as a child. For anyone who loved the first edition of this film about a teddy bear that drinks, smokes pot and thinks its funny to throw apples at joggers then this movie is for you. If not then you're going to look at this film as one long joke about dicks, which isn't incorrect either.
The film begins at the wedding between Ted and his white-trash girlfriend Tami-Lynn (Jessica Barth). John is wallowing after his failed marriage and is having trouble connecting with anyone new. In the true bromance fashion that the first film was based upon Ted tries to help John get back into the dating world. This of course means smashing his laptop that has seen way too much porn into tiny pieces with baseball bats. If there's one movie to see that features a cute plush toy breaking a computer then it's this one. Much like MacFarlane's cartoon TV series Family Guy, the jokes in Ted 2 sometimes rely on ridiculous cut scenes or flashbacks, which do payoff if you're into that kind of thing. A year into Tami-Lynn and Ted's marriage we see the union falling apart quite drastically. The two decide that having a baby is the answer to all their marital woes. Of course for a toy that was made without a dick the choice of adoption is put on the table. This leads to a complication that has the United States rejecting Ted's want to adopt and questioning his status as a person and not a thing. Thus begins the bizarre section of this story that has Ted fighting for his 'human rights' in court. With America's history of civil rights and the recent real life win for marriage equality, a made up story about a soft toy's claim to being a human does seem to trivialise things. But as Patrick Stewart's narration at the beginning of the film says: "a talking teddy bear is about to marry his girlfriend, proving Americans don't give a crap about anything." He may be right.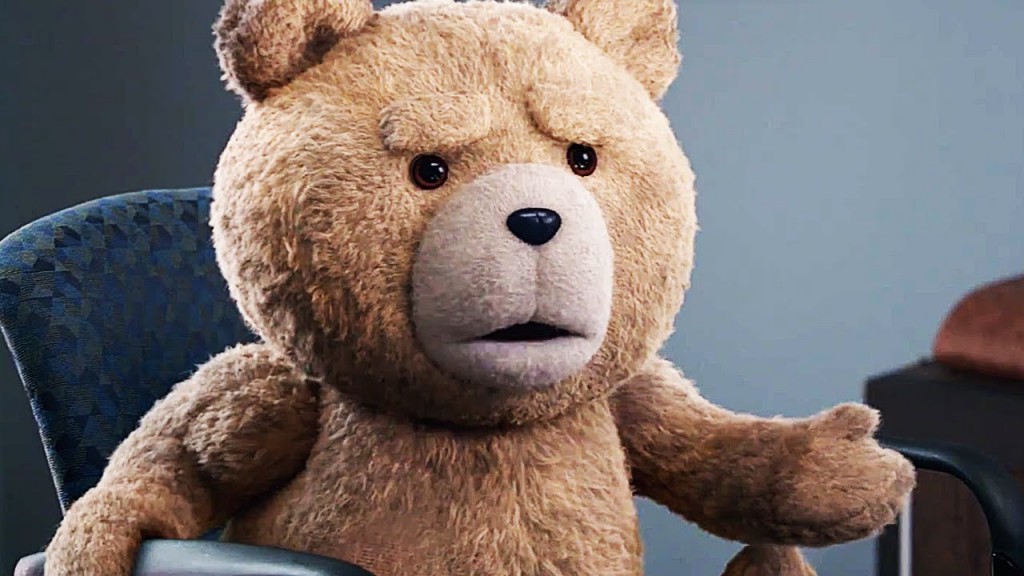 In order to defend Ted's status as a person both he and John employ the novice lawyer Samantha (Amanda Seyfried) who is hired solely for her love of weed. The pot jokes come in larger droves in this sequel compared to the first movie, which may be MacFarlane honing in on his core fan base. The story's humour goes as quickly as it comes, especially in the courtroom scenes. It's hard to enjoy yourself when one minute you're laughing at a joke about masturbation and the next you're witnessing a trial unfold. On the other hand it would be difficult to watch a two hour long movie that had zero heart and 300 jokes about different strains of weed. A brief appearance from Morgan Freeman makes the trailer misleading as his role as a top lawyer is a cameo at best. Wahlberg does a good job of being able to be a hunky Hollywood star who's capable of tickling a funny bone or two, while Amanda Seyfried is great in her somewhat straight role as an intelligent stoner. There is a second complication to the story that is hidden from the trailer so it's probably best not to mention it but it does have Giovanni Ribisi making a return. The storyline is a bit of a clusterfuck with the standalone jokes hitting home the hardest and the overall plot falling a little flat. MacFarlane collaborates with his regular writers Alec Sulkin and Wellesley Wild (Family Guy, A Million Ways To Die In The West) to make a satisfying sequel that is funny enough and will definitely please long-term fans. Though its tolerable plot and recycled ending does make this more like Ted 2.0, MacFarlane has created another shiny yet overused gem to put under his belt.
Summary: MacFarlane has created another shiny yet overused gem to put under his belt.