Hardware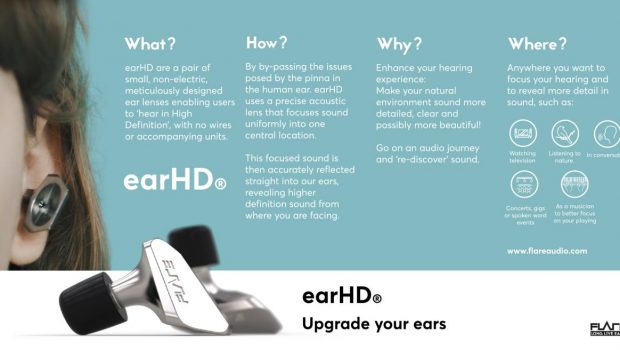 Published on September 3rd, 2019 | by Admin
Tech News: 'Hear the World in HD' with breakthrough tech earHD
Launching today, earHD® is a pair of small, non-electric, meticulously-designed ear lenses enabling users to 'hear in High Definition', with no wires or accompanying units.
Proven to deliver:
Improved speech intelligibility
Increased signal to noise ratio
Enhanced frequency response
Like glasses for the eyes, earHD takes wearers on a slightly surreal 'true audio' journey, as common sounds are experienced in more detail, some say appearing 'cleaner'.
Pop one in each ear and take a walk. For the audio-curious, it's a revelation. Suddenly just a walk in the country can sound more beautiful and a concert more immersive.
Testing
earHD has been extensively and independently tested by the Institute of Sound and Vibration Research (ISVR) at the University of Southampton. The team at Flare hoped that earHD might improve what we hear slightly, but what they've got has really astonished the team and  the testers – see testing information on Kickstarter
https://www.kickstarter.com/projects/flareaudio/earhd-upgrade-your-ears-by-flare-audio for more details or the full media release at https://www.flareaudio.com/blogs/press/hear-the-world-in-high-definition-with-earhd.