Hardware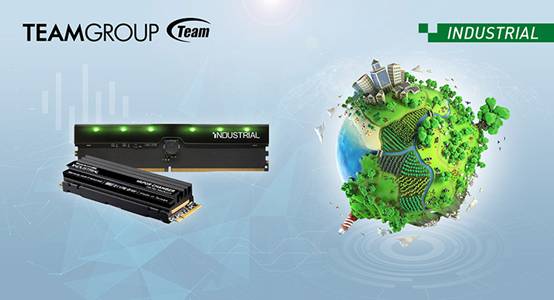 Published on September 6th, 2022 | by Andrew Bistak
TEAMGROUP Industrial Enhances Temperature Control and Reduces Carbon Emissions with Innovative Solutions
The intensification of the greenhouse effect has caused unusually high summer temperatures and heat waves that continue to engulf Europe and the rest of the world. Extreme temperatures have caused numerous data centers in Europe to suspend operations to ensure the safety of their equipment and data. In view of this, TEAMGROUP has placed greater emphasis on developing more innovative solutions for high-temperature applications, providing consumers with more reliable and durable industrial storage products. Equipped with the industry's first temperature sensing and warning technology and exclusive liquid cooling technology (Taiwan Utility Model Patent: M626519), TEAMGROUP's industrial products can help maintain the continuous operation of industrial equipment and monitor equipment temperature to avoid unexpected problems. These solutions help industrial customers and equipment reduce carbon emissions and move towards the goal of sustainable development while remaining under stable operation.
TEAMGROUP has been investing in memory and storage products for industrial computers and embedded devices for many years, and has continually utilized its extensive R&D experience and capabilities to develop products suitable for future application trends. This year, the company has released special industrial specification products such as the "Industrial Smart Alert DDR5 Memory Module" and "Industrial Grade VC Cooling M.2 SSD," both of which can be customized according to customer needs. With its temperature sensing technology, light effects, sound notifications, and alert feature, the Industrial Smart Alert DDR5 Memory Module can accurately monitor the temperature of industrial equipment and provide immediate warnings to ensure system stability. As for the Industrial Grade VC Cooling M.2 SSD, it comes with the industry's first and exclusive liquid cooling technology (Taiwan Utility Model Patent: M626519). It meets the needs of high-speed computing, energy conservation, and device cooling all at once. Related product technology and concept videos were released recently.
TEAMGROUP Industrial is devoted to "T.R.U.S.T.," the core concept of which is to provide reliable high-stability and high-performance products with exclusive cooling technology that can reduce SSD and DRAM's temperatures and make data center operation more stable. The overall enhancement of device and data security allows customers around the world to ensure the smooth operation of devices while facing global warming and high environmental temperatures. TEAMGROUP will continue to develop diverse industrial technologies and solutions in response to the changing landscape and needs of the industrial storage market.