Hardware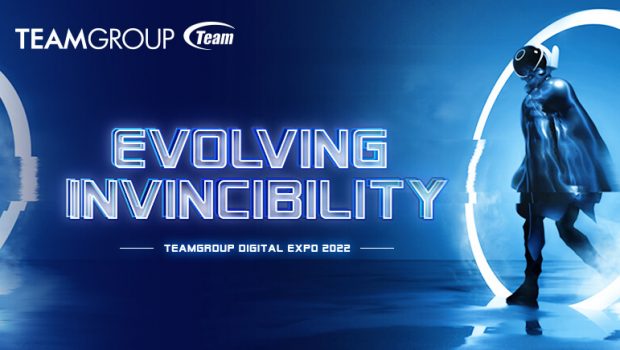 Published on July 12th, 2022 | by Adrian Gunning
TEAMGROUP holds the Digital Expo 2022 "Evolving Invincibility" with top-notch tech
TEAMGROUP, a leading global memory brand, is committed to excellence and reaching new heights. In 2022, the company will present its new product technology concept, "Evolving Invincibility." Following the release of the "T.R.U.S.T. – TEAMGROUP Industrial 5 Technologies" video and the exciting "T-FORCE Gaming Spirit – Invincible TEAM (Official Music Video)", today's TEAMGROUP 2022 Keynote will convey the company's product diversification this year and its new technology concept to global consumers. Additionally, TEAMGROUP has invited YouTuber Toasty Bros, an American hardware reviewer, to share his thoughts on its products in the "Why choose TEAMGROUP" video, giving global consumers a way to experience TEAMGROUP's cross-generational technology event online.
The official TEAMGROUP 2022 Keynote released today will not only showcase TEAMGROUP's 25 years of outstanding R&D and manufacturing capabilities but also demonstrate the bleeding-edge performance of TEAMGROUP's next-generation DDR5 memory products with its GEN5 SSD, a breakthrough technology that takes SSDs to a new era, and the evolution of its classic all-in-one dual liquid cooler product, and more. TEAMGROUP will once again present unbeatable, cross-generation technology, reasserting its leading position in the industry. In the video "Why choose TEAMGROUP" by hardware reviewer Toasty Bros, he shares his own hardware-use habits and experience with T-FORCE DELTA RGB DDR5 Memory, giving gamers an in-depth look at the blistering speeds of T-FORCE products.
One of the two videos published on the official TEAMGROUP YouTube channel, T-FORCE Gaming Spirit – Invincible TEAM (Official Music Video) is a visual and musical showcase of T-FORCE products' top-notch gaming performance. It features exclusive original music created by TEAMGROUP's marketing team and expresses the company's dedication to being gamers' greatest gaming hardware provider. The other video "T.R.U.S.T. – TEAMGROUP Industrial 5 Technologies" shows how the company's proprietary T.R.U.S.T. technology is widely used in aerospace, defense, surveillance, automation, servers, automobiles, and other sectors to meet the needs of all kinds of industrial applications. TEAMGROUP brings brilliant digital content this year, inviting gamers around the world to come together and witness the coming of a brand new wave of technology.
In addition to presenting industry-leading technology and high-performance products that enhance consumers' work efficiency, TEAMGROUP is also holding a contest for gamers and our partners around the world to make this year's digital expo even more memorable. To win an exclusive DELTA RGB DDR5 6400MHz 16GBx2 memory kit, a SIREN GD360E All-in-One Liquid Cooler, or other fabulous prizes, readers can easily have the winning chance by watching the videos and answering questions. Keep updated on the official event page for more details, and come witness the "Evolving Invincibility" of TEAMGROUP Digital Expo 2022.
【TEAMGROUP DIGITAL EXPO 2022】
https://www.teamgroupinc.com/en/events/2022digitalexpo/