Events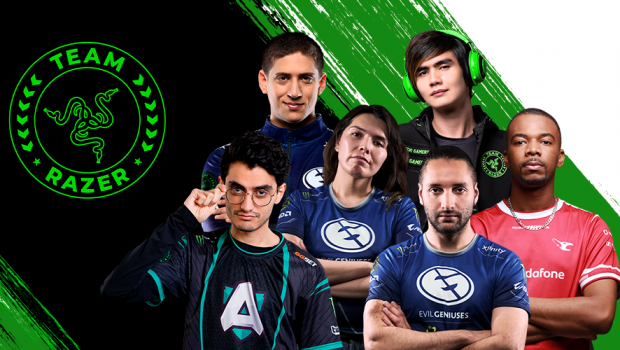 Published on July 31st, 2019 | by Admin
Team Razer Storms into EVO 2019 and The International
Razer™, the leading global lifestyle brand for gamers, today announced a record number of esports professionals will be contesting under its Team Razer banner at the finals of EVO 2019 and The International (TI9) Dota 2. Both events are two of the world's most prestigious esports tournaments with almost 31 million US dollars of prize money at stake.
Team Razer athletes from Mousesports and Team Evil Geniuses (EG) alongside fighting game pro Kun 'Xian' Ho will be attending EVO 2019, held in Las Vegas from 2nd to 4th of August. Later in the same month, Team EG will be joined by Alliance for TI9 in Shanghai from August 20th to 25th. Powered by their relentless drive and the best esports gear from Razer's arsenal, Team Razer's elite athletes will take the fight to their competitors while millions watch them live.
Pioneering esports since 2005
Razer has been championing professional gaming since its founding in 2005. Under the Team Razer banner, the company works with some of the world's best teams and players to develop new high-performance peripherals and push the boundaries of performance. Today, Team Razer comprises of 18 top teams from 25 countries.
"Razer is proud to have such a strong lineup of Team Razer athletes at these two massive esports showdowns," said David Tse, Global Esports Director at Razer. "Their constant drive for excellence and their sportsmanship constantly inspire millions of gamers worldwide."
To learn more about the Team Razer athletes contesting at EVO 2019 and The International, please read on. For player biographies and photo assets, visit http://rzr.to/team-razer-evo-ti9.
EVO 2019: TEAM RAZER ATHLETES SPEARHEADING THE PLAYER POOL
The Team Razer action starts in Las Vegas on August 2nd at EVO, with Team Razer athletes competing in titles such as Super Smash Bros. Ultimate, Tekken 7, Street Fighter V, DragonBall Fighter Z and others.
EVO 2019 has set the stage for some epic fights as the Team Razer entrants are past winners; Xian was the EVO 2013 Street Fighter IV Champion, Team EG's Christopher 'NYChrisG' Gonzalez won EVO in 2016 in Ultimate Marvel vs Capcom 3, and Street Fighter V player Ricki 'HelloKittyRicki' Ortiz was runner-up in the 2016 Capcom Cup.
But the man to beat will be Mousesports' Benjamin 'Problem X' Simon, current reigning champion with his EVO 2018 win in Street Fighter V.
Problem X is leading the charge
A fierce competitor who uses multiple characters, Problem X is most well-known for his use of Bison. The 27-year-old British Pro Tour competitor had already made his name within the Fighting Games Community (FGC) before joining Mousesports in 2017. That was when he really exploded onto the scene, becoming Europe's hottest Street Fighter contender.
Performing strongly throughout 2017, Problem X finished the Capcom Pro Tour in 7th place and fought his way to the upper echelon of FGC by winning the most prestigious tournament, EVO 2018, defeating the world's best in Las Vegas.
"I am extremely competitive, and I find it fun and thrilling to compete under high-pressure environments," said Problem X. "Winning EVO a second time in a row would be amazing for me, as nobody has ever won the main EVO event for Street Fighter V twice in a row before."
Quitting his day job in 2018 and making Street Fighter V his primary profession, Ben supports other players from his region and livestreams on his Twitch channel therealproblemx. He has become one of the most feared opponents in the FGC, taking win after win.
Problem X's recent wins:
Sonic Boom 2017
Capcom EU Regionals 2017
EGX 2017
SGB 2017
Celtic Throwdown 2017
Northwest Majors 2018
Sonic Boom 2019
April Annihilation 2019
Reflect UK 2019
Team EG's star duo is ready to shine
Team EG will also be strongly represented at EVO 2019. While NYChrisG is most known for making a name for himself in Marvel vs Capcom 3 as EVO champion in 2016, he has proven to be a versatile player, mastering Street Fighter V and a whole assortment of other fighting games. Street Fighter V player HelloKittiRicki, who might have to face Problem X in an all-out brawl of Team Razer super stars, is coming in fearless and well-prepared.
"It's crucial to be in the right state of mind for EVO," said HelloKittyRicki, talking about how she prepares for the event. "I always practice very hard leading up to the event, but no matter how good I feel, I have zero expectations for my performance to keep myself calm and collected."
Completing the list of Razer-sponsored athletes at EVO is Team Razer's Xian. Asked about his goals going into this year's championship event, he said: "I feel EVO is a tournament more about stamina and endurance, where we have to play through thousands of people. I really really want to get top 8 this year at least."
With so many top-level athletes looking to leave a mark, this year's EVO is going to be one of the most exciting esports tournaments of the season.
THE INTERNATIONAL: TWO PAST CHAMPIONS ARE REPRESENTING TEAM RAZER
Held three weeks after EVO, The International in Shanghai will have a clash of Team Razer titans with Evil Geniuses and Alliance both competing at the event, vying for a piece of the $30 million dollar prize pool, the largest in esports history. Both teams are past TI champions – Alliance in 2013 and Evil Geniuses in 2015.
Team EG are seasoned TI veterans
Evil Geniuses are no strangers to the event, having attended all five TI tournaments since 2014 and securing podium placements at four of them.
"It's a different feeling compared to last year when we played through from the Opens," commented the team's star player, Artour 'Arteezy' Babaev, after qualifying for TI9. "Playing at TI is a special experience and one to be cherished. Win or lose, it creates many important memories and pushes you to your limit as an individual and as a team."
"Preparing for the biggest Dota 2 event requires a mix of individual and team preparation," adds EG's youngest player, Syed Sumail 'SumaiL' Hassan. "We have a bootcamp scheduled before the event to tie everything together."
Alliance is back to where it all started
Alliance rose to prominence in 2013 when their Dota 2 team, headed by Jonathan 'Loda' Berg, won the inaugural TI. Since then, the organisation has become fully player-owned and continues to build on their Dota 2 legacy. Alliance has built a considerable global following and counts many notable players on its current and past rosters, such as Henrik 'AdmiralBulldog' Ahnberg, the biggest Dota 2 streamer on Twitch.
Now the team is looking forward to competing at TI9, ready to face any opponent. "There is no word to describe the feeling," said Loda when being asked about his excitement going into the event. "At TI you can really see early on which teams are ready to fight for their lives, and who might fall apart by losing to the 'wrong team'. We are prepared to fight everyone and anyone at TI."
With Team EG looking to continue their streak and Alliance throwing in everything they have to make it back to the top, both are definitely teams to watch at TI9.
Follow all Team Razer athletes as they compete on the world's stage at EVO and The International. The talent roster is rich with history and success, and Team Razer is ready to make a deep run at both tournaments.