Hardware
Published on October 25th, 2023 | by Adrian Gunning
Team Group MP44L M.2 2280 NVMe PCIe Gen4 SSD Review
Summary: The Team Group MP44L M.2 2280 NVMe PCIe Gen4 SSD is decent performance at a great price point!
The Team Group MP44L M.2 2280 NVMe PCIe Gen4 SSD is an affordably priced midrange PCIe 4.0 NVMe SSD for those looking to upgrade their storage capacity in their PC. Given that, it would also be possible to install this PCIe 4.0 NVMe SSD into your PlayStation 5 console, however today, we're checking it out for the PC.
Highlights
Heat dissipating graphene SSD label.
Supporting SLC Cache enhancing work efficiency drastically.
Diversified optimization technology for stability, durability, and enhanced reliability.
Supporting the latest NVMe standards.
S.M.A.R.T. monitoring software.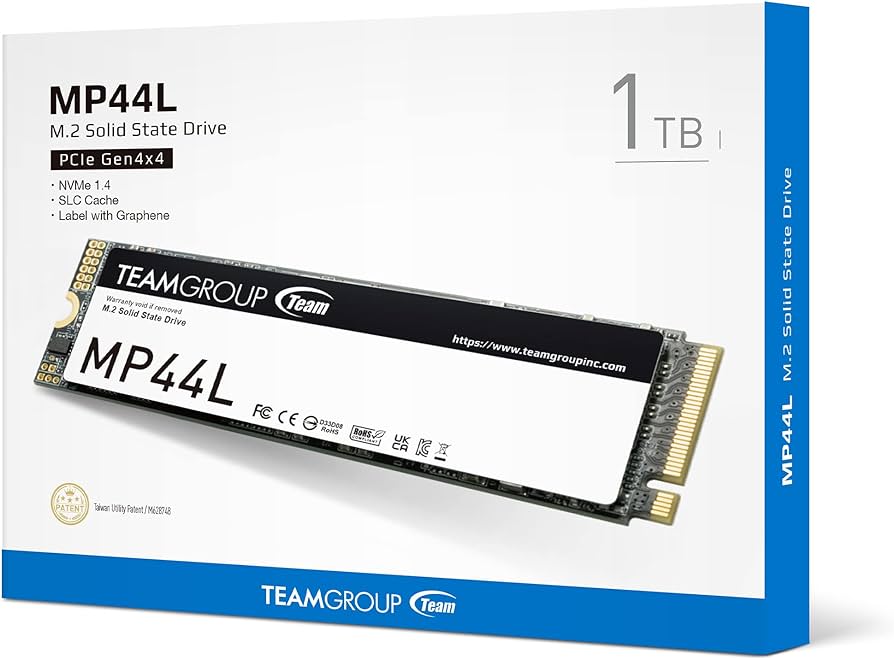 Team Group MP44L SSD is powered by a 176-layer 3D TLC NAND flash from Micron and comes with the four-channel Phison E21 controller. Additionally it comes in four sizes that include 250GB, 500GB 1TB (reviewed) and 2TB that comes with a generous 5-year warranty. In Australia the 1TB model based price is around $89AUD (October 2023) which makes it quite attractive when compared to its competitors.
Team Group MP44L 1 TB SSD Specifications
Model:
TM8FPK001T0C101
Capacity:
1000GB
Controller:
Phison PS5021-E21
Flash:
Micron 176-Layer 3D TLC
IA7BG94AYA
Host Memory Buffer:
64 MB
Endurance:
600 TBW
Form Factor:
M.2 2280
Interface:
PCIe Gen 4 x4, NVMe 1.4
Device ID:
TEAM TM8FPK001T
Firmware:
ELFMB0.5
As you can see, the MP44L looks great on paper and its enduring rating of 600 TWB (Terabytes Written) will have this drive performing for several, several years. What does 600 TWB Mean? If you were writing 200GB per day, the drive would last 8.4 years (Formula: 600 x 1024 / 265 / 200). 100GB per day would double the years to 16.8 years.

In terms of a base speed, according to Team Group, the MP44L SSD is capable for sequential reads up to 5000Mpbs and sequential writes of up to 4500Mpbs. In order to test the Team Group MP44L SSD, we reviewed this storage device on the following PC system specifications;
Motherboard: ASRock Z790 Pro RS1
Cooler: Corsair iCUE H150i Elite Capellix (water Cooler)
Power Supply: Super Flower Leadex Platinum SE 1000W
Memory: Kingston FURY Renegade DDR5 RGB Memory
Graphics: AMD Radeon RX 6800 XT
Case: Thermaltake V250 Mid-Tower
Operating System: Windows 11 Professional
CrystalDiskMark
CrystalDiskMark is an open source disk drive benchmark tool for Microsoft Windows from Crystal Dew World. It is based on Microsoft's MIT-licensed Diskspd tool and this free graphical benchmark is commonly used for testing the performance of solid-state storage. As you can see from the results, they definitely mirror the advertised speeds from Team Group.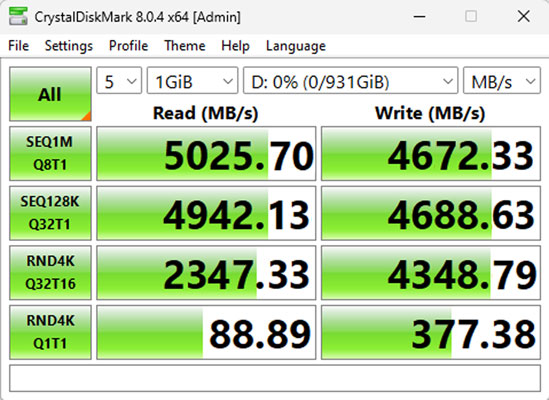 PCMark 10 Storage – Full System Drive Benchmark
For PCMark 10, we used the Full System Drive Benchmark that uses a wide-ranging set of real-world traces from popular applications and common tasks to fully test the performance of the fastest modern drives. Considering the price, the Team Group MP44L 1TB scored a strong midrange 2899 with the WD Black SN770 1TB at 3602.
Cyberpunk 2077
We also tested the Team Group MP44L SSD with CD Projekt Red's highly popular action RPG game Cyberpunk 2077 and compared to the WD Black SN770 1TB, there was no noticeable difference. ON the MP44L SSD, average level load times were 21.2 seconds and on the WD Black SN770 1TB, they were 20.4 seconds.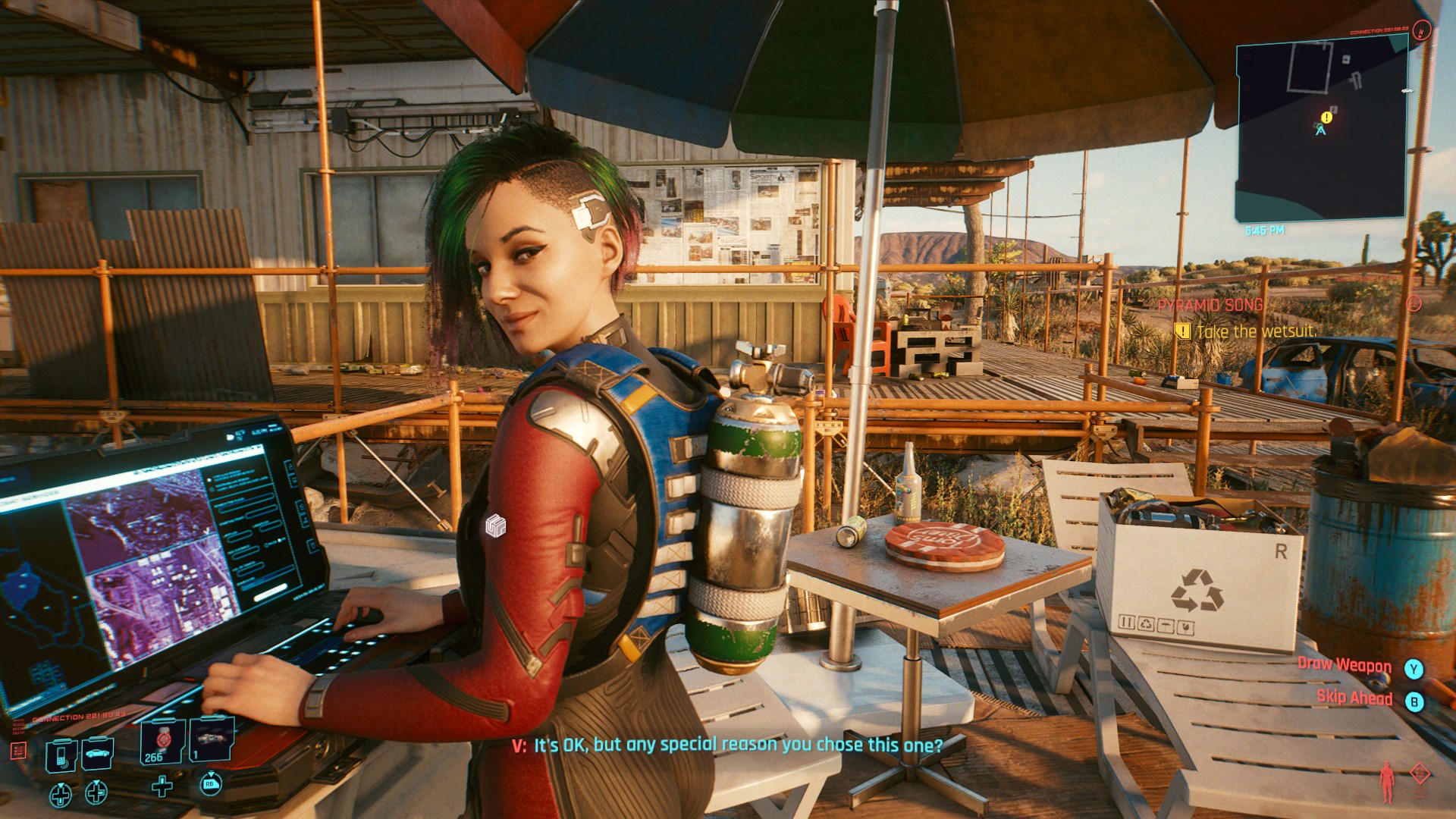 Far Cry 6
Lastly, we checked out Far Cry 6. In Far Cry 6, play as a local Yaran and fight using over-the-top guerrilla tactics and weaponry to liberate your nation. Far Cry 6 is a first-person shooter game developed by Ubisoft Toronto and published by Ubisoft. Again not much difference with load times with the MP44L SSD averaging at 10.12 seconds and the WD Black SN770 1TB averaging at 9.01 seconds.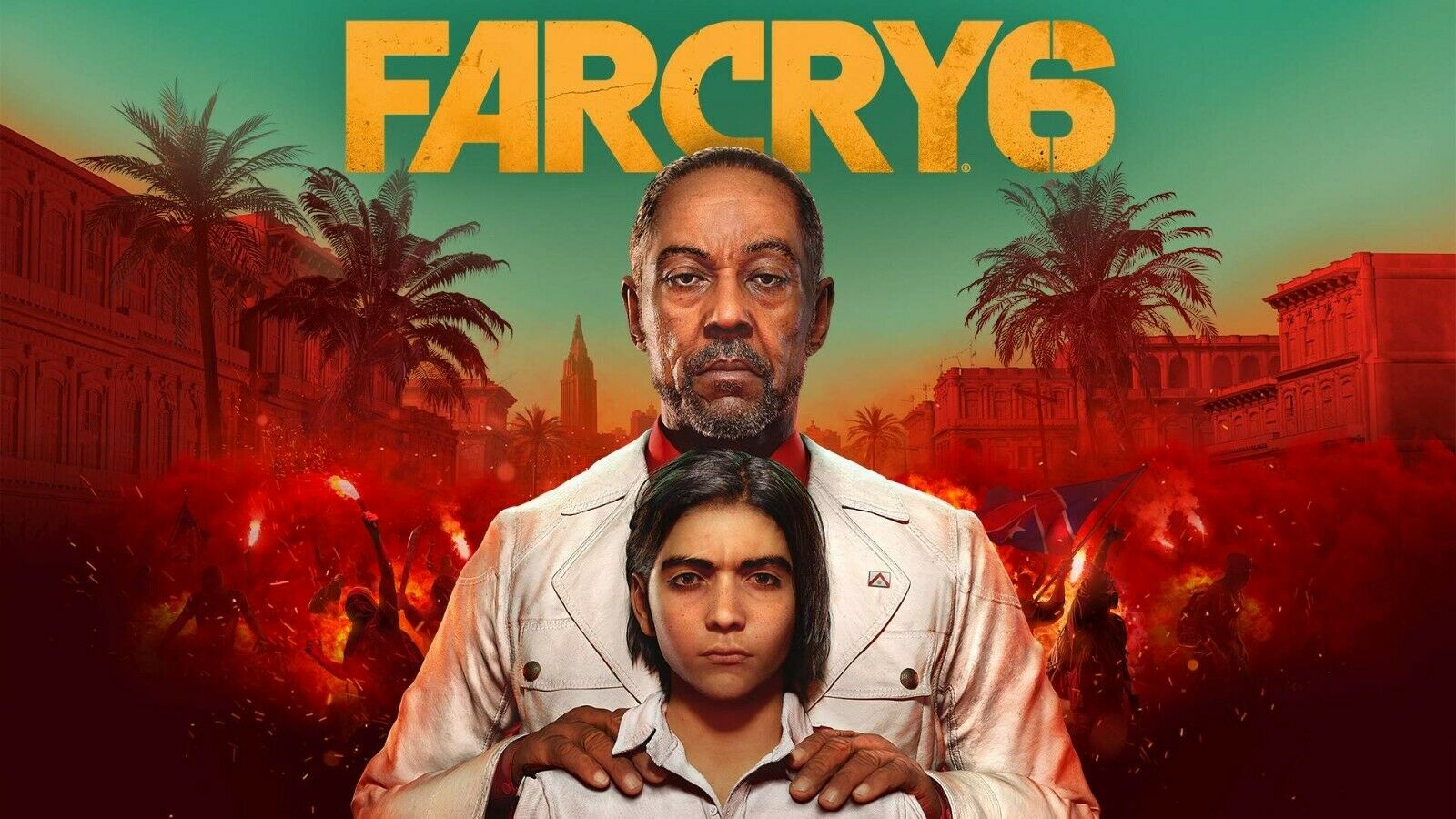 Final Thoughts?
The Team Group MP44L M.2 2280 NVMe PCIe Gen4 SSD provides great value for money at just $89 for the 1TB model that is perfect for not just everyday use but also gaming as well.
Recommended!
For more information, please visit https://www.teamgroupinc.com or to purchase – https://www.scorptec.com.au/product/hard-drives-&-ssds/solid-state-drives-(ssd)/106265-tm8fpk001t0c101