Hardware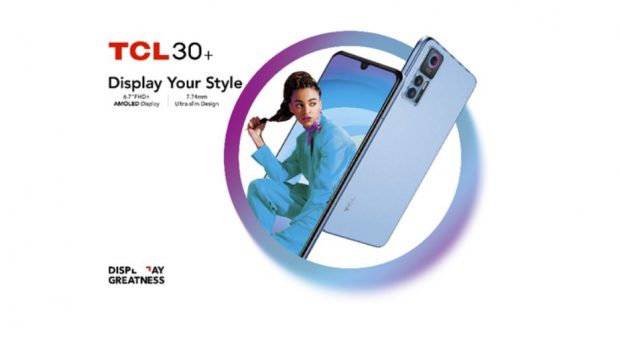 Published on April 12th, 2022 | by Andrew Bistak
TCL MOBILE LAUNCHES NEW 30+ AND 30 SE SMARTPHONES AS DISPLAY TECHNOLOGY SHIFTS TO EYE HEALTH
TCL Mobile, a pioneer in display technology and affordable, premium smart devices, today announces the launch of four brand new smartphones into its Australian range – the TCL 30+, TCL 30 SE, 305 and 306. First unveiled at Mobile World Congress (MWC) 2022, it includes the first locally-available devices from its 30 Series smartphone range. Available from next Monday, April 18, it once again sees TCL reinforce its expertise in display technology, which includes a focus on eye health and reduced strain.
The newest additions are spearheaded by the TCL 30+, that delivers a myriad of high-quality features including a 6.7-inch FHD+ AMOLED display with NXTVISION technology, AI triple-rear camera setup with 50MP main lens and 13MP ultra-wide front-facing camera for the avid selfie snapper. The TCL 30+ is also certified by TÜV Rheinland as providing hardware-level blue light reduction of 30%.
"Following a highly successful 2021 locally for TCL Mobile, which saw us introduce 11 new devices across smartphones, wearables and audio, we're thrilled to be able to carry this momentum into 2022. Today marks the start of our new product introductions for the year with four new devices, led by the TCL 30+ and 30 SE. These devices reinforce our growing position in the market to deliver incredible display technology alongside an array of other high-quality features at an affordable price," said Joseph Corrente, Channel Manager for TCL Communication Australia, New Zealand and Pacific Islands.
"As Australians are enjoying more screen time, including children and young adults, we are focused on developing a hardware solution that helps reduce harmful blue light in screens. We have accomplished this with the TCL 30 Series and this will continue to be a focus for other areas of our range as well moving forward. This is something that is important to me as a father of young children who spend time on screens for both education and leisure, and an area where we feel we can make a difference for all Australians."
Immersive and Safe Display Technology
With a 6.7-inch FHD+ AMOLED screens on TCL 30+, as well as a 6.52" mini-note display on TCL 30 SE and V-notch display on TCL 305 and 306, details are crisply highlighted and colours are boosted, enhancing every scene so users can feel closer to the action. Dual speakers are also featured in the TCL 30+, allowing users to immerse themselves in their own world, whether watching movies, gaming or listening to music.
As Australians continue to spend more time on their devices, eyecare and eye fatigue are becoming growing issues. To manage this, the 30+, 30 SE and 306 smartphones are equipped with TCL's pioneering NXTVISION technology, which works to boost the screen experience while safeguarding eyes. The TCL 30+ is certified by TÜV Rheinland as providing hardware-level blue light reduction of 30%, delivering comfort without distorting colours, while the TCL 305 is equipped with multiple eye care modes depending on the setting.
Camera Arrays For Stylish and Creative Photography
Both the TCL 30+ and 30 SE  feature a 50MP AI triple camera, while the TCL 305 and 306 integrates a 13MP triple camera into its system. The four devices arrive with a variety of camera modes for optimal customisation, including portrait, pro, HDR and panorama.
For the aspiring photographer, the TCL 30+ offers an all-in-one camera experience on the go, with real-time AI face detection, natural depth effect and movie mode providing users a variety of different modes through which to take great shots. The device's wide 13MP front camera also allows friends and family to comfortably get in shot and capture those precious moments together
Social media enthusiasts will relish Steady Snap, pausing time and clearly capturing subjects in motion; Intelligent AI detection, which detects up to 22 different scenes; AI HDR video, adjusting exposure and optimising details; Low Light HDR for well-balanced shots in low light; and One Shot, providing different image types from one snap. Whether taking mouth-watering shots of their favourite meals, pet pictures, stylish portraits or awe-inspiring landscapes, these features enhance photos so anyone can level up their photography skills.
Battery power that lasts longer-than-a-day
All four devices offer long-lasting battery power to ensure users can keep their 30 Series phone powered-up throughout the day no matter where they go. The TCL 30+ has 5010mAh battery power while the TCL 30 SE, 305 and 306 come with 5000mAh of power, relieving battery anxiety with better than day-long battery life so there is more time reading, watching, video calling, and photo taking, and less time looking for a power outlet.
The 30+ supports 18W fast charging, and all devices are supported by AI smart charging, which intelligently learns sleep patterns based on daily charging routines to reduce battery deterioration, extending long-term battery life.
Additional features to boost the day-to-day
The TCL 30+ and 30 SE is equipped to hold dual SIM cards as well as an SD card for expandable memory at the same time, so that consumers don't need to pick or compromise.
As consumers have become accustomed to with TCL Mobile devices, the TCL 30+, 30 SE and 306 all come with NFC functionality, allowing for 'tap and go' payments with Google Pay as Australians continue to embrace contactless transactions.
| | | | |
| --- | --- | --- | --- |
| TCL 30+ | TCL 30 SE | TCL 306 | TCL 305 |
|   | |   |   |
| 6.7" FHD+ AMOLED Display with NXTVISION visual enhancement | 6.52-inch Mini-notch display with NXTVISION visual enhancement | 6.52" HD+ V-notch display with NXTVISION visual enhancement | 6.52-inch HD+ Vast display |
| 4G | 4G | 4G | 4G |
| Tech Black & Muse Blue | Atlantic Blue, Space Gray | Atlantic Blue, Space Gray | Atlantic Blue, Space Gray |
| MediaTek Helio G37 | Helio G25 | MT6762 | MT6761 |
| TCL UI, Android™ 12 | TCL UI 4.0, Android™ 12 | Android™ 12 | TCL & Alcatel UI, Android™ 11 go |
| 4GB RAM (LPDDR4x) + 128 GB ROM (eMMC) | 4GB RAM (LPDDR4x) + 128 GB ROM (eMMC) | 3GB RAM + 32GB ROM | 2GB RAM (LPDDR4x) + 64 GB ROM (eMMC) |
| Rear: 50MP + 2MP + 2MP | Rear: 50MP + 2MP + 2MP | Rear: 13MP + 2MP + 2MP | Rear: 13MP + 2MP + 2MP |
| Front: 13MP | Front: 8MP | Front: 5MP | Front: 5MP |
| NFC integration | NFC integration | NFC integration | N/A |
| Steady Snap, High Pixel, Portrait Mode, Movie Mode, Stop Motion, Art effects, AI scene detection 2.0 | Portrait mode, Macro, Pro mode, High pixel mode, Panorama mode, AI scene detection | HDR, auto capture | Face beauty, HDR |
| Face unlock, fingerprint (side-mounted) | Face unlock, fingerprint (back) | Face unlock, Fingerprint sensor (back) | Face unlock, Fingerprint sensor (back) |
| 5010mAh | 5000mAh | 5000mAh | 5000mAh |
| Fast charging 18W | Fast charging 15W | 3.2hrs | 3.5hrs |
| $399 | $329 | $199 | $229 |
Pricing and Colours: 
TCL 30+ – $399 AUD
TCL 30 SE – $329 AUD
TCL 306 – $229 AUD 
TCL 305 – $199 AUD 
Stockists:
–       TCL 30+ – Harvey Norman, Officeworks (late May), Big W, Target, Mobileciti, Amazon, Dick Smith
–       TCL 30 SE – Harvey Norman, Officeworks (late May), Big W, Target, Mobileciti, Amazon, Dick Smith
–       TCL 306 – Harvey Norman, Big W, Mobileciti, Amazon, Dick Smith
–       TCL 305 – Officeworks (late May), Big W, Target, Vodafone, Mobileciti, Amazon, Dick Smith