Hardware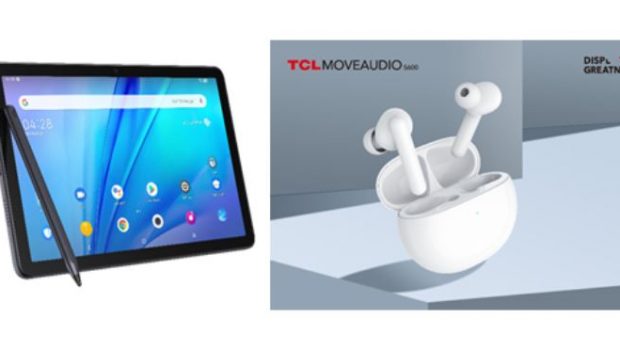 Published on December 6th, 2021 | by Adrian Gunning
TCL Mobile Caps Off Eventful 2021 With Debut Of First Tablet and Audio Range Alongside Latest Affordable Smartphone
TCL Mobile has today announced the expansion of its Australian range with the launch of five new devices including its first local TCL-branded tablet, the debut of its inaugural audio range of new earbuds, and an addition to its smartphone family of products with a new sub-$250 device. It further builds on an already-eventful period of new product introductions for TCL Mobile throughout 2021 that has seen it launch 11 new products in the last six months alone, each providing compelling, feature-rich options for Australians.
The TCL TAB 10S 2022 is a 10-inch tablet with an IPS 1200*1920 FHD display made for learning and entertainment with a huge 64GB memory (expandable to a further 256GB). It features a rear and front camera, Wi-Fi and Bluetooth 5.0 connectivity, and an all-day 8,000mAh battery. A Stylus Pen and Flip Protective Case are both standard inclusions, ensuring a great overall package to deliver added protection and a great experience for the very first moment.
The TCL 20B is a highly affordable smartphone featuring a 6.52" HD+ NXTVISION technology with Mini-Notch display. The 20:9 display provides a wide screen cinematic experience, it boasts a 2.5D slim curved design with a 4,000mAh battery that will last all day, and an AI 50MP ultra-sensing camera packed with pro-modes like night-mode and portrait (bokeh).
The new TCL MOVEAUDIO range has been hand-picked to provide a True Wireless Experience for the whole family. Priced at $69, $129 and $199, the S150, SOCL500TWS (also locally called "Social 500") and S600 each deliver a long lasting battery and are perfect for streaming and making the most of TCL's NXTVISION technology found in its smart devices.
"It has been a huge year of growth for TCL Mobile in Australia, and we are delighted to add to our range ahead of the busy festive season. This expansion means we have launched 11 products in just six months," said Joseph Corrente, Channel Manager for TCL Communication Australia, New Zealand and Pacific Islands.
"Launching our first TCL tablet and a new range of audio is a natural progression for us in Australia, complementing our robust range of smartphones and other innovative devices that are already readily available via our retail and carrier partners. Our goal is to create an ecosystem of connected experiences which simplifies the lives of Australian consumers, pushing the envelope while always keeping value top of mind."
TCL TAB 10S 2022: Learning and entertainment anytime, anywhere with Stylus and Case included
Featuring a powerful chipset for great performance, 64GB of internal memory that can be expanded, intelligent eye protection and the stunning NXTVISION Display that TCL Mobile is known for, the 10-inch TCL TAB 10S offers consumers a portable learning and entertainment for kids and adults alike. Standard inclusions of a Stylus Pen and Flip Protective Case means it's ready to go straight out of the box!
Display Greatness –best-in-class viewing experience leverages innovative display technology to reveal the most vibrant and richest details
Great Storage –comes with an internal memory of 64GB which can be expanded to a further 256GB
Powerful chipset –adopting an advanced octa-core chipset, the TCL TAB 10S delivers rapid processing speeds, allowing kids to complete their everyday tasks effortlessly
Intelligent eye protection –the TAB 10S operates without flicker and harmful blue light, offering a safe and protective tablet experience for children
Keep connected: Advanced dual-microphone and dual speaker system always locates your voice, while a 5MP front camera and 8MP rear camera allows you to make video calls.
Stay charged –with an 8000mAh large-capacity battery, it can support Wi-Fi to play video (maximum brightness and maximum volume) for 7.2hrs hours of playback
Android Enterprise Recommended –recognised and recommended by Google, users can experience enterprise-grade features and expertise
All Inclusive –it comes with a Flip protective case and Stylus Pen as standard to ensure the best possible experience and a package that delivers the ultimate in enjoyment and productivity
TCL 20B SMARTPHONE: 50MP Cam. New Glam.
Combining a solid specs list with affordability, the TCL 20B is an accessible smartphone option that packs a punch.  An ultra-sensing 50MP dual cam allows you to take professional grade photos, and save them with 64GB of storage. Offering a thin, light and sleek 3D-curved design and  a 6.52" Display powered by NXTVISION, the 20B has both style and smarts.
Camera: The 50MP HD camera is built to not miss any detail. Includes a suite of features such as an AI-boosted portrait mode to achieve a bokeh effect (even in low-light), AI scene detection to enhance visuals, saturation, and sharpness, and Smart HDR which will merge multiple images in one shot to capture shadow details and brighten highlights.
Display: 6.52" HD+ NXTVISION notch display offers crisp clarity and amplified contract. 20:9 aspect ratio offers cinema-like viewing.
Design: Ultra-light and ultra-thin to fit in your palm, balancing aesthetics with the perfect grip.
Memory: 64GB storage onboard, expandable up to 512GB with an external microSD card.
Performance: For peak performance, the 20B offers an Octa-core processor, 4GB RAM power, and Smart Manager which optimises all resources while blocking unwanted apps. This helps you make the most of your device, even when using performance-draining apps.
Battery: Whether you enjoy streaming shows or keeping up with social media, an all-day 4000mAh battery offers 19 hours of video playback. Supports 18W fast charging*.
Privacy: Boasts 4-layer protection such as Face Key, Fingerprint guard, ability to secure your apps with App Lock, and Sensitive Monitor that detects any suspicious behaviour and alert you.
TCL MOVEAUDIO RANGE
MOVEAUDIO S150 True Wireless Headphones | RRP $69 AUD
Experience portable wireless audio with all-day comfort and studio sound quality.
Superior studio sound quality– large 13mm dynamic coil speaker enhance performance. Dual Bluetooth 5.0 transmission technology allows signals to be transmitted to your earbuds simultaneously, providing smooth, continuous audio for quality viewing and gaming with 120ms latency.
Clear calls with DSP (Digital Signal Processing) noise cancelling– optimises your voice and reduces background noise
Smart touch control at your fingertips –simply double tap to play, pause, pick up a call or end a call, and triple tap the left to go back a song, or the right to go to the next song. Or activate voice assistant for a seamless hands-free experience.
Ergonomic design– featuring IPX4 protection against water, sweat and dust so you can make the most of the S150 on your commute, at the gym and beyond.
Long lasting battery life– up to 3.5hrs of listening time with one single charge, or up to 20 hours with the charging case.
MOVEAUDIO SOCL500 True Wireless Headphones | RRP $129 AUD
Hear every note with engineered audio drivers combined with a world class Acoustic Pro Panel sound signature
Premium sound – 5.8mm speaker drivers for rich bass and echo cancellation for clear sound.
Designed for comfort – geometrically design for superb comfort fit and great in-ear noise isolation
Made to last: IPX4-rated coatings for sweat and water resistance
Playtime: total playtime up to 26 hours, with 6.5-hour continuous playback and 19.5 hours of additional charge from the case
Charge fast – Easy-open slim charging case with 15 mins fast charge for 1 hour playtime
MOVEAUDIO S600 True Wireless Headphones | RRP $199 AUD
Whether you're in a busy café, a loud open office or on a noisy morning commute, MOVEAUDIO S600 will give you a crystal clear and personalised listening experience.
Noise Cancellation – six-mic Active Noise Cancellation enableseach earbud amplifies your voice and reduces background noise so you can hear and be heard in the loudest environments. Active Noise Cancellation allows you to tune out from the world outside. With the tap of a finger, switch to Transparency Mode to have a quick conversation or hear an announcement without removing your earbuds.
Smart Play – audio will automatically play when you put your earbuds on, and stop when you remove them.
Long Listening – offers up to 8hrs listening time and 32hrs battery life with charging case.
Voice Control – interact with your smartphone or tablet without touching a button with Google Assistant.
Dual Bluetooth transmission technology – sound is transmitted simultaneously to both earbuds for ultimate listening smoothness with latency as low as 100ms.
Smart App customisation – personalise your listening experience with the TCL Connect app. Create customsied settings for Active Noise Cancellation, Transparency Mode, touch controls and more for different scenarios.
* A device supports 18W fast charge. An in-box charger varies by countries.