Hardware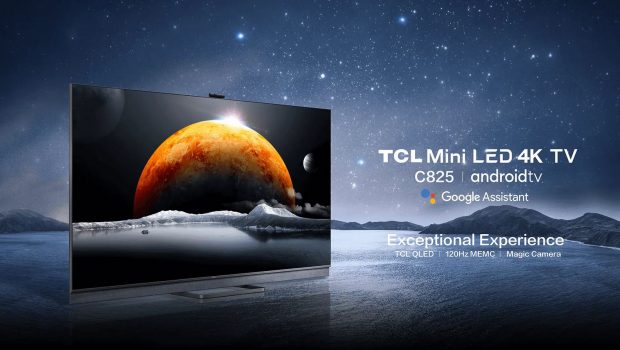 Published on September 9th, 2021 | by Andrew Bistak
TCL C825 TV Review #2021
Summary: The TCL C825 is an all-round TV that scores high for both gaming and films!
We were given the opportunity to review TCL's new and quite impressive C825 TV that targets entertainment lovers, particularly gamers as it supports a Variable Refresh Rate (VRR) of up to 120Hz that gives both PlayStation 5 and Xbox Series X owners, 120 frames per second via HDMI 2.1 (*) with a HDMI 2.1 compliant cable. For next-gen gamers, it basically gives them access to faster and smoother gaming!
The 2021 TCL C825 are available in a variety of sizes that include 55″ (reviewed), 65″, 75″ and 85″. The unit we reviewed has a RRP of $2499AUD (September 2021) and is a decent size for a midrange living room and supports "smart" voice recognition for hands free plus AndroidTV which is the entertainment hub of this system. Interestingly one of the features is gesture control, however this is an additional peripheral that must be manually attached to the C825 which we did not have access to. It's basically a camera that you attach to the top of the TCL C825 TV.
Specifications
Size: 55"
Ultra High Definition: Yes
Resolution: 3840×2160
Backlight Unit: Mini LED Backlight
HDR 10: +Yes
Dolby Vision IQ: Yes
Quantum Dot Technology: Yes
Wide Colour Gamut: Yes
Full Array: Yes
IMAX Enhanced: Yes
VRR: Yes
ALLM: Yes
Viewing Angle: 178°/178°
Contrast Ratio: 5000:1
Clear Motion Rate: 200CMR
Brightness: 500 Nits
Once unpacked, we noticed that the TCL C825 is quite a visually striking piece of tech, however the first step with the setup is to install the included base that is attached by just four screws. Once the stand is attached (which is super small) and your TV is powered, you are ready to go through the setup wizard which is a very easy process that can be done via your phone or through the C825 itself.
For those who have not used an Android TV before, you do need to register your Google account with it in order to access the benefits provided by this system plus there is an optional TCL account as well. The setup process runs you through your region, including Wi-Fi, checking TV for latest updates and to install the following Android apps – Google Duo, 3dmark, Facebook Watch, Asphalt 9 Legends, Twitch Live and Red Bull TV. You can install additional Android TV apps as well.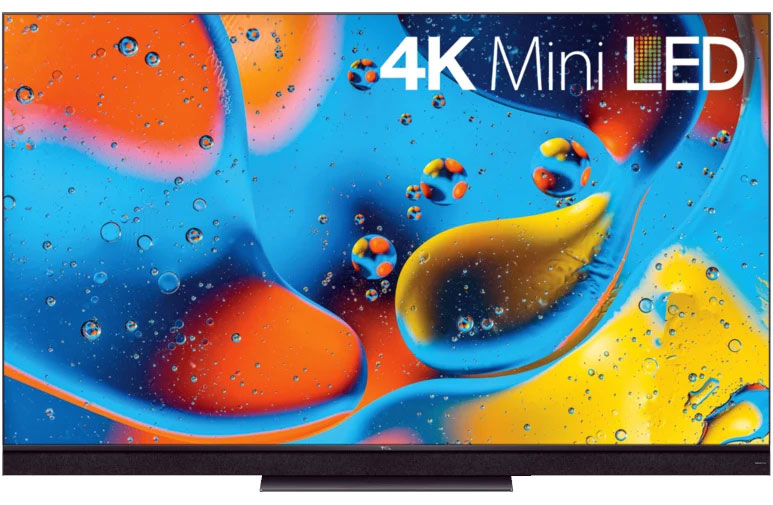 In terms of connections, it comes with 4 HDMI ports (1.4b, 2.0, 2.1, HDCP2.2) with two USB ports on the back of the unit. The only design change I would implement would be ports on both sides of the unit. Nonetheless it is a well designed TV, including its slimline remote control that has quick access to Netflix, Disney+, Amazon Prime and Stan. I've checked out a handful of TV's this year and the TCL is definitely my favourite due to its size and simplicity to navigate.
While the TV does take some time to initialize when you first turn it on or unplug it from the mains, it is relatively fast to power-on after this through its standby mode. Navigating the system is quick thanks to Android TV and accessing your favourite streaming services or inputs such as the PlayStation 5 or even a PC is simplicity at its best.
* HDMI (High-Definition Multimedia Interface) 2.0 vs HDMI 2.1 – In order to experience 120 frames per second in 4K, you need a TV that supports the new HDMI 2.1 standard. While HDMI 2.0 can deliver 4K, it can't display more than 60 FPS (frames per second) due to its limited bandwidth of 18 gigabits per second (Gbps), whereas HDMI 2.1 has a bandwidth of up to 48Gbps that can deliver 120 FPS and 8K.
Review Gallery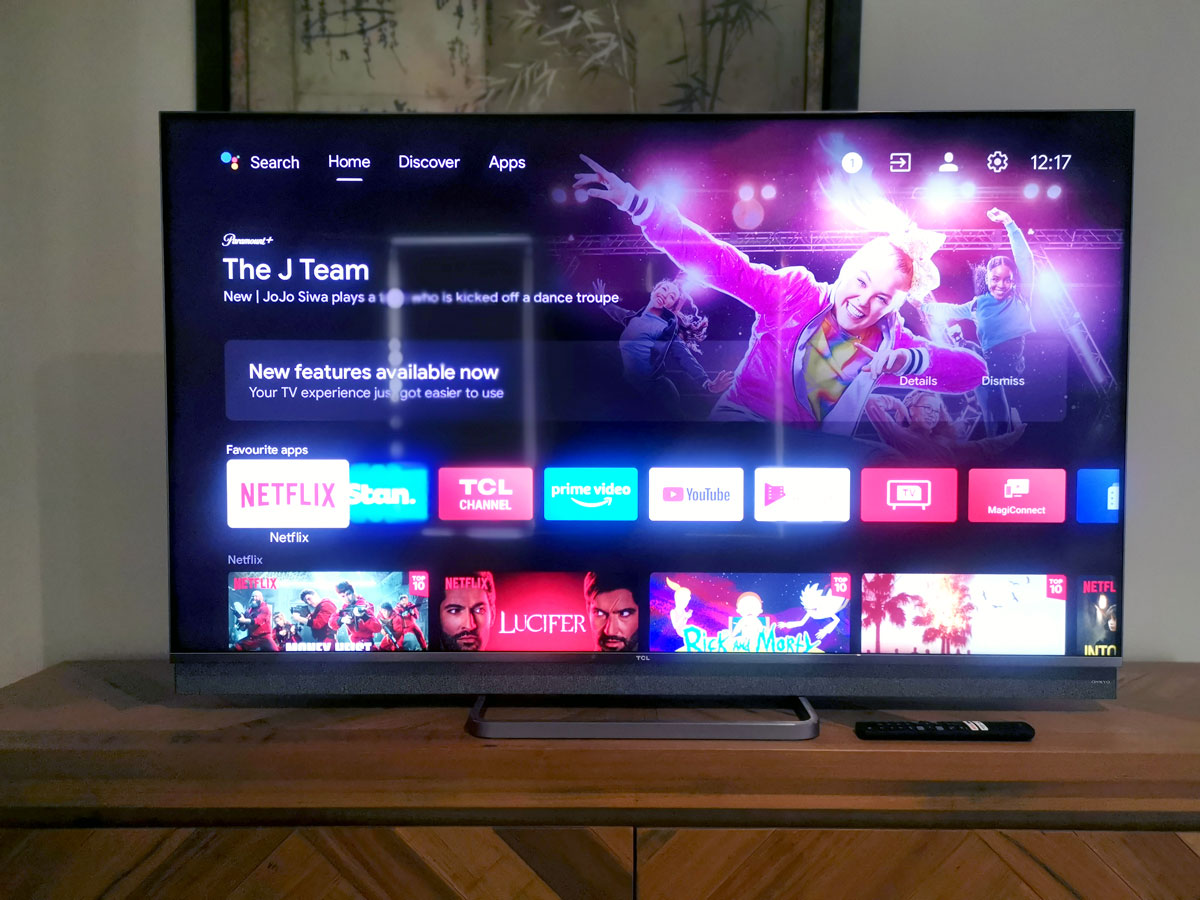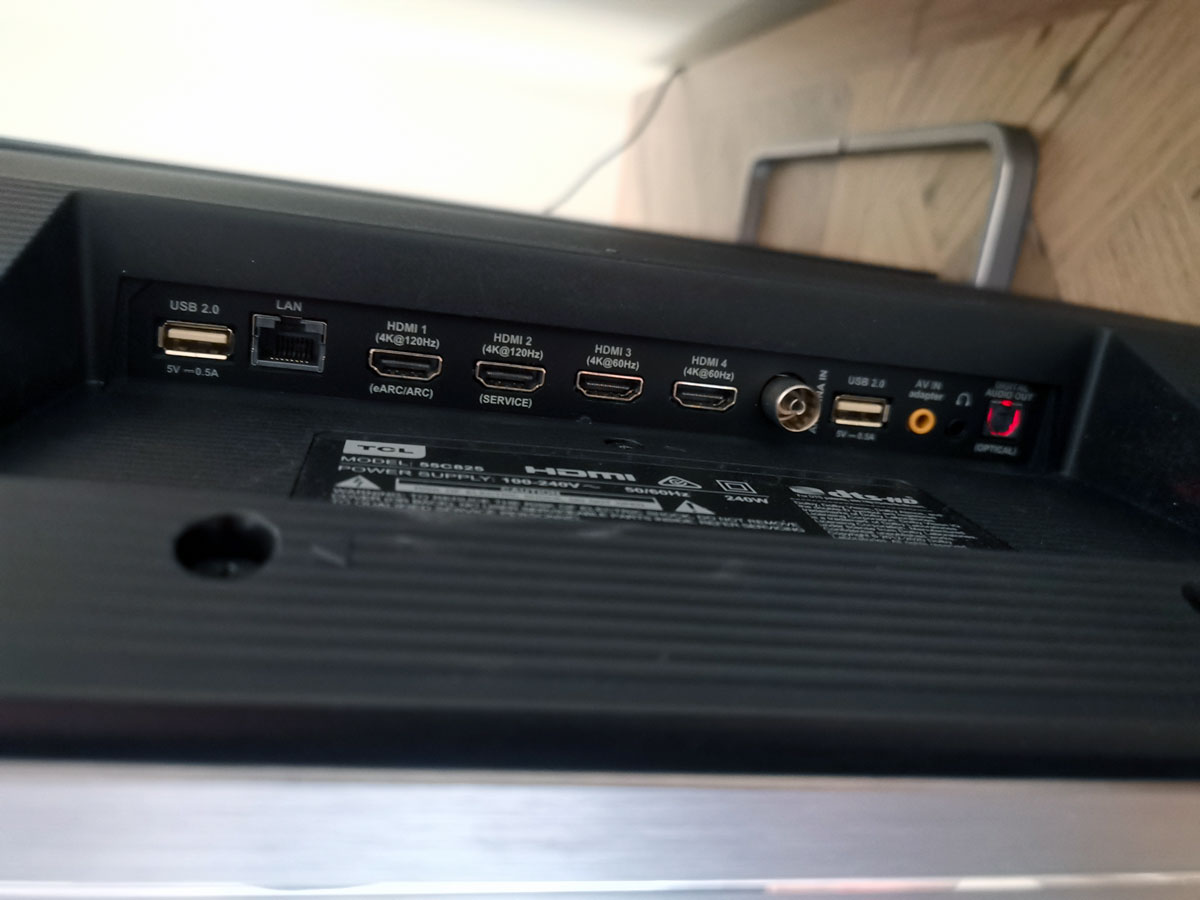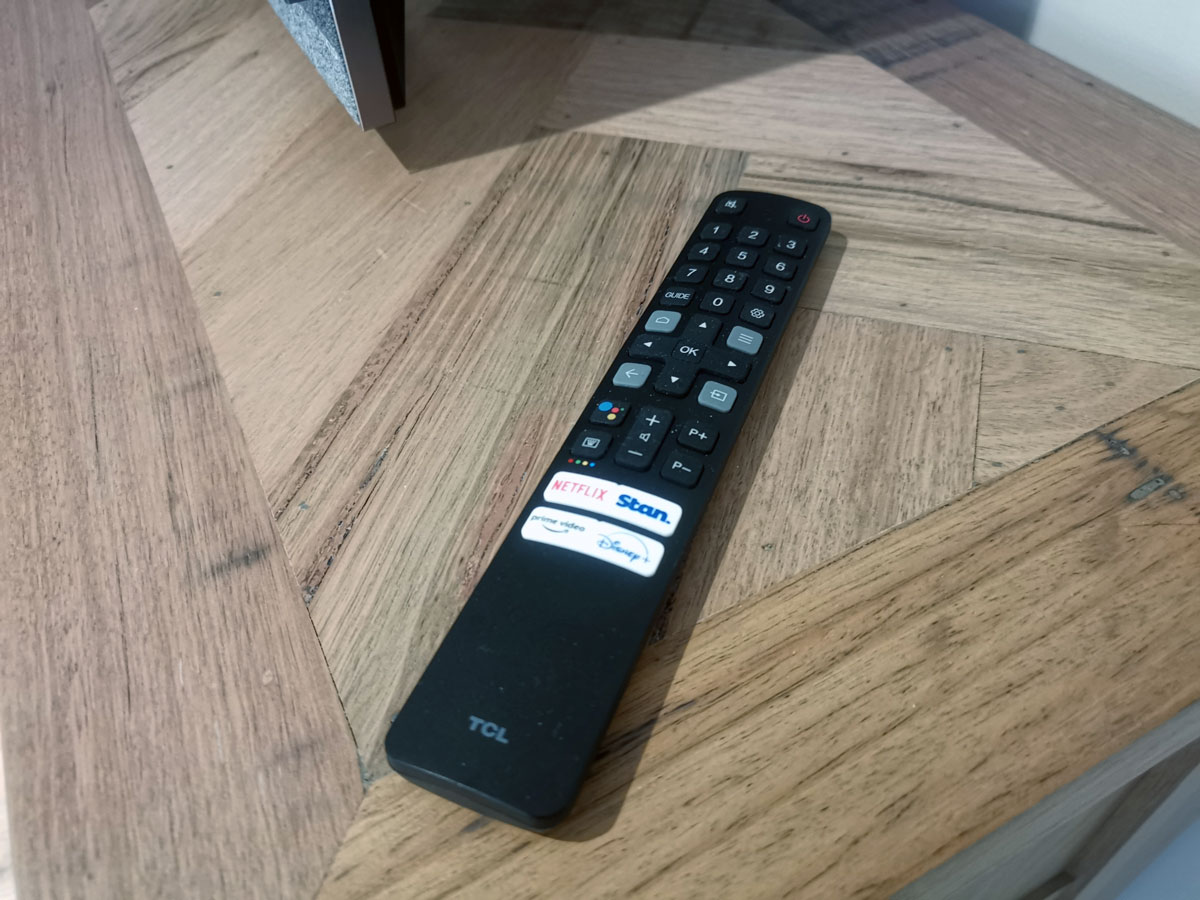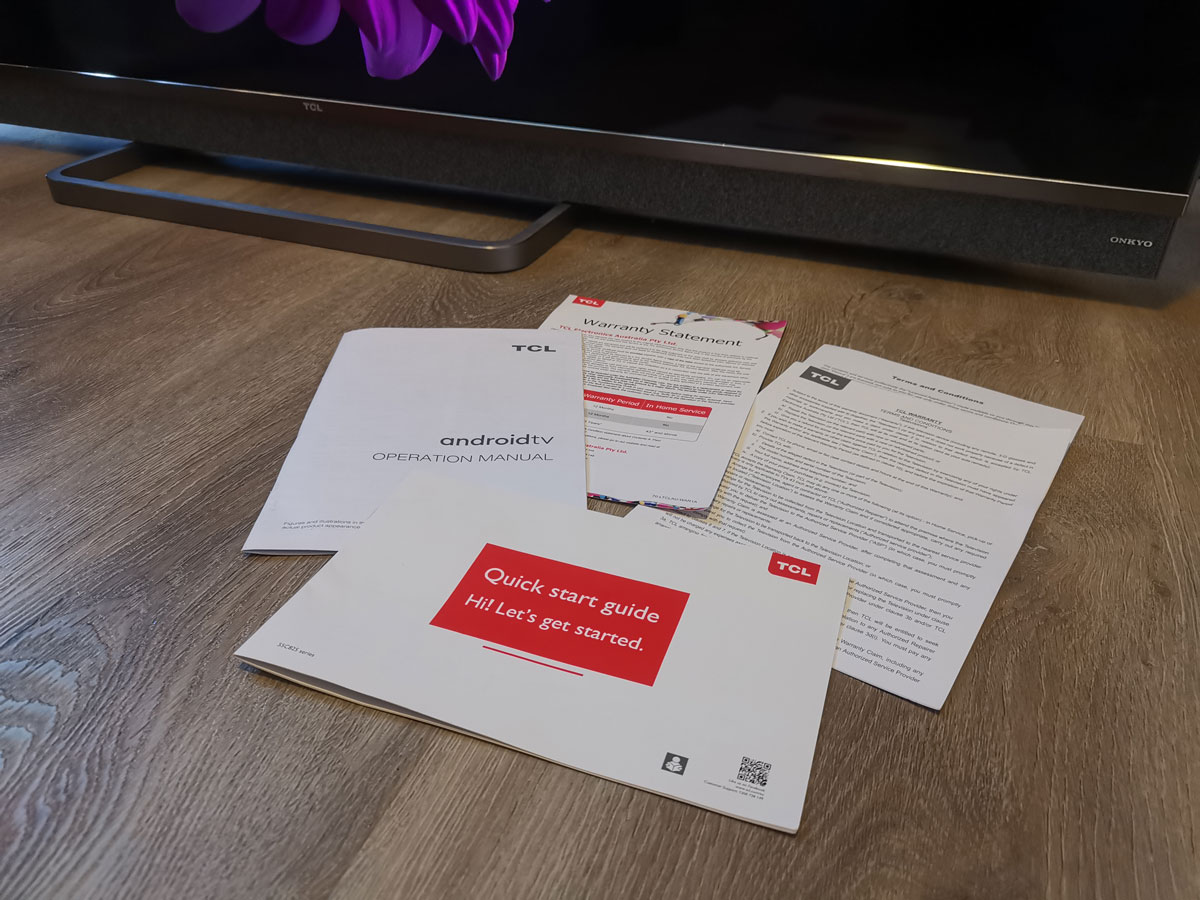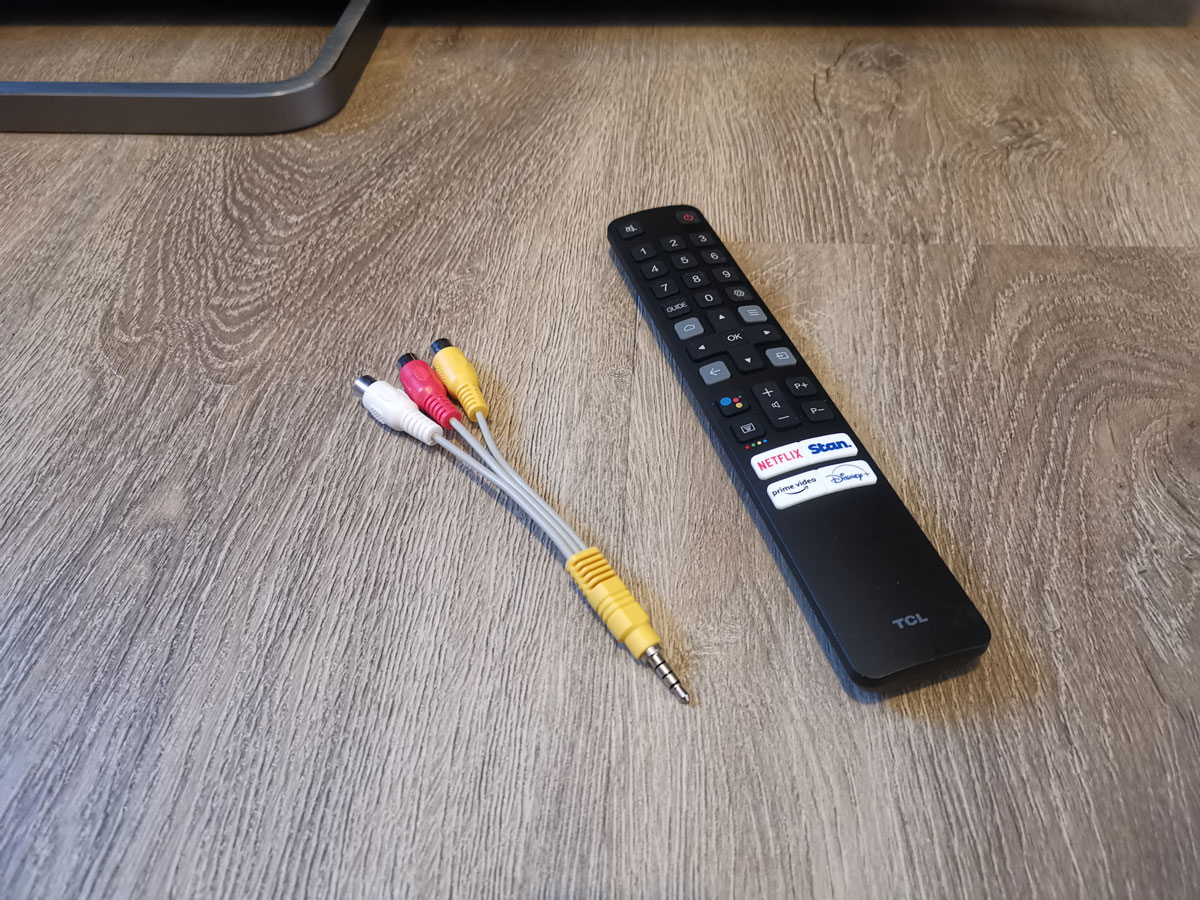 And yes that's an AV IN cable! :) :) :)
Video quality on the TCL C825 produced some very clear and smooth videos with rich colours. While not as clear as a 2021 OLED panel, the Mini LED technology is getting closer and as a result create sharper images with deeper blacks. The 4K resolution (3840 x 2160 resolution) with mini LED Backlight plus HDR10+ really brought both games and films to life, particularly when it comes to depth. Colours were a kaleidoscope, especially 4K content and some of those YouTube videos were amazing.
As a gamer, the 120Hz display is fantastic and playing Spider-Man: Miles Morales at 120 frames per second (fps) was super smooth with no jaggedness or tearing. Additionally Gears of War and Forza Horizon 4 on the XBox Series X, both 120 fps games were faultless when it came to video performance.
Films such as Tenet and Raya and the Last Dragon produced a cinematic experience on this TV due to the overall clarity of images and vibrant colours. While it has an Intelligent Picture and Sound option that automatically adjusts, you can further tweak the video and sound. For example, picture mode supports (vivid, low power, smart HDR, sports and movie) and when you enable smart HDR, you can really see the difference in terms of brightness and true blacks.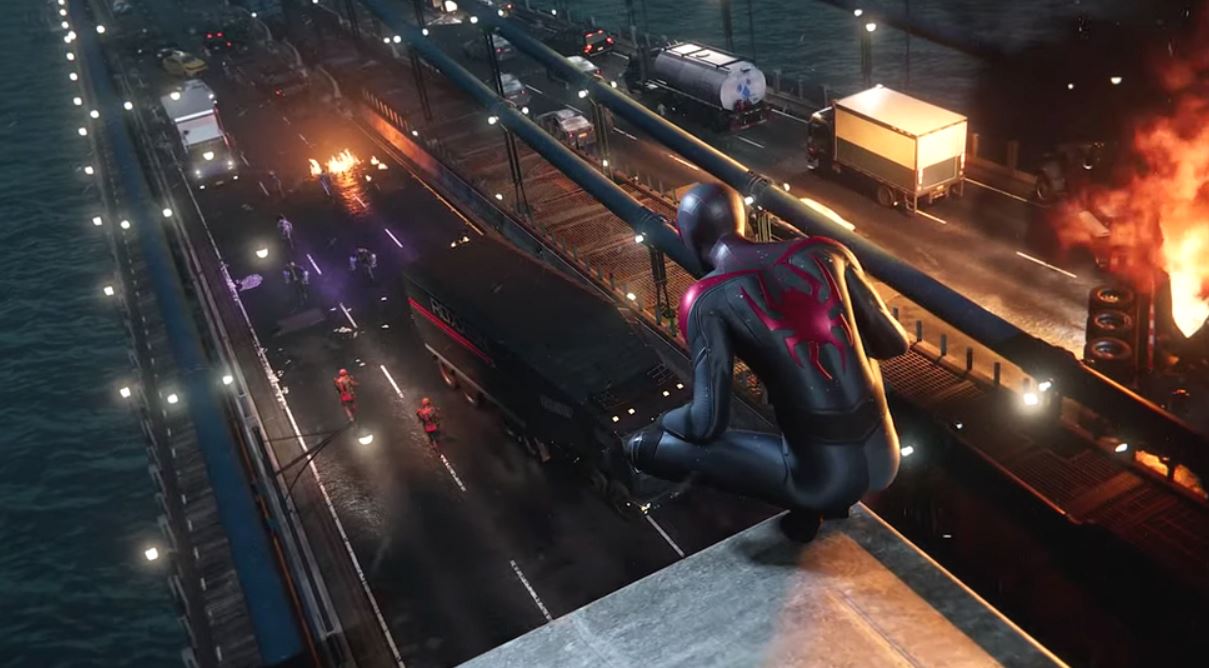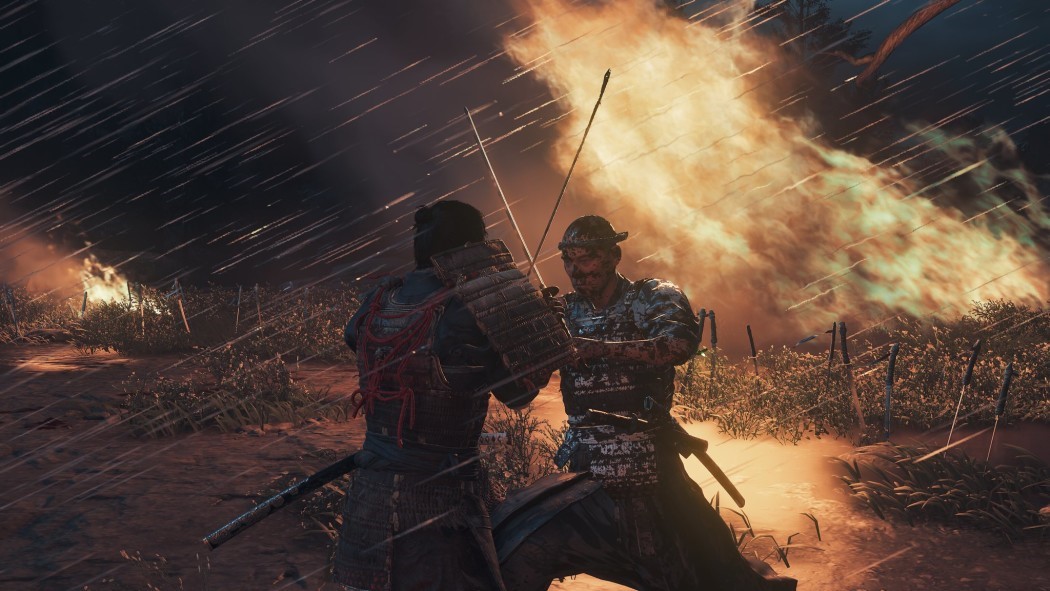 While I generally use my TV speakers for gaming, I was quite surprised at the audio quality of this unit and TCL have a collaboration with Onkyo Audio (front facing speakers) that with the integrated subwoofer on the C825 plus Dolby Atmos, it creates a very crisp and clear audio, including a boom bass.
So whether I was playing Ghost of Tsushima Director's Cut on the PlayStation 5 or Microsoft Flight Simulator on the Xbox Series X, the audio experience was great and a very satisfying one. Equally streaming services such as Netflix or Disney+ produced great audio levels with no lag whatsoever. Watching the recently released Indiana Jones 4K set on this TV was pure cinematic from its remastered video and audio.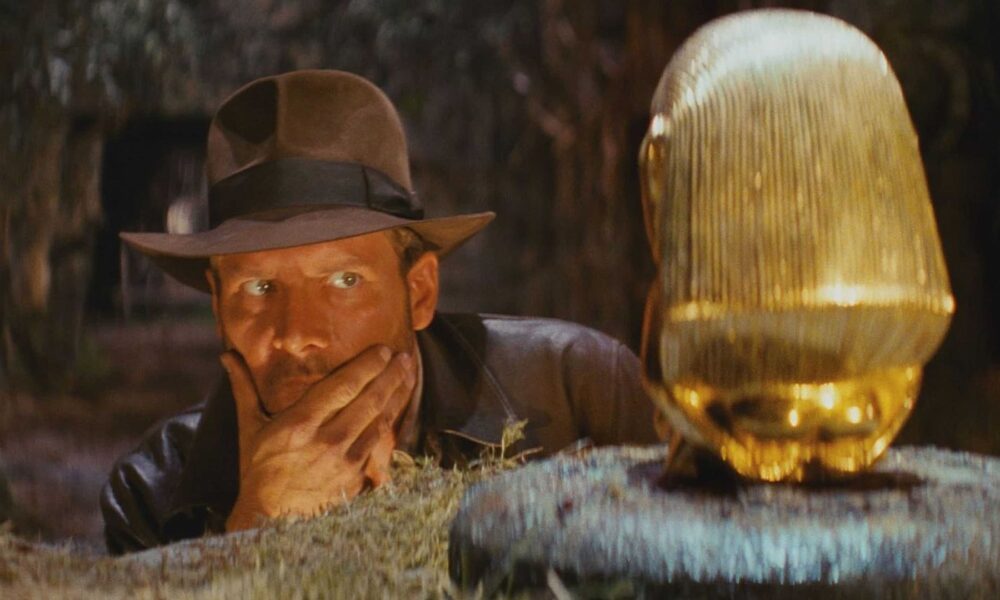 As briefly mentioned, navigating the TV via the remote is good and I like how TV manufacturers are removing button 'clutter' and just making sure you have access to what is really needed. The remote for the C825 is also smaller and lighter than its competitors and to access other streaming services opposed to Netflix, Stand, Prime Video and Disney+, this is done through the home button.
There is also a Google Assistant option on the remote as well that by holding it down, you can then use voice commands on your TV. While the voice commands work, it can be a a tad frustrating when you need to repeat yourself and it is not as fast as your smartphone unfortunately.
Final Thoughts?
If you're a gamer and looking to upgrade your TV in order to access 120 frames per second gaming on your next-gen consoles, then the TCL C825 does provide some excellent value for money. Both the video and audio quality are quite impressive, so movie lovers will also appreciate this feature.
Overall, it is a well-designed TV from TCL from its external appearance to navigating Android TV and if you're looking for some well-deserved escapism (particularly if you are currently living in Victoria or NSW), then this might be the panacea to your freedom and I must admit that watching 4K and 8K YouTube videos of the outside world in my home study was a very soothing experience.
Recommended!
For more information, please visit https://www.tcl.com/in/en/tvs/c825
Features
TCL Android TV
Android TV makes it easier to get more from your TV. Choose from 400,000+ movies and shows from across streaming services. Cast photos, videos, and music from smart devices to your TV with Chromecast built-in.
Mini LED
Mini LED technology dramatically increases the number of local dimming zones with thousands of individually precision-controlled backlight LEDs. Mini LED yields deeper blacks together with enhanced colour reproduction, contrast and brightness for a smoother, more uniform picture and a powerful step up in overall picture quality.
4K
With four times the resolution of Full HD and an impressive 8 million pixels, you'll feel the difference. The clear, crisp picture quality lets you see more detail in your favourite TV shows and movies than ever before. You'll never go back.
Precision Backlight Brightness Control
Precision lighting control delivers enhanced brightness and uniformity across the screen. Enjoy increased contrast ratios, better blacks and a boost to overall colour and picture quality.
IMAX Enhanced
Certified IMAX Enhanced televisions use custom image processing technology to deliver the trusted IMAX quality. Digitally remastered for the highest-quality 4K/HDR images with reduced noise and grain bring cinema viewing standards to your home screen.
Variable Refresh Rate (VRR) – up to 120Hz
Variable Refresh Rate provides automatic adjustment of panel refresh rates to match your input device, all whilst saving power. Enjoy complex and detailed scenes with reduced on-screen tearing and stutter for a smoother, more pleasing gameplay experience.
Quantum Dot
Quantum Dot technology utilises efficient light emitting nano-crystals for the precision control of individual picture elements. Turn up the colour volume for truer whites and a rich, vibrant and more natural expanded range of colours.
Built in subwoofer
Deep, powerful bass is built into the TV's integrated subwoofer for sound that packs a punch when you need it. Hear the engine scream, the crowd roar, the sound waves rip… TCL has included the technology to really 'take you there'.
Onkyo Audio
Onkyo have long been a trusted brand in premium Hi-Fi audio. Onkyo Audio brings a new level of dynamic energy to your TV sound – the perfect match for TCL's incredible picture quality. Hear detail and clarity in your television audio from whisper quiet dialogue through to room-thumping explosions and never miss a beat.
Wide Colour Gamut
Whether you seek bold, vibrant colours or smooth, natural gradients with your chosen TCL television entertainment. Wide Colour Gamut delivers the impact you expect. Open your eyes to a new realm of colour through an expanded palette.
HDR 10+
High Dynamic Range (HDR) technology delivers you bold, rich contrast and vivid colours with crystal clarity. View blacker blacks, whiter whites and expanded colour range for an incredible and immersive viewing experience.
Dolby Vision IQ
Dolby Vision IQ takes picture control to a new level. Light sensors in the TV measure the surrounding environment and dynamically adjust the screen output for optimal picture quality. Enjoy an ideal viewing experience under any lighting conditions, day or night, with Dolby Vision IQ.
Dolby Atmos
Dolby Atmos offers breathtaking audio realism and control like never before. Creating an impressive 3D sound stage with 360 degree immersive sound, Dolby Atmos will seat you in the middle of the action, not just in front of it.
Clear Motion Rate
200 Clear Motion Rate smooths video frame transitions when viewing fast paced sports, action movies and games. Reduced judder and motion blur yields a cleaner and clearer picture that will keep you on the edge of your seat and absorbed in the action.
AIPQ Engine
The AiPQ Engine is the incredible audio/visual processor driving TCL's outstanding features and performance. The AiPQ Engine processes content in real time, detecting environment and upscaling display and audio. Picture is optimised according to content; so oceans appear bluer and rainforests more lush. Meanwhile audio quality is compensated dynamically based on volume; eliminating distortion of signal and speakers, and providing a more authentic listening experience at any sound level.
Improved Gameplay Experience
For gamers, a responsive TV is just as important as one with a good picture. HDMI 2.1 ensures compatibility with latest game console generations and enables functions like ALLM (Auto Low Latency mode). ALLM allows the video games console or PC graphics card to automatically switch the TV into game mode for a super-fast TV game input lag*.
*Latest HDMI 2.1 game console generation or HDMI 2.1 PC gaming device required.
Hands-Free Voice Control 2.0
Your TV is responsive to your voice commands! Powered by Google Assistant, Hands-Free Voice Control 2.0 frees you from the remote control. Use your voice to search on-demand content and streaming apps. Tell Google to pause, play, stop, or rewind. Ask questions and see answers on-screen. Even control compatible smart devices around your home, manage tasks, and much more – all on your TCL Android TV with the power of your voice*.
Gesture Control
Use simple hand gestures to fast forward, rewind, pause, play, or take selfies while watching content*.
*TCL TV camera required (sold separately). Gesture control is available on TCL media player (USB content) or gallery only.
One Button Quick Access
Access a never-ending supply of home entertainment through the Entertainment Hub. Offering a host of platforms including Netflix, Stan, Amazon Prime and YouTube as well as View-On-Demand services, all in one place. Whether streaming or playback, the Entertainment Hub will have all your viewing preferences covered.
Freeview Plus
Freeview Plus* provides access to content and services from the Freeview networks. The Freeview Plus service provides a 7+ day EPG, all available Catch Up TV on the TV, recommendations and more.
*Freeview Plus uses HbbTV technology which combines broadcast and broadband.
3 Year Warranty
Build quality and longevity are important aspects of all TCL products. As such, our commitment to quality is backed by an extended 3-year warranty. For full warranty terms and conditions on domestic and commercial use, click here.