Hardware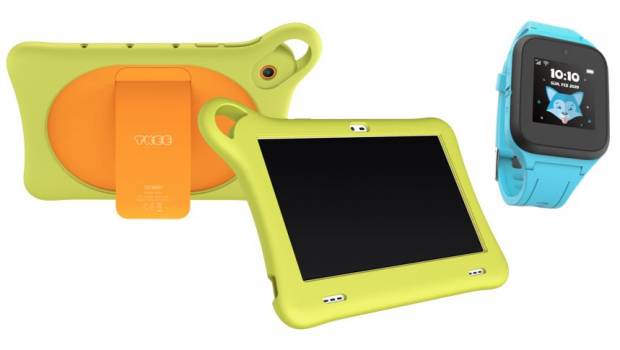 Published on July 21st, 2020 | by Adrian Gunning
TCL Bundles Peace of Mind and Independence Together with New Kids Tablet and Smart Watch Combination
TCL Communications has today announced the launch of a family-friendly technology bundle, featuring the new Alcatel TKEE Mini Tablet as well as the previously launched TCL MT40 Family Watch. Both products are specifically designed with connectivity, peace of mind, safety and independence in mind for children and parents alike and are packaged together for the first time at an affordable price for young families.
The TCL MT40 Family Watch is a smartwatch for children that offers extensive parental controls and geo-tracking for peace of mind, as well as the opportunity to video call or send emojis to a secure list of pre-approved contacts.
It comes paired with the new Alcatel TKEE Mini Tablet, a 7-inch Android tablet which offers a unique kid-friendly design, built to be durable with an easy-to-use interface, as well as parental controls and site filtering. It also comes with a selection of child-friendly games, an interactive book, and 30-minute alerts for screen breaks.
"As a father, knowing my children are safe in the real world and online is my number one priority. We're proud to be in a position to offer these two products together, so that Australian families have an affordable option to invest in technology that is built for children, with parental needs in mind," said Sam Skontos, VP and Managing Director, TCL Mobile, South-East Asia & Pacific.
"In the digital world we live in, the bundle presents a great option for younger families, with children that might not yet be ready for their first smartphone. It provides a way for these kids to stay connected with their parents as they head to kindergarten or prep-school with the smartwatch, as well as the option to play and learn at home with the tablet, in a way that removes the worry of the unfiltered and unseemly side of the internet that is all too easily stumbled upon with your typical tablet or phone."
Alcatel TKEE Mini Tablet
Learning meets entertainment on the Alcatel TKEE Mini Tablet, a brand-new tablet designed specifically for children. The TKEE Mini Tablet features robust parental control options and access to Kidomi, a premium content platform that offers a selection of games and interactive books for different ages, all handpicked by educational experts. The 7-inch Android tablet is powered by a 2580mAh battery for a full day of fun and learning.
For peace of mind, the tablet comes with a comprehensive parental control panel that allows parents to set digital boundaries around which apps children can access and limit how long children can use the tablet.
Keeping kids aware of their screen-time habits from the very start, the TKEE Mini Tablet encourages good usage habits with 30-minute alerts for screen breaks and usage time. It also alerts the user if they are closer than 25cm from the screen and offers an ergonomically designed tablet stand to encourage ideal viewing posture. A detailed activity feed provides insight into childrens' learning patterns and usage habits, and parents can apply filters within Kidomi to ensure their children use preferred content.
Ready to keep up with the most rumbustious of rascals, the TKEE Mini Tablet features a colourful, sturdy, and rugged silicone bumper case with soft rounded corners, which is strong enough to endure more than 1,000 drop tests from 30cm, 60cm and 100cm.
TCL MOVETIME Family Watch (MT40)
Offering smooth two-way video calling with a built-in camera and 4G connectivity, the MOVETIME Family Watch helps parents easily check in to see how their kids are doing. Kids can easily connect with family and share their day by direct calling, sending pictures, voice messages and emojis in one-on-one or group chats. The MOVETIME Family Watch's colourful design is kid-friendly and parent-approved with durable materials, IP65 waterproofing, a replaceable band and a 1.3-inch colour display with changeable watch face.
With the TCL Connect app and SOS button, the MOVETIME Family Watch delivers peace of mind by easily finding your child with its precise geolocation. Customised geofencing areas can be conveniently created on the watch, with notifications sent if your child leaves the customised safe zones. It helps you to easily supervise and keep track of where your child has visited with its convenient location history function.
The MOVETIME Family Watch also goes beyond safety and convenience to support children in living an active lifestyle. Its built-in pedometer tracks steps and distance walked. Kids can compete in activity rankings with friends and set new goals, while parents can "like" children's daily activities to give motivation and encouragement.
The MOVETIME Family Watch is also packed with features to help your kids throughout the day, including an alarm clock and School Time Mode so your kids will be up on time and never distracted in class.
Pricing and availability
The TCL Kids Bundle is available from Big W now for a special price of $229 until 30th July. Following the sale, the bundle will be available for $279 AUD.
Alcatel TKEE Mini Table & TCL Kid SmartWatch Bundle – Pink: https://www.bigw.com.au/product/alcatel-7inch-tablet-tcl-kids-smartwatch-bundle-pink/p/97116/
Alcatel TKEE Mini Table & TCL Kid SmartWatch Bundle – Blue: https://www.bigw.com.au/product/alcatel-7inch-tablet-tcl-kids-smartwatch-bundle-blue/p/97115/