Hardware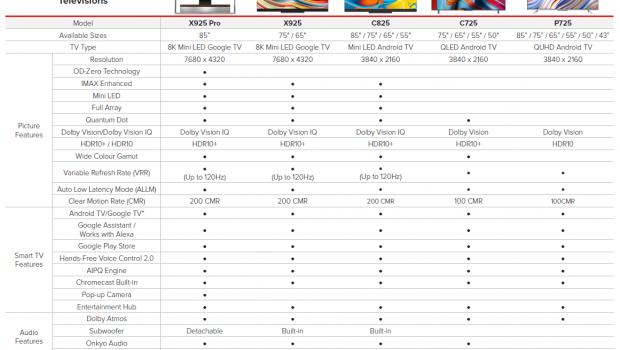 Published on June 1st, 2021 | by Adrian Gunning
TCL Australia announces its first range of Google TVs
TV manufacturer and consumer electronics giant TCL continues to innovate and drive QLED and Mini-LED technology by launching a new range of televisions, complete with Google TV. The selected range comes loaded with cutting-edge audio, picture and connectivity technologies such as VRR (Variable Refresh Rate), Quantum Dot and Mini LED technology for striking brightness, Precision Contrast Control and exceptional depth, definition and clarity.
The new range boasts both 4K and ground-breaking 8K resolution – four times the resolution of 4K Ultra HD –for incredible sharpness and clarity. Innovative Mini LED backlight technology features outstanding colour, contrast and brightness for exceptional picture quality whilst Dolby Atmos and Onkyo Audio combine to produce an immersive multi-dimensional soundscape. With further audio and visual enhancement through the AiPQ Engine real-time optimisation and the addition of hands-free voice control technology, the TCL 2021 TV range presents a superior TV experience.
"The new range of TCL TVs offers the next generation of gamers the fantastic Game Master experience that is second to none," says Mark Zhang, Managing Director at TCL Electronics AU/NZ. "​TCL has also become the Official TV Partner of Call of Duty worldwide, demonstrating our ability to bring the best gaming experiences to users all around the world."
Entertainment you love with a little help from Google TV
TCL is one of only two manufacturers offering Google TV in 2021. With Google TV available on TCL's new range in the second half of 2021, TCL is taking the entertainment you love to the next level. Google TV brings together movies and shows from across your apps and subscriptions and organises them just for you. Discover new shows to binge with recommendations based on what you watch from across your existing subscriptions and content streams. Ask Google to find movies and shows, answer questions, control smart home devices, and more, with your voice. Selected existing TCL TV models will also be making the upgrade to Google TV via software update in 2021.
Mini LED Technology: Vastly superior picture quality
Mini LED technology dramatically increases the number of local dimming zones with thousands of individually precision-controlled backlight LEDs. Full array Mini LED yields deeper blacks together with enhanced colour reproduction, contrast and brightness for a smoother, more uniform picture and a powerful step up in overall picture quality. Essentially by using more, smaller LEDS, the TV has more control over its highlights and shadows, giving you better contrast and image quality especially with HDR content and games.
Quantum Dot Technology: Delivers incredible depth and realism
Quantum Dot technology utilises efficient light emitting nanocrystals for the precision control of individual picture elements. Turn up the colour volume for truer whites and a rich, vibrant and more natural expanded range of colours.
Variable Refresh Rate: Real-time gaming experience
Variable Refresh Rate (VRR) provides automatic adjustment of panel refresh rates to match your input device, all whilst saving power. Enjoy complex and detailed scenes with reduced on screen tearing and stutter for a smoother, more pleasing gameplay experience. VRR on both the X925 and C825 series allow users to connect consoles or PCs to their TV and take advantage of 4K content at 120hz — a much sought after feature for today's gamers. Auto Low Latency Mode (ALLM) recognises your console and automatically switches to Game Mode for reduced input Lag and settings that optimise your playing experience. Selected range is supported by Freesync.
Dolby Vision IQ: Automatically adjusts for optimum picture quality
Dolby Vision IQ takes picture control to a new level. Light sensors in the TV measure the surrounding environment and dynamically adjust the screen output for optimal picture quality. Enjoy an ideal viewing experience under any lighting conditions, day or night, with Dolby Vision IQ. It uses the metadata from DV content and the ambient light sensor inside the TV to dynamically adjust the HDR content based on the conditions and lighting in your room.
AiPQ Engine: Enhanced picture quality
The AiPQ Engine is the incredible audio/visual processor driving TCL's outstanding features and performance. It processes content in real time, detecting environment and upscaling display and audio. Picture is optimised according to content so oceans appear bluer and rainforests lusher. Meanwhile audio quality is compensated dynamically based on volume. This eliminates distortion of signal and speakers and provides a more authentic listening experience at any sound level.
TCL's C825 and X925 TVs come with deep and powerful bass from the in-built subwoofer for sound that packs a punch when you need it. They are also one of only three manufacturers to have received IMAX Enhanced certification. IMAX Enhanced displays must meet additional requirements over and above what most 4K UHD TVs deliver today in order to receive certification.
TCL TVs are an integral part of your smart home. Powered by Google Assistant, Hands-Free Voice Control 2.0 frees you from the remote control. Use your voice to search on-demand content and streaming apps. Tell Google to pause, play, stop, or rewind. Ask questions and see answers on-screen. Even control compatible smart devices around your home, manage tasks, and much more – all on your TCL TV with the power of your voice*. Hands-free Voice Control 2.0 is standard across TCL's entire 2021 UHD range.
In addition, TCL has announced three new soundbars. Great audio is a vital element for immersive entertainment. A dedicated soundbar offers a dramatic leap forward in audio quality and power from embedded TV speakers. With clean separation of dialogue from music and sound effects, and reduced background noise, enjoy clear and precise audio every time. Simple to setup and easy to operate, a dedicated TCL soundbar will enhance any entertainment you choose.
TS8132 – 3.1.2 Ch Soundbar with Wireless Subwoofer – featuring Dolby Atmos surround sound. Works with Google Assistant, Amazon Alexa and Apple Airplay connectivity
TS8111 – 2.1 Ch Soundbar with Dual Built-in Subwoofers – featuring Dolby Atmos surround sound technology
TS6110 – 2.1 Ch Soundbar with Wireless Subwoofer – featuring Dolby Digital Audio
2021 pricing and availability:
X925: RRP from $4499. Available from July
C825: RRP from $2499. Available from June
C725: RRP from $1099. Available from June
P725: RRP from $899. Available from June (selected models)
TS8132 –$699 – Available from August
TS8111 – $499 – Available from June
TS6110 – $399 – Available from June
TCL's 2021 TV range is sold through Appliances Online, JB Hi-Fi, Harvey Norman, Bing Lee, Bi-Rite, Leading Appliances, Betta Electrical, Retravision, The Good Guys and other major retailers.
TCL Soundbars are sold through JB HiFi, Betta Electrical, Appliances Online and Bi-Rite.