News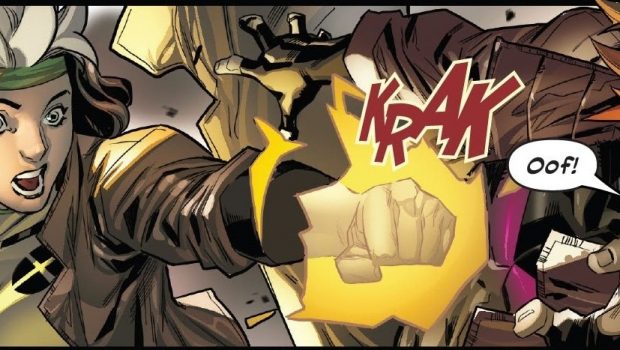 Published on June 21st, 2023 | by Howard Smith
TABLES TURNED IN ROGUE & GAMBIT #4
Summary: Gambit has a lot to deal with and that includes a rampaging Rogue on the loose.
Enter The Power Broker
Enduring a deadly revelation, Rogue finds herself surrounded by mutant villains who are being controlled by a mysterious figure. In the wake of Vanisher's death, Rogue comprehends the consequences of removing the devices keeping some of the world's most lethal criminals at bay in Rogue & Gambit #4. Alone, Rogue encounters the mastermind who reveals himself as Power Broker, and faces off against powerful mutants, such as Electro and Juggernaut. Surprise, Manifold is there too, but he's not helping Rogue against the villains. Instead, Manifold joined them and has Rogue cornered. As it seemed the end for Marvel's southern belle, a certain Cajun thief plays his hand and makes a spicy entrance. This situation goes awry when Rogue isn't in control of her own body and battles her husband to death.
Philips (Wonder Woman: Evolution, We Only Kill Each Other) did not waste any time getting right into Rogue's predicament after first establishing some backstory. This bit of information plays a part in understanding at least somewhat of what Power Broker's ambitions are leading to. However, the writing and story progression in Rogue & Gambit #4 remains to be an exciting adventure filled with action, drama, and a dash of humor. While Phillips focuses on telling a story about two mutants who must save the world and work on their marriage, she touches on subjects that can be sensitive for most or relatable to some. This can be seen in the comic book when Rogue and Gambit are in hand-to-hand combat and Remy continuously dodges her suggestions on opening up to her or at least talking to her instead of drowning in booze from the first issue. The callbacks are refreshing when Phillips inserts them at important moments, but they also add depth to the couple's communication problem.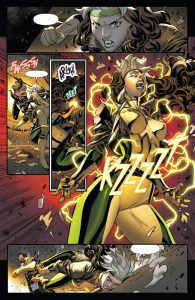 Meanwhile, Gómez (I, Mage, Ghost-Spider) has no communication problem with Phillips in illustrating an interesting and worth-reading comic book. Gómez upholds his artistic talents on Rogue & Gambit #4 with a level of awesomeness. He beautifully draws each scene as they are central components of the overall story. Each panel showcases his attention to detail and the chronic flow of movement. At no point while reading will there be a moment when a reader must re-read a scene to understand a movement that may be confusing. Through Gómez's expertise, he recognizes how to bring out the best solution to visualize an action-packed comic book. Speaking of recognizing, Curiel (Delete, Green Lantern Corps) excels at knowing what color pallets to distribute and allow the comic book to radiate. Curiel's vision of coloring a vivid world adds value that enhances the experience of reading about Rogue and Remy. Curiel, like Phillips and Gómez, produces work that keeps getting better and better as it proceeds.
Maher (Iron Cat, Hellions) remains as the comic book letterer. Maher is doing a marvelous job at providing cool sound effects and appearances of the dialogue within the story. None of the words are jarring or hard to see as visual anomalies. Simultaneously, Morris (House of Gold Bones) establishes a cover of the comic book that almost describes the kind of relationship Rogue and Remy may possibly be going through. At the same time, the cover is sensational to admire.
While Mr. and Mrs. X may be preoccupied with a fight for the world in Rogue & Gambit #4, it's not too late to grab the previous issues and this one at your local comic book store. Be sure to see what happens next as Rogue and Gambit continue their adventure.
Comic Details
Writer: Stephanie Phillips
Artist: Carlos Gómez
Colorist: David Curiel
Letterer: VC's Ariana Maher
Cover Artist: Steve Morris
Editors: Sarah Brunstad, Mark Basso
Publisher: Marvel Entertainment