Games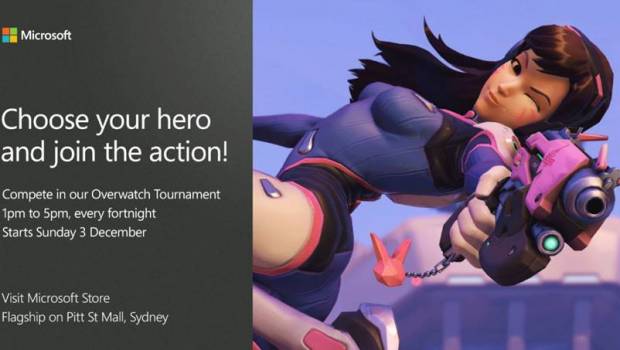 Published on November 29th, 2017 | by Admin
Sydney flagship Microsoft Store announces Overwatch Tournament
Sydney flagship Microsoft Store is launching an Overwatch tournament, kicking off this weekend on Sunday 3rd December at 1pm AEDT. The Overwatch tournament will initially take place fortnightly during the month of December with the first competition on Sunday, 3rd December and the second on Sunday, 17th December, continuing again from 7th January 2018. Teams of six and solo players are welcome to attend with individual players matched with others on the day wherever possible.
The tournament will be on held gaming laptops in store, featuring around 4-6 teams per tournament. All tournament attendees will be able to access exclusive offers on gaming devices in store and the winning teams will be rewarded with some great swag.
Great for gamers of all experience levels, the tournament aims to bring the Overwatch community together in an accessible, friendly environment where players can meet and have fun at the flagship Microsoft Store in Sydney. Whether you've been playing with friends online, you're a budding eSports player or team or just interested in taking part, the Overwatch tournament is a great way to meet other gamers, connect with the community and most importantly have fun.
For more information and to register for the event, click here.