Collectibles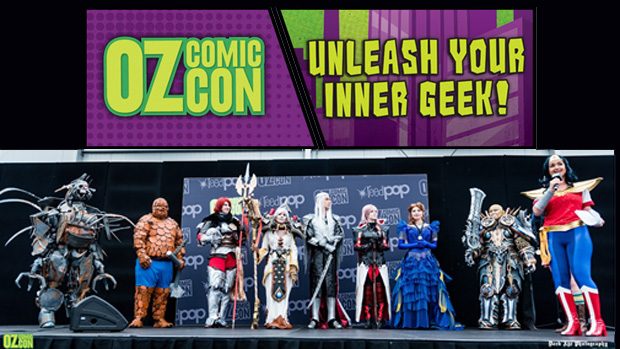 Published on September 11th, 2016 | by admin
Sydney Cosplay Talent Shines at Oz Comic-Con! Next Stop – Brisbane
The Australian Championships of Cosplay are one step closer to finding the national champion after crowning the New South Wales winner this afternoon at Oz Comic-Con Sydney.
The winner, a Sydney cosplayer named Henchwench (above, second from right), was dressed as a female Orc Death Knight wearing Legion Armour, a character from the video game World of Warcraft: Legion.
Henchwench (who politely declines to reveal her real name) is a costumier by trade, and says that her love of costume creation comes from her father who worked in the movie industry. "My dad is an old-school movie special effects guy, so I sort of followed in his footsteps," she says. "My first job from the age of 14 to 16 was working on The Lord of the Rings movies in the armory, and I've been hooked on costume making ever since!"
Handcrafting all aspects of her cosplay (except for a bald cap, pointed ear tips, contact lenses and inner-shoes), Henchwench's creation includes mini-smoke machines and LED lighting designs.
Henchwench will now join state champions from Western Australia, South Australia and Victoria, as well as the winner of the upcoming Queensland heat, to compete in the Australian finals next weekend at Oz Comic-Con Brisbane. The national winner of the Australian Championships of Cosplay will defend Australia's title at the Crown Championships of Cosplay, held at C2E2 in Chicago next year. Major Sam, the 2015 winner of the Australian Championships of Cosplay, won the global Crown Championships in March this year.
Oz Comic-Con Brisbane will be held at the Brisbane Convention and Exhibition Centre on September 17-18.
For more information please visit www.ozcomiccon.com.