Comics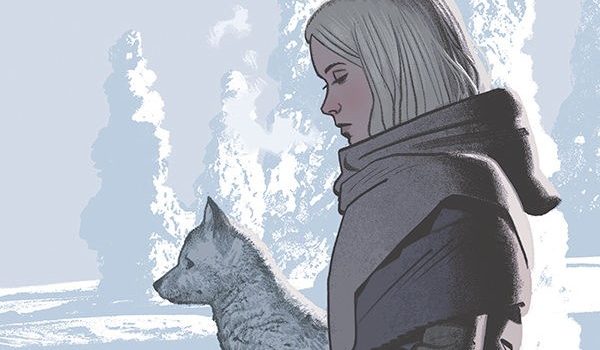 Published on December 6th, 2018 | by Dana Folkard
SWORD DAUGHTER #4 REVIEW
Summary: Dag and Elsbeth seek shelter for the winter months.
Winter is coming, forcing Elsbeth and Dag to seek a safe and secluded haven in Northern Europe to wait out the season. Safety is a priority as the Forty Swords pursue them relentlessly, desperate to eliminate the assassin duo who keep killing members of their flock. Meanwhile, we see more of Elsbeth's story as an older woman, revealing glimpses of her future and how these events as a child shaped her into the woman she becomes.
This is a much slower-paced issue, as Elsbeth and Dag do a bit of fleeing instead of killing for a change. Their revenge quest has been put on hiatus, so as to wait out the harsh and bitter winter months that are upon them. They are then dropped off a quiet and secluded harbour, where Dag goes about seeking out a warm and safe place for them both. After trading a sword, they buy protection and shelter, guaranteeing their safety and sanctuary.
What I really loved about this issue is seeing the close bond that is forming between Dag and Elsbeth. A lot has unfolded for them both since they first embarked on their quest, solidifying their love for one another and ultimately bringing them close together through their shared determination to wipe out the Forty Swords. Dag is a bit of a hard taskmaster, as he expects so much from such a small child, as he constantly pushes Elsbeth the entire time, expecting her to push back even harder. Whilst she is strong and stoic, she is still just a child, and we are reminded this when we see small moments of fear and anticipation within her.
I'm also very intrigued by the story running parallel to the main one, which shows snippets of Elsbeth as a grown woman. She is alone, has hardened and changed, and what piques my curiosity the most is, what happened in her past to lead her to this future? I'm also keen to find out where Dag may be and whether things ended well between these two.
Mack Charter's art is beautiful and cinematic. Some of my favourite moments are when Chater pulls back, revealing the bleak and expansive landscape. It's really quite lovey to look at, and no words are needed during these quiet moments, as the art speaks for itself. Chater's fine and detailed linework gives everything a textured and realistic quality, which helps to heighten the overall harshness of the setting and their quest. The colouring by Jose Villarrubia perfectly captures the tone of the story, through its subtle and delicate palette. I really loved the contrast of colours we see against the snow, finding it to be quite beautiful to look at.
Overall, I thought that this was a slower-paced and poignant issue of Sword Daughter. Dag and Elsbeth become more reflective as their lives slow down for the winter months, allowing for us to glimpse into their changing dynamic and the ever-growing bond between them.
I'm giving this issue 4.3 out of 5 stars!
---
COMIC DETAILS
CREATIVE TEAM: Brian Wood, Mack Chater and Jose Villarubia
PUBLISHER: Dark Horse Comics
GENRE: History/Action/Adventure
PUBLICATION DATE: December 05, 2018
REVIEWER: Dana Folkard