Comics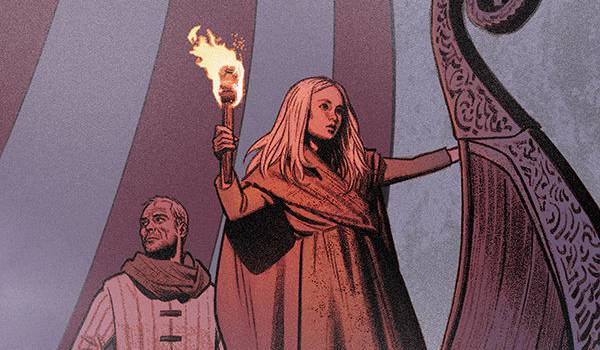 Published on July 4th, 2018 | by Dana Folkard
SWORD DAUGHTER #2 REVIEW
Summary: Elsbeth and Dag embark on their revenge quest.
Elsbeth and Dag embark on their revenge quest, with their first stop taking them to the Shetland Islands, which sees them taking up a contract to track down a local serial killer.
Two months has lapsed since Dag and his daughter were reunited. Dag begins to make plans to leave, organising to hitch a ride on ship that is heading towards the Shetlands. Once there, they quickly discover that their presence is unwelcome, as twelve people have recently been murdered in the coastal settlement. A suspicious eye is cast towards Dag, however, he gains their trust after bartering a contract that will secure him and Elsbeth a boat and safe passage to Orkney, if he can track down and find the killer. Working together, Dag and Elsbeth quickly find the murderer, who claims that he is being told by the Gods to kill these people.
This is a slow-paced issue, which sees Dag and Elsbeth take the first steps towards their quest for revenge. Whilst a lot of the story focuses on their journey to the Shetlands and the contract they take up, I found myself being more interested in the complex dynamic between Elsbeth and Dag. Both of these characters seem lost when trying to understand one another and make a connection. Elsbeth is naturally cautious of Dag, but I find her independence and strong will to be reflective of a powerful and determined individual. You really get the sense that she is a survivor, who may actually be more emotionally grounded than her father. We also learn more about Elsbeth through her internal monologue, which sheds some light on the type of character she is. It is through this internal monologue that we really hear Elsbeth's "voice" so to speak, allowing us to grasp her true thoughts and feelings.
Mack Chater's art is expressive and detailed. His linework brings a wonderful textured quality to each page, which for me suits the harshness of the wild landscape. These were bleak and challenging times for a lot of people, and you really get a sense of that through the unforgiving elements and harsh conditions that we see many of the people living in. I also love the interaction that we see between Elsbeth and Dag, which relies a lot on their expressive and animated faces due to the lack of their verbal communication. I find these quiet moments to be cleverly subtle and poignant, which helps to highlight their strained relationship. I commend Chater for being able to visually translate this so effectively. The colouring by Jose Villarubia is soft and delicate, with a muted palette dominating throughout. I thought that this works really well in reinforcing the bleakness of the story and setting. Both the art and colouring come together to form a visually cohesive and gorgeous story.
Overall, I'm enjoying the pacing of the narrative and the evolving dynamic between Dag and Elsbeth. I'm looking forward to seeing the barriers of their relationship break down as the story progresses, bridging the emotional gap and hopefully bringing them closer together.
I'm giving this issue 4.2 out of 5 stars!
---
COMIC DETAILS
CREATIVE TEAM: Brian Wood, Mack Chater and Jose Villarubia
PUBLISHER: Dark Horse Comics
GENRE: History/Action/Adventure
PUBLICATION DATE: July 04, 2018
REVIEWER: Dana Folkard