Games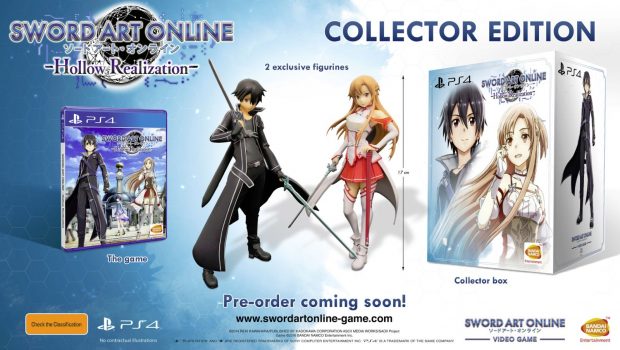 Published on July 11th, 2016 | by admin
SWORD ART ONLINE: HOLLOW REALIZATION – EUROPEAN COLLECTOR EDITION SHOWCASED AT JAPAN EXPO!
BANDAI NAMCO Entertainment Europe, first anime video games' publisher, revealed at Japan Expo the European Collector Edition of SWORD ART ONLINE: HOLLOW REALIZATION! To go further into the Sword Art Online experience, this truly collector edition will contain exclusive and exciting contents for every single fan.
Along with the PlayStation®4 game, two exclusive figurines of Kirito and Asuna of 16 cm each will be available in a gorgeous limited collector box!
In addition, a new trailer has been revealed. Players (re) discovered the multiple features of the game such as the customization of their characters with numerous weapons and armors, the 16-party raids and the interactions between characters and more than 300 NPC. Furthermore, fans learnt more about the story line and had more information about Premiere and all the mysteries around her.
SWORD ART ONLINE: HOLLOW REALIZATION will be available this Winer 2016! The game will be distributed physically and digitally for both PlayStation®4 and PlayStation®Vita in Australia and New Zealand
Click here to watch the new trailer: https://youtu.be/AOCABJ-0StU