Uncategorized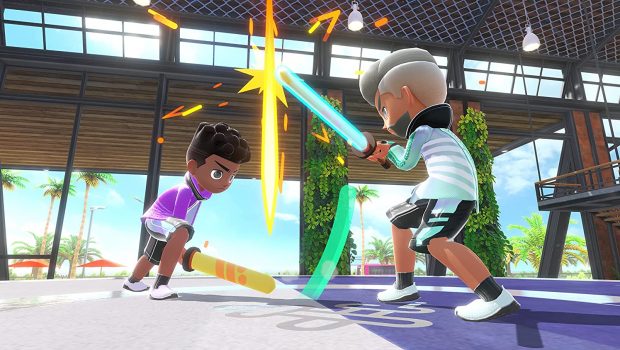 Published on April 29th, 2022 | by Admin
SWING, KICK AND SPIKE YOUR WAY TO VICTORY IN NINTENDO SWITCH SPORTS – OUT NOW
Nintendo Switch Sports – the latest game in the Wii Sports series – is out now for Nintendo Switch.
With Football (Soccer), Volleyball, Bowling, Tennis, Badminton and Chambara (swordplay), players can use Joy-Con controllers to swing, kick, spike and bowl their way to victory. Plus, Golf* is planned to be added as a seventh sport via a free update this autumn. It's possible to enjoy these sports solo, or with family and friends who can join in locally on the same console or online**. Players can also compete online against randomly selected opponents near and far, and aim for the Pro League in every sport.
Thanks to the Joy-Con controllers, it's possible to intuitively use real-world movements to take part in a variety of sports, like curving a bowling ball, adding spin to a tennis shot – or even using a Joy-Con with the Leg Strap accessory***, included with the physical version of the game, to kick the ball in a Football Shoot-Out. A free software update* coming this summer will also add Leg Strap compatibility for Football matches. This collection of sports is designed for players of all skill levels, so anyone can play and enjoy exciting sports matches together.
It's game day in the Hewitt family, as Lleyton Hewitt and his son, Cruz, star in a TV commercial that sees them use real-world movements to challenge each other in Nintendo Switch Sports that began airing across Australian social media sites this month. See who has what it takes to be the Hewitt family champion here: Lleyton and Cruz Hewitt swing into Nintendo Switch Sports!
Nintendo Switch Sports introduces new customisable characters called Sportsmates. As players compete online in random matchmaking, they'll be able to earn points that they can redeem for in-game rewards like outfits, sports accessories and gear for their Sportsmates. New items will rotate each week, so it's worth checking back regularly to see what's available. Players will also be able to play as the classic Mii characters stored in their Nintendo Switch console.
Nintendo Switch Sports is out now on Nintendo Switch. Using Joy-Con controllers, players can use their real-world movements to take part in sports like Football, Volleyball, Bowling, Tennis, Badminton and Chambara. With various options for local and online multiplayer, family and friends can join on the same console** or online.