Apps & Tech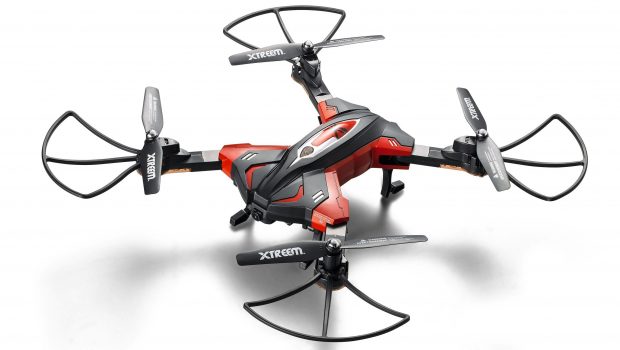 Published on September 18th, 2017 | by Dana Folkard
SWANN MOSCA DRONE – REVIEW
With photo/video sharing and selfie's being all the rage, the demand for new and accessible ways to capture footage is growing. So, it's no surprise to see simple and inexpensive video drones, like the Mosca coming out.
The Mosca is a new generation of video remote control drone from the Xtreem range. One of the really cool things about this drone is the ability to control and view live footage, via the Mosca App, from your smartphone, making it incredibly handy and user-friendly for all types of people. Some of the features the Mosca has include:
Resolution: 720p (1MP)
Flying Time: 11 Minutes per Battery
Drone Power: 3.7V Li-poly Battery (2 Included)
Control: Remote Control or Phone
Signal Range via Remote Control: 70m
Signal Range via Smartphone: 30m
Usage: Indoor / Outdoor
Wi-Fi Frequency: 2.4GHz
Storage: 4GB Micro SD Card (Included)
Control: Remote Control or Phone
App: Xtreem Mosca, FPV View Mode
The Mosca also has a bunch of other cool features, such as the hover mode and FPV (First Person View), auto take-off and emergency landing. The only thing is that you have to spend some time reading the instructions before you head out, to make sure you know hoe to use all these features. It's not as simple as charging it up, turning it on and taking off…unless of course, that's all you want to do with this drone. I should also mention that the remote requires four AA batteries (not included) if you're intending to use the control. What it doesn't include is GPS, obstacle avoidance, or a follow me feature, all things that many people will want to have, but considering it's low cost, I believe you get quite a decent package of goodies.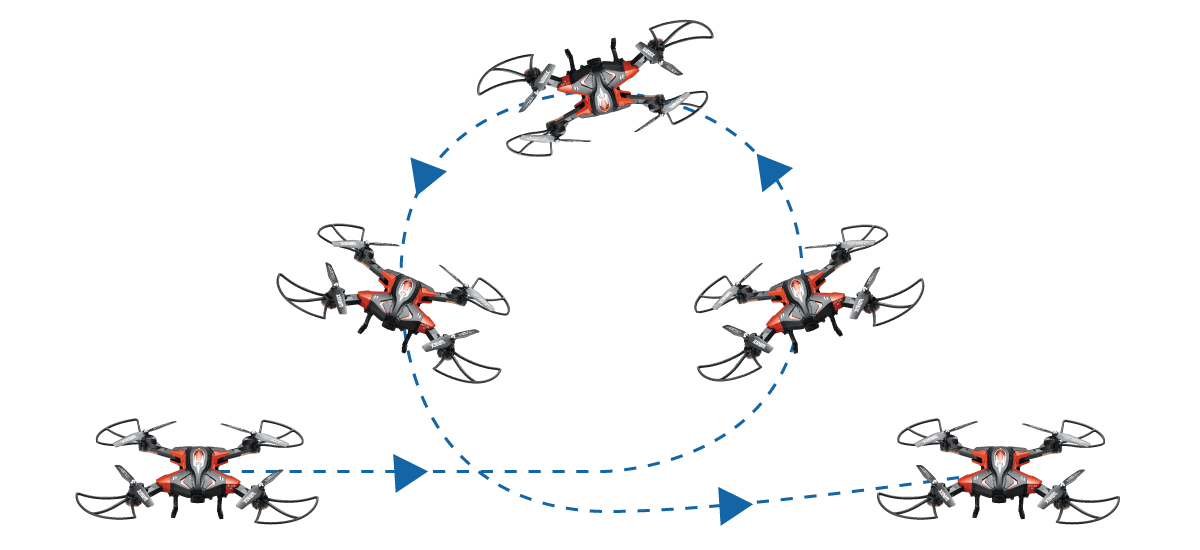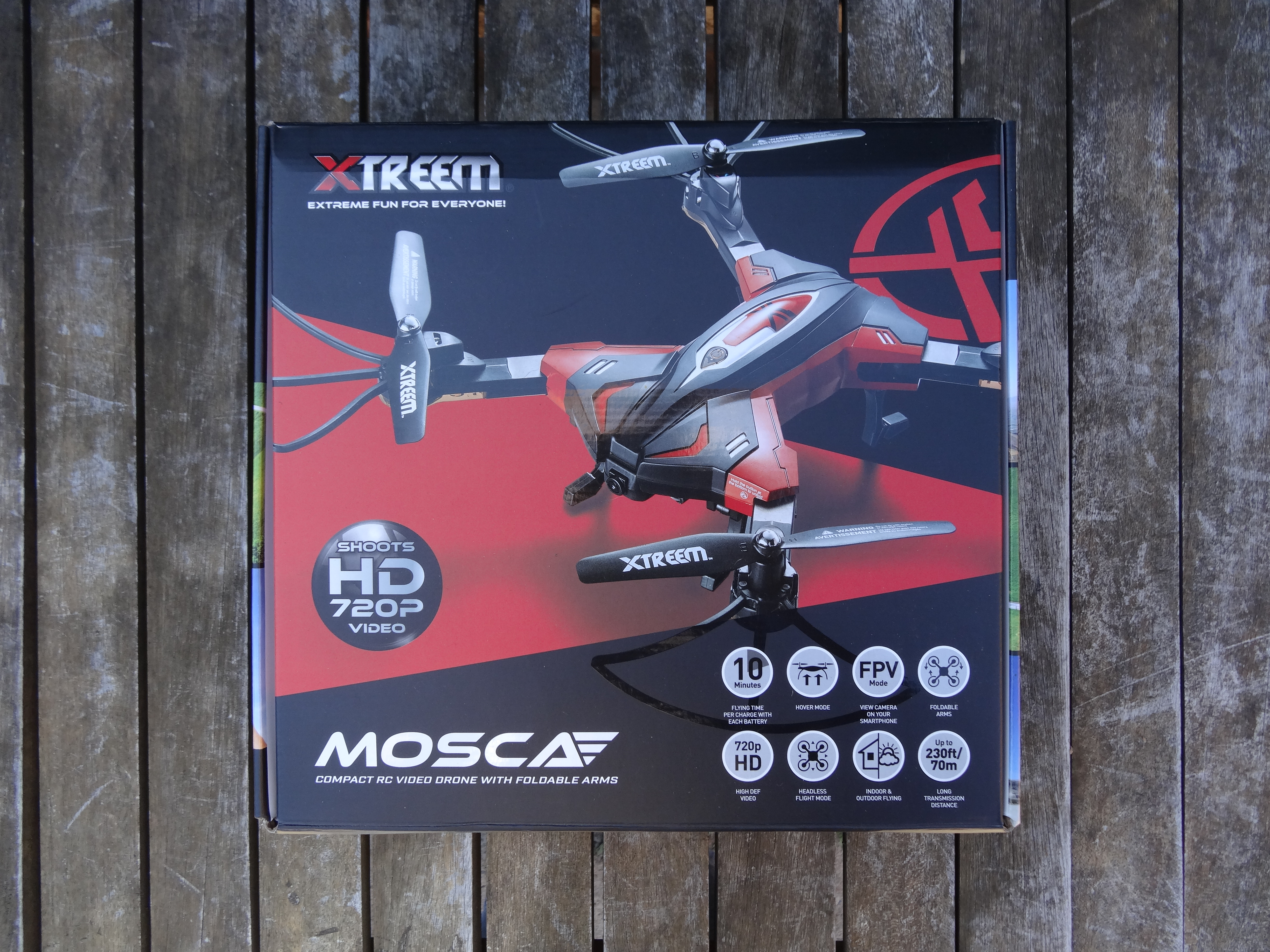 The first things you'll notice about the Mosca is that it's extremely light and compact. It only weighs 168 grams and folds up to be quite small, making it easy to transport and carry around. It also looks really nice and pretty flash, with a striking black and red colour scheme.
Now, I'm the first to admit that I'm a bit of a drone noob, but I do know the basics, and after some in-depth advice from some industry professionals, I felt like I was ready to tackle this test flight and review head on! Before I took this baby out for a fly, I downloaded the free Mosca App to my phone because I was pretty keen to use the remote feature to see how well it worked. So, with drone and instruction booklet in tow, I decided to head down to my local park, which I've noticed in the past, seeing people practise with their racing drones. A good place for our first flight.
After fumbling around for a few minutes, I got her up and running, and dashing through the air…well kinda. OK, so I crashed it multiple times! Now, that might be because I'm a bit of a dodgy pilot, or it might be because it's a little tricky and tetchy to control; either way, I wasn't the only person who had some issues trying to fly this little critter. I need to take into consideration that there was a slight breeze on the day I took it out for a test, and this seemed to impeded my handling of the drone. It's so lightweight, that any breeze will blow it off course, which is a little frustrating.
If you're completely useless at remote flying this drone, then there is the additional feature of connecting to your smartphone and using a digital control panel. I actually found it easier to control the drone using what is called the gyro control mode with my phone, rather than using the remote that came with it. The gyro feature allows you to pilot the drone by the motions you make with your phone. Now, this was cool, as I love being able to tilt my phone and see the drone respond to the motions I was making. Excellent!
Now, being a video drone, the quality and clarity of the camera is a top priority. I'm happy to say that this drone excels here. Using the remote controller mode with my phone, I was able to pilot the Mosca from a first-person view and capture some pretty nifty footage of myself standing in a park. I'm not the selfie type, but with a little drone like this, I might actually become one and begin to take some photos from some curious perspectives.
What are my final thoughts? At $179.99, this is an affordable drone, that is both lightweight and compact. It's relatively easy to use but is a little difficult to pilot using the remote controller it comes with. The hover and gyro features are great and the camera takes top quality footage. I do recommend flying this indoors, or with little to no wind, as it can be difficult to control even with a slight breeze. Overall, I thought it was a fun drone to use, and will suit anyone seeking a leisure drone or a nifty new way of taking photos for Instagram.