Games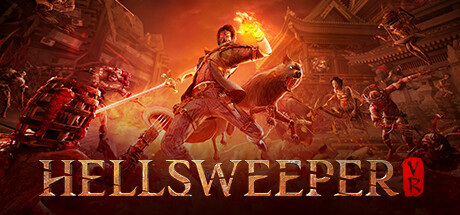 Published on August 24th, 2023 | by Alex Novus
Survive Together and Face Your Demons in Hellsweeper VR
At last night's Future Games Show, publisher Vertigo Games and the creators of Sairento VR debuted a brand-new trailer for Hellsweeper VR—the highly-anticipated action-combat virtual reality game—showcasing intense new co-op action. Starting from the game's launch on September 22nd, two players can join forces and descend into hell to slay twisted souls, teaming up for explosive VR combat. Execute shared combos and devise unique strategies alongside your fellow warrior to destroy your enemies. The gates to hell will open on the 22nd of September when Hellsweeper VR will be available for Meta Quest 2, PlayStation VR 2, and PC VR.
The co-op trailer for Hellsweeper VR provides an exciting glimpse into the game's forsaken world, where players team up to fight against the forces of darkness:
WATCH THE CO-OP TRAILER – https://youtu.be/tXHleOCkiVo
The co-op mode offers a full roguelike experience, with a good mix of strategy and RNG. Each player receives unique blessings, boons, and weapons. This mix enhances gameplay by offering a wide range of combat strategies.
Rogue-like mode: Fight rounds with various objectives, to end on a final boss fight. Get rewarded with loot and progress, upgrade your character, weapons or Hellhound
Cross Play Support: Thanks to the cross play support it's as easy as ever to play with your friends. No matter which VR platform they are using.
As well, hell's gates have creaked open even wider, inviting you to PRE-ORDER Hellsweeper VR now on Steam VR, PS VR 2 and Meta Quest. Early adopters will be rewarded with the exclusive 'Hound' and 'Shadow' masks.
Step forth into the abyss and answer the call of the damned. Follow Hellsweeper VR on Twitter, Facebook, Instagram, and join the conversation among fellow Hellsweepers on Discord.