Comics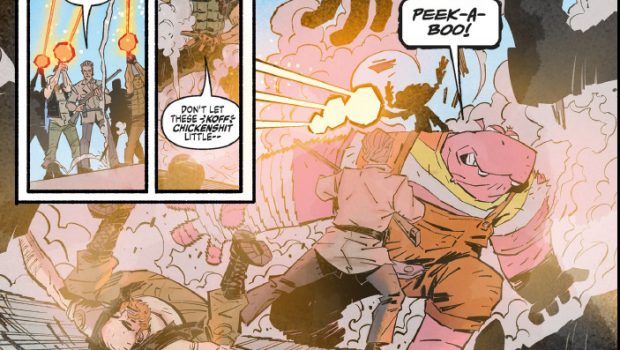 Published on March 31st, 2023 | by Tim Chuma
Survival Street TPB Review (2023)
Summary: Despite wanting to make an example of this for trying to drag the Muppets through the mud it is at least better than Frank Miller, blecch!
In the second half of the 2020s corporations are allowed the vote and a major corporation ends up being elected as president. Somehow a puppet country of actual puppets ends up being exploited for their mineral wealth and the end up having to move to the USA as refugees. Cut to an unspecified number of years later and the surviving puppets from a once popular children's TV show are terrorists and trying to bring down the government.
At first I was going to lump this in the same teenage boy edgelord camp as Frank Miller but it at least has part of a story here and something conceptually interesting behind it. "Puppet country" being actual puppets is a bit too on the nose and this is like political satire drawn in crayon by a first year politics major.
I does tend to jump around a bit in the story and the country. There was never a real sense of the puppets being in danger as somehow they are alive and yet acknowledge that they are just puppets with stuffing.
I was going to give this a much lower rating due to it trying to drag the Muppets and Sesame Street into the mud but at least it is not Frank Miller which gives it a slightly higher rating. There is some violence and adult themes in this but does not seem to be as graphic as other stories.
Comic details:
Collects Survival Street #1-#4
Writer: James Asmus, Jim Festante
Artist: Abylay Kussainov
Colorist: Ellie Wright
Cover Artist: Abylay Kussainov
Genre: Action/Adventure, Fantasy, Horror
Publisher: Dark Horse
Publication Date: March 29, 2023
Format: FC, 104 pages; TPB, 7" x 10"