Games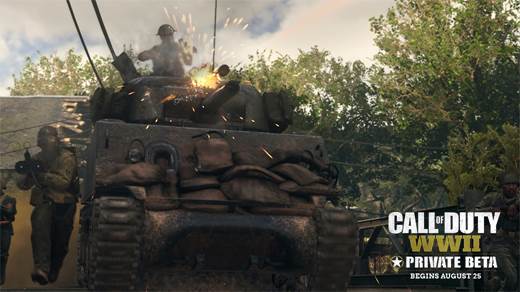 Published on September 1st, 2017 | by admin
SURPRISE! COD WWII XBOX AND PS4 BETA IS NOW LIVE!
We are pleased to inform you that the second weekend of Call of Duty WWII Beta for PS4 and XBOX is now LIVE!
We have received a ton of great feedback and match data from Weekend 1 and can't wait for another exciting few days of playing online with the community.
Weekend 2 of the Private Multiplayer Beta brings new gameplay features for you. To begin, we're starting by increasing the level cap to 30. That's five new levels of unlocks to explore and try out. We're also launching a new map in the core MP experience: Aachen. Set in a war-torn town in Western Germany, this destroyed environment is made up of vulnerable streets and bombed-out apartment buildings. Push down the center street or duck into the tight quarters of buildings, while dodging cross-fire from the opposing lanes. Be on the lookout for Mountain Division soldiers – the long sightlines of Main Street can be dangerous without cover fire.
WHAT ELSE TO EXPECT: 
BLOCKBUSTER WWII ACTION 
Call of Duty®: WWII features the epic scale, cinematic moments and intensity that only Call of Duty® delivers, all set against the backdrop of the largest global conflict in history. The game redefines World War II for a new generation.
MULTIPLAYER INNOVATIONS
Multiplayer marks a return to iconic boots on the ground combat. Play three new maps and Operation Breakout – our first War Mode experience and new way to play Call of Duty® Multiplayer in an immersive Allied vs. Axis fight to defeat the enemy.
AN IMMERSIVE GAMEPLAY EXPERIENCE
Call of Duty®: WWII brings to life some of the most iconic moments of World War II, with incredible visuals and awe-inspiring sound that puts players in the middle of the action. Catch the full action in all its glory when Call of Duty®:WWII launches on 3 November.
For more info, head over here.