Games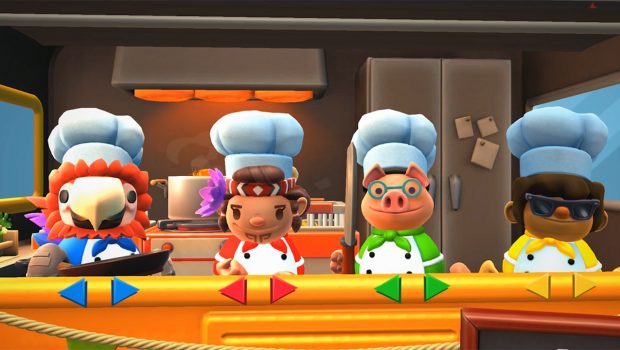 Published on October 3rd, 2018 | by Admin
SURF'S UP IN OVERCOOKED 2
3rd October 2018 – Team17, a global games label, creative partner and developer of independent, premium video games in partnership with award winning Indie Studio Ghost Town Games is thrilled to announce a brand-new DLC for Overcooked 2. Surf 'n' Turf is now available digitally on XboxOne, PlayStation 4, PC and Nintendo Switch™ priced at £4.49/€4.99/$5.99.
In Surf 'n' Turf players will join the Onion King on a culinary island adventure, cooking up new recipes, navigating new kitchens and meeting some colourful characters. Surf 'n' Turf serves up 12 brand new kitchens, from the swimming pool to the beach, but don't get too relaxed as new kitchens mean new obstacles. It's difficult to tantalise anyone's taste buds when there's a tidal wave coming!
You won't have to face these challenges alone as three chefs are joining Overcooked 2 in Surf 'n' Turf. It takes a lot to ruffle the feathers of parrot chef and Island chef is used to the heat of the barbecue. Finally, making a glorious return is Boof, complete with holiday shades.
No holiday is complete without some local delicacies and in Surf 'n' Turf you'll be prepping two new recipes: fruit smoothies and kebabs. Get to grips with some new kitchen equipment including the juicer, the bellows and that kitchen staple, the water pistol!
Key Features:
• New Levels! Surf 'n' Turf features 12 new story levels. Explore the island from the pool to the beach, just watch out for waves and…. conga lines?!
• New Chefs! Three news chefs join Overcooked 2. Parrot chef, Island chef and returning chef, Boof
• New Recipes! Blend fruit into refreshing smoothies and BBQ tasty skewers for your hungry islanders
• New Mechanics! Who said washing up had to be dull? Blast your plates clean with the trusty water pistol. Stoke the fires of your BBQ with the bellows but be aware that the hotter the fire, the quicker your food will burn