Games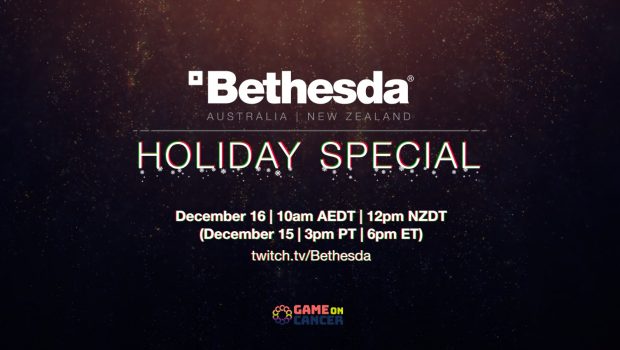 Published on December 6th, 2021 | by Alex Novus
Support Charity and Celebrate the Festive Season with the Bethesda Holiday Special Stream!
Bethesda ANZ has today announced the Bethesda Holiday Special Stream, a special event in partnership with Game On Cancer™, an initiative of the Australian Charity, Cure Cancer. The event brings together the Bethesda ANZ team and a variety of local and global talent, including UFC middleweight Rob Whittaker and Rich Lambert, Creative Director of The Elder Scrolls Online.
From 10AM AEDT on December 16th, the Bethesda ANZ team and their guests will venture through Skyrim Anniversary Edition, The Elder Scrolls Online: Blackwood and Fallout 76, all while raising funds to support the important work of Cure Cancer. The charity funds early-career cancer researchers across all areas of cancer research.
The Holiday Special will run for six hours on the official Bethesda Twitch channel, with developer interviews, gameplay, cooking challenges and prop making. The segments include:
The Elder Scrolls Online Devs and Community Chatting all things ESO
The Elder Scrolls Online New Life Festival Cooking Show with the ANZ Community Managers
The Elder Scrolls Online Mates of Oblivion Community Session
Rob Whittaker plays 'Skyrim Anniversary Edition'
Skyrim Anniversary Edition Creation Club Showcase
Hench and Scrap Foundry showcase their Sanguine Rose prop creation
Fallout 76 Wasteland Cooking Challenge with the ANZ Community Managers
"We are thrilled to partner with the amazing team at Bethesda ANZ and feature their Holiday Special Stream as a part of our Game On Cancer™: Holiday Spectacular" to help fund crucial cancer research, said Shane Bailey, Head of Gaming & Streaming at Cure Cancer. "Our biggest hope is that we can provide enough funding to young cancer researchers, whose ground-breaking ideas may hold the key to a cure. We're aiming to raise $100,000 this December for vital cancer research and I'm confident that the support of the passionate and generous Bethesda community will help us achieve that goal."
To donate to the Holiday Special in support of Game On Cancer™, visit the Tiltify page here. For more information on stream, keep an eye out on the Bethesda ANZ social channels and watch the stream live on twitch.tv/bethesda.