Comics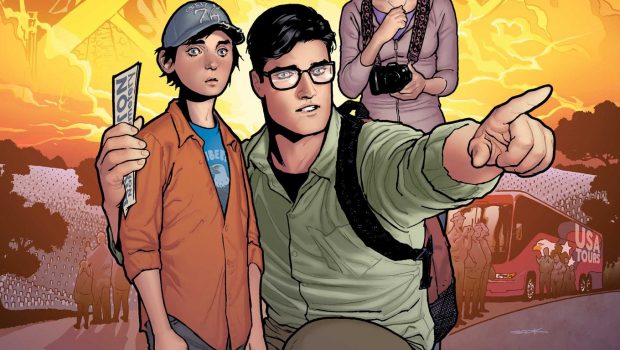 Published on August 4th, 2017 | by Andrew Bistak
Superman #28 Review
Summary: Superman #28 serves as another history lesson for the reader before the Man of Steel comes face to face with Parallax!
As Clark, Lois and Jon continue their road trip across America, Superman decides to make things a little easier for his family by flying their RV in order to bypass the traffic and get to Washington D.C. before the rush. We also get a little history lesson on America that includes the World War Two Memorial as Clark describes how the United States was thrust into the war. There's also some clever art by Scott Godlewski which helps progress the story and furthers the text by Peter J. Tomasi and Patrick Gleason who make a great team on Superman.
Furthermore, there's a touching moment where Lois makes a charcoal copy of her uncle's name on paper, Kurt Lane who inspired her father to serve in the military. The family then moves to the Gettysburg National Military Park as we get another snapshot into history with Little Round Top. There's a great moment of Jon trying to capture the 'ghosts' of these soldiers as his imagination is fuelled by his parents which really cements the age of this character well.
So as the Kent family go off the beaten path (literally), they bump into another family celebrating a birthday. However this birthday is not for the living but rather one of their relatives, Thomas Dowd who died in battle during 1863. We also hear the story of how Thomas died with an interesting flashback as artist Scott Godlewski brings this tale to life. Although the body of Thomas was never found, Clark decides to pay his respects to the family and that of this young 22-year soldier by finding his body and returning it to the family.
Just to make things a little creepier, Superman even ran a DNA test to ensure that the body was indeed Thomas. Back on the road, the Kent's are headed to Metropolis with the next issue entitled Parallax! All in all, Superman #28 was a fun read and although a little slow at times, it was a nice break from the villain of the month. Also as a non-American, I actually enjoyed the history lesson on this great country and with Parallax coming up, I'm guessing that Superman needed the break!
Gallery