Comics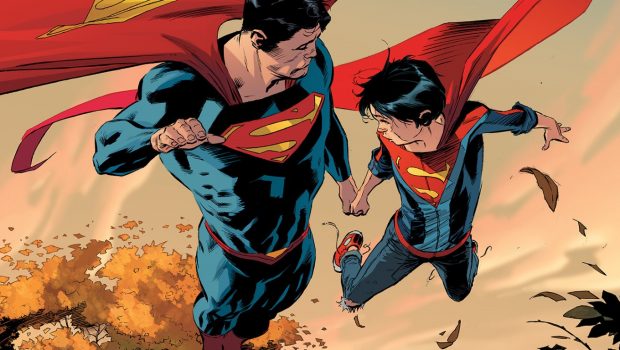 Published on July 19th, 2017 | by Andrew Bistak
Superman #27 Review
Summary: Superman #27 is all about the Kent's first family holiday!
Peter J. Tomasi and Patrick Gleason commence the next Superman story with artist Scott Godlewski as we discover what happens to a very tired superhero. Needless to say, falling asleep at the wheel is dangerous as is flying which a very tired Clark Kent learns the hard way. Although no one was hurt, both Lois and Jon have fallen asleep waiting for Superdad to return home and the next day, our young hero wakes his dad with excitement.
It seems that Lois thinks that the Kent family needs a vacation and what better way to travel is in an RV as the world's favourite reporter has the entire holiday planned in this fun and lighthearted issue. Writers Tomasi and Gleason really excel in getting into the mindsight of each member of the Kent family, particularly Jon whose excitement is beyond excitement. The issue also serves as a history lesson for Superboy as the Kent family visit some famous historical places in America.
Surprisingly there was no action in this comic and on that note, superheroes don't need to fight in every issue and writers Peter J. Tomasi and Patrick Gleason show how it can be done. Not only do they give the Kent family a much needed break before the next villains arrives but there's quite a few moving moments in the issue between the characters. Add in the excellent art of Scott Godlewski and he draws one impressive Superman with plenty of dynamic panels to accompany the excellent characterisation.
Final Thoughts?
Superman #27 serves as a nice breather before the next issue (Unknown Soldiers) as the team gives the reader a snapshot into the life of the modern Kent family.
Talent
Art by: Scott Godlewski
Cover by: Ryan Sook
Variant cover by: Jorge Jimenez
Written by: Patrick Gleason, Peter J. Tomasi
Specs
Series: SUPERMAN 2016
U.S. Price: 2.99
On Sale Date: Jul 19 2017
Volume/Issue #:27
Color/B&W: Color
Trim Size: Comic
Page Count: 32
Gallery