News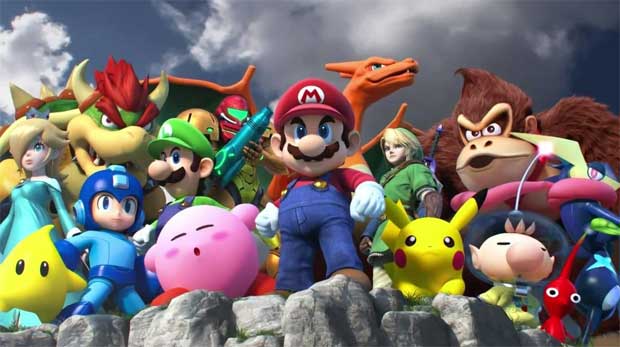 Published on November 28th, 2014 | by admin
SUPER SMASH BROS. FOR Wii U AND amiibo TAKE AUSTRALIA AND NEW ZEALAND BY STORM THIS FESTIVE SEASON
12 amiibo and the first eight-player Super Smash Bros. game launch across Australia and New Zealand this Saturday
28th November 2014 – The season to Smash is upon us, as Super Smash Bros. for Wii U takes Australia and New Zealand by storm this week, joined by the first wave of amiibo – Nintendo's first foray into the toys-to-life category – featuring 12 of gaming's most beloved characters that players can partner with, or take on, in the biggest Smash Bros. game in the series to date.
As fans in Australia and New Zealand have been eagerly awaiting the arrival of Super Smash Bros. for Wii U, the game recently launched in America and with more than 490,000 physical and digital units combined sold during the three-day period of 21st November through 23rd November, it has become the fastest-selling Wii U title ever in the U.S. market. Glowing reviews have also been pouring in with praise across the board:
IGN, 9.8 out of 10 – "A gift that keeps on giving" 
GameSpot, 9 out of 10 – "The definitive Smash Bros. experience"

GameInformer, 9.75 out of 10 – "A no-brainer for anyone who likes to have fun"
Super Smash Bros. for Wii U is an experience that simply cannot be missed this festive season, and together with amiibo, Nintendo is letting people experience games in fun new ways. By tapping an amiibo figure to the Wii U GamePad, gaming's most recognisable characters can be used in different ways in multiple compatible games – a first for the toys-to-life category. Some games, like Super Smash Bros. for Wii U, will write game data to the amiibo, while other games, like Mario Kart 8 and Hyrule Warriors, will give you bonus content just for tapping an amiibo to the GamePad, with no need to purchase an additional accessory*. For example, players who own a Link amiibo can use it as a fighting partner in Super Smash Bros. for Wii U, to get a fun racing suit for their Mii characters in Mario Kart 8 and to access a special weapon in Hyrule Warriors.
From 29th November, 12 amiibo will be available: Mario, Peach, Yoshi, Donkey Kong, Link, Fox, Samus, Wii Fit Trainer, Villager, Pikachu, Kirby and Marth. On 12th December, the amiibo line-up expands with Zelda, Luigi, Diddy Kong, Little Mac, Pit and Captain Falcon, with additional figures launching throughout 2015. Further details on amiibo are available on the amiibo website.
In Super Smash Bros. for Wii U, after tapping an amiibo figure to the GamePad, the amiibo appears on the selection screen as a custom version of the character in the game. Players don't control the amiibo character itself; instead it becomes a Figure Player and acts as their battle companion, fighting alongside or against them. Players can use amiibo as a partner, brawl with them in teams or have amiibo battle each other. amiibo gradually level up and learn how to fight through battles with human players, computer players and other amiibo characters.
In addition, in a first for the series, a special mode in Super Smash Bros. for Wii U lets up to eight players battle simultaneously in local multiplayer on selected stages. These battles can be a combination of real-life players and amiibo – one player vs. seven amiibo, four vs. four or even an all-amiibo battle with eight amiibo characters battling it out for victory!
Even without the added fun of amiibo, Super Smash Bros. for Wii U is easily the biggest version of Super Smash Bros. ever created. Coming hot off the heels of Super Smash Bros. for Nintendo 3DS, the first portable entry in the series, Super Smash Bros. for Wii U offers even more fun and exclusive content than ever before. In addition to a giant roster of classic video game characters and all the fighting action that fans of the series have fallen in love with over the years, Super Smash Bros. for Wii U offers plenty of new modes and stages that aren't found anywhere else that will keep fans playing the game throughout the festive season and well into 2015.
Among the rich new features in Super Smash Bros. for Wii U is the ability to use the touch screen of the Wii U GamePad to create custom stages. Plus, players who own the Nintendo 3DS version of the game can even use their Nintendo 3DS systems to control the action on the TV screen (supported only in Smash Mode.), in addition to Nintendo GameCube controller support** and a variety of other available control options suitable for any play style. Nintendo recently premiered a video that detailed these control options and more than 50 other new features unique to Super Smash Bros. for Wii U, which can be viewed on YouTube.
Super Smash Bros. for Wii U launches across Australia and New Zealand 29th November at retail and is scheduled to be available for download on Nintendo eShop from 9pm AEDT on 28th November.  
Fans who want to play the game with a Nintendo GameCube controller have the option to purchase a standalone black Nintendo GameCube Controller – Super Smash Bros. Edition at retail, as well as a standalone GameCube Controller Adapter for Wii U which is available from Nintendo Customer Service. 
* An amiibo can write game data for up to one title at a time, so game data may need to be deleted on an amiibo before it can be used with another game with write-compatibility. 
** GameCube Controller Adapter for Wii U accessory required