Comics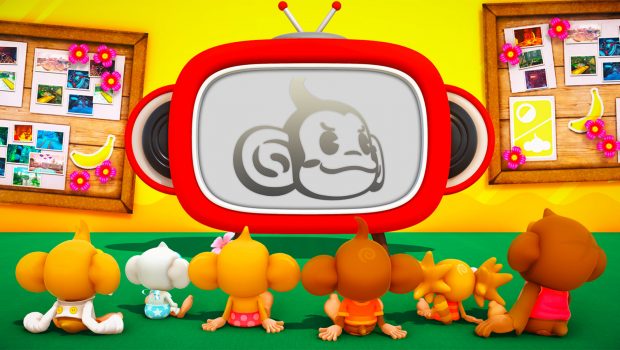 Published on July 29th, 2021 | by Adrian Gunning
Super Monkey Ball Banana Mania – meet the gang!
SEGA released the brand-new "Meet the Gang" trailer for Super Monkey Ball Banana Mania, introducing the loveable main cast of characters coming to the newest Super Monkey Ball adventure. Super Monkey Ball Banana Mania launches on consoles 5th October 2021.
The new trailer showcases the main monkey gang – AiAi, MeeMee, Baby, GonGon, YanYan and Doctor – spotlighting each of their unique charms and talents. All six characters will be fully playable as you roll, tilt, and bounce your way through Super Monkey Ball Banana Mania, the modern HD remake of the original three Super Monkey Ball games.
Character highlights include:
AiAi: The carefree leader of the monkey gang, AiAi is one smart primate who takes on every challenge that rolls his way! He lives happily with his wife MeeMee and their son Baby on Jungle Island, ready to lead his friends when adventure calls.
MeeMee: The charming co-leader of the gang, MeeMee is Jungle Island's kindest soul and the glue that binds the gang together. Mother to Baby and wife to AiAi, Mimi is one tough banana who is always striving to bring happiness to those around her. She loves searching for fresh flowers to take on her adventures.
Baby: Baby is the coolest monkey around with slick sunglasses and a lightning-fast crawl. Though usually jovial, Baby is known for the occasional epic melt that can be heard from across Jungle Island! He's very smart for a monkey his age and always willing to help his parents collect every banana and save the day.
GonGon: When you need extra might and muscle, GonGon is your main gorilla! Though he and AiAi were once rivals, these two best friends now frequently team up together to stop Dr. Bad-Boon's evil plots. Fast and strong with a heart of gold, GonGon's body checks have been known to send opponents into orbit!
Doctor: This mysterious old monkey doesn't even know his own name – he has amnesia! Despite losing all his old memories, he is always inventing fascinating new contraptions for the monkeys around town. He earned the name "Doctor" out of respect for his intelligence and ingenuity.
YanYan: A fast and fearless ring-tailed lemur and master of the monkey martial arts, YanYan is a fist full of energy with a colourful style. She's one of the toughest monkeys this side of Jungle Island and always ready to help her friends on adventures.
Watch out for more character announcements as new friends join AiAi and gang this winter!
Super Monkey Ball Banana Mania launches 5th October 2021 for Nintendo Switch™, PlayStation®5, Xbox Series X PlayStation®4 and Xbox One. Super Monkey Ball Banana Mania will also support Xbox Series X Smart Delivery immediately on release, ensuring players will only have to buy the game once to play it on their favourite Xbox console. Additionally, buy the PS4™ version and play the PS5™ version at no extra cost.