Xbox Series X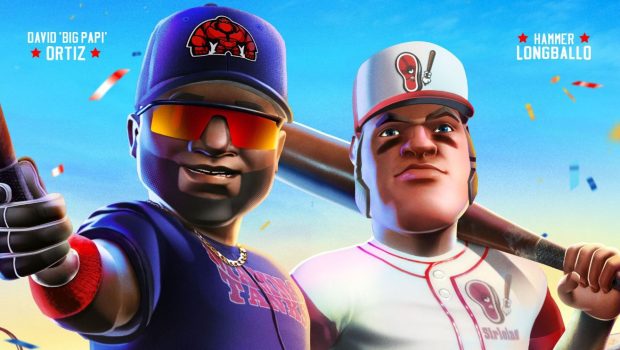 Published on June 3rd, 2023 | by Andrew Haverty
SUPER MEGA BASEBALL 4 REVIEW
Summary: Once again, EA and Metalhead Software have produced a seriously well-crafted baseball game without taking itself too seriously.
Like a game-tying homerun in the bottom of the ninth, Super Mega Baseball 4 is set to remind fans there's still life in the franchise. Three years later, EA and Metalhead Software are back with a fourth installment in the popular arcade baseball series and it's like they never left. Bursting with even more character, offering more depth to its game modes, and including more ways to play, Super Mega Baseball 4 aims to be an essential addition to any baseball fan's library. To say that this game knocks it out of the park would not only be a cliché, it would also be an understatement.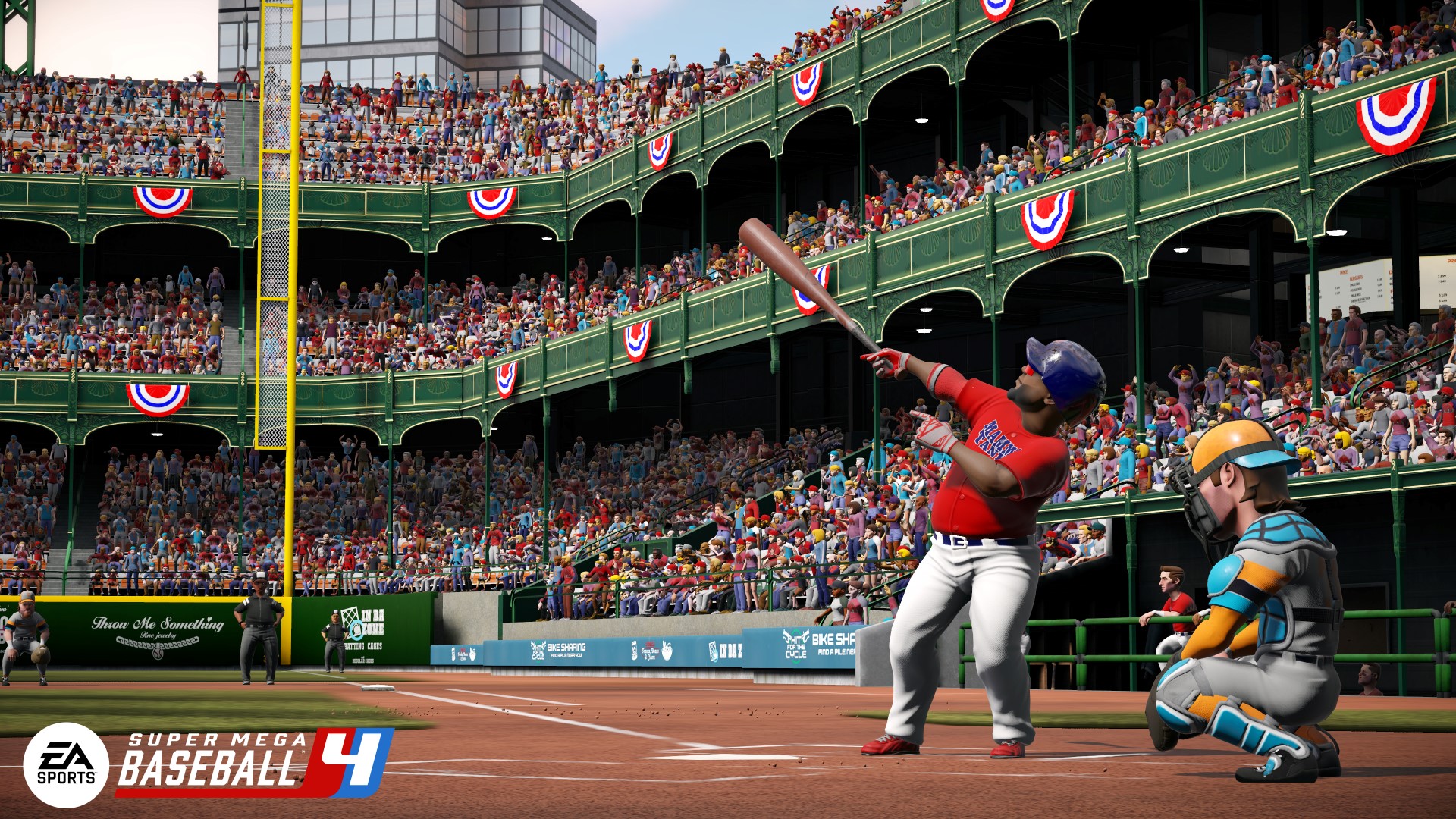 Super Mega Baseball 4's core remains largely unchanged from previous installments, and that's a great thing. Everything that made the previous games so enjoyable is back in this one. The character models still look silly, the names are even sillier, and at its core is a baseball game loyal to the sport with simple yet challenging gameplay. It's clear the franchise hasn't missed a beat. And whether you're stepping up to the plate as "Whopper Batsman" or taking the mound as "Split Seemerson," there are constant reminders that this game is always about having fun. Fans in the stands will cheer their hearts out as you'll occasionally hear them yell silly phrases like, "I shouldn't, but I'll take seven!" Even the umpire calls balls and strikes with extra enthusiasm shouting things like, "That's a strike and a half my friend" or, "You bet that's a strike!" It's all silly and satisfying in its own whimsical way. Heck, there's even a player ability that can guess if the next pitch will be a fastball or off-speed and does so with the clang or double clang of a trash can. Now if that isn't some cheeky fun, I'm not sure what is.
This time around Super Mega Baseball has added over 200 real baseball legends such as the cover's own "Big Papi" David Ortiz and left-handed ace Randy Johnson, allowing you to play with familiar names of baseball's past alongside the colorful cast of original athletes. The game has also received a decent graphical upgrade making virtually everything in the game look better than ever with smooth looking textures and solid stadium lighting, though the kicked-up dirt at home plate often reminded me of scattered breadcrumbs after a eating a sandwich. Gameplay remains nearly the same as the previous installment, which is something to celebrate because it really didn't need changing at all. It still has rock solid mechanics that casual and hardcore fans can both enjoy that are super easy to pick up but are surprisingly deep with a high skill ceiling. Returning is the "ego" difficulty tool, allowing players to adjust the difficulty on a scale from 1-100 and even allowing separate aspects of the game like batting, fielding, and pitching to be tweaked individually. It allows unparalleled accessibility for all players so they can choose exactly the kind of challenge they want, but still awards players looking for a tougher challenge with extra "Starpoints" for those leaderboard bragging rights.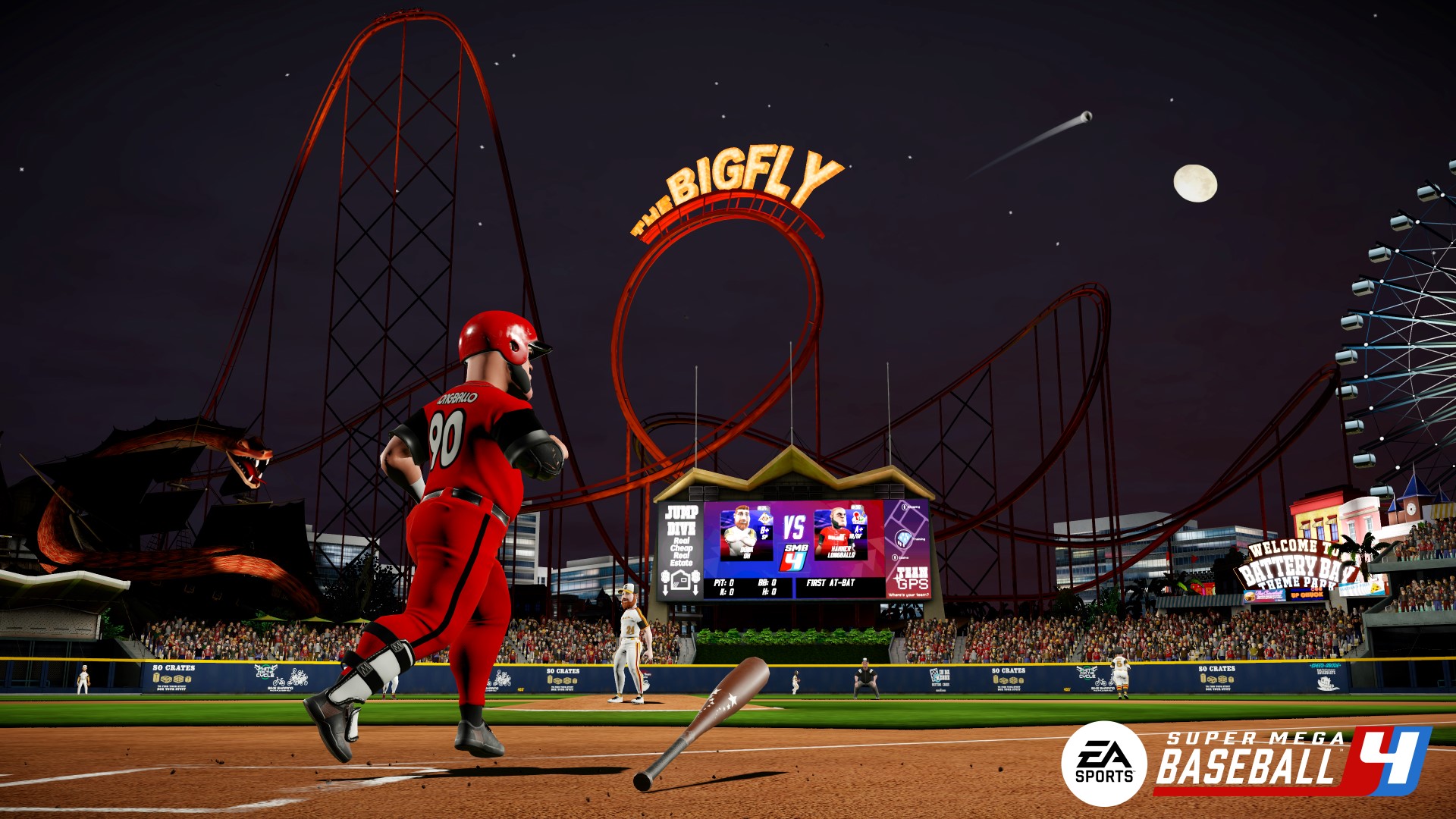 Franchise mode remains the go-to attraction and is deeper than before with some newly added features and some old favorites. Managing your team's salary cap and player contracts is still the main draw in choosing to play franchise over season mode, but it's the combination of player development and player loyalty that changes the long-term game in a major way. After each game, there are decisions to be made that directly affect your players' "loyalty" or likelihood of re-singing with your team in the offseason. At the same time, you're awarded cash that can be used towards attribute and skill upgrades for your athletes. While these benefits can be nice, they also come with an added catch. With loyalty decisions you'll often have to choose between two coveted players being caught in a strange (and often funny) situation, such as who to blame for the recent bad smell in the locker room.  Forced to choose one player over the other, your decision will either increase or decrease a player's interest in staying with the team. And when increasing your players' stats through development there often gambles, as increasing one stat often comes with a chance to decrease another heavily. It's these tough decisions and rolls of the dice that make the franchise mode unique and ever-changing on your road to the playoffs.
If online play is more your thing, Pennant Race is back where players can battle it out for leaderboard glory, and you can create a custom league and play with random players or friends where you can draft players or mix up Super Mega players with the newly added legends.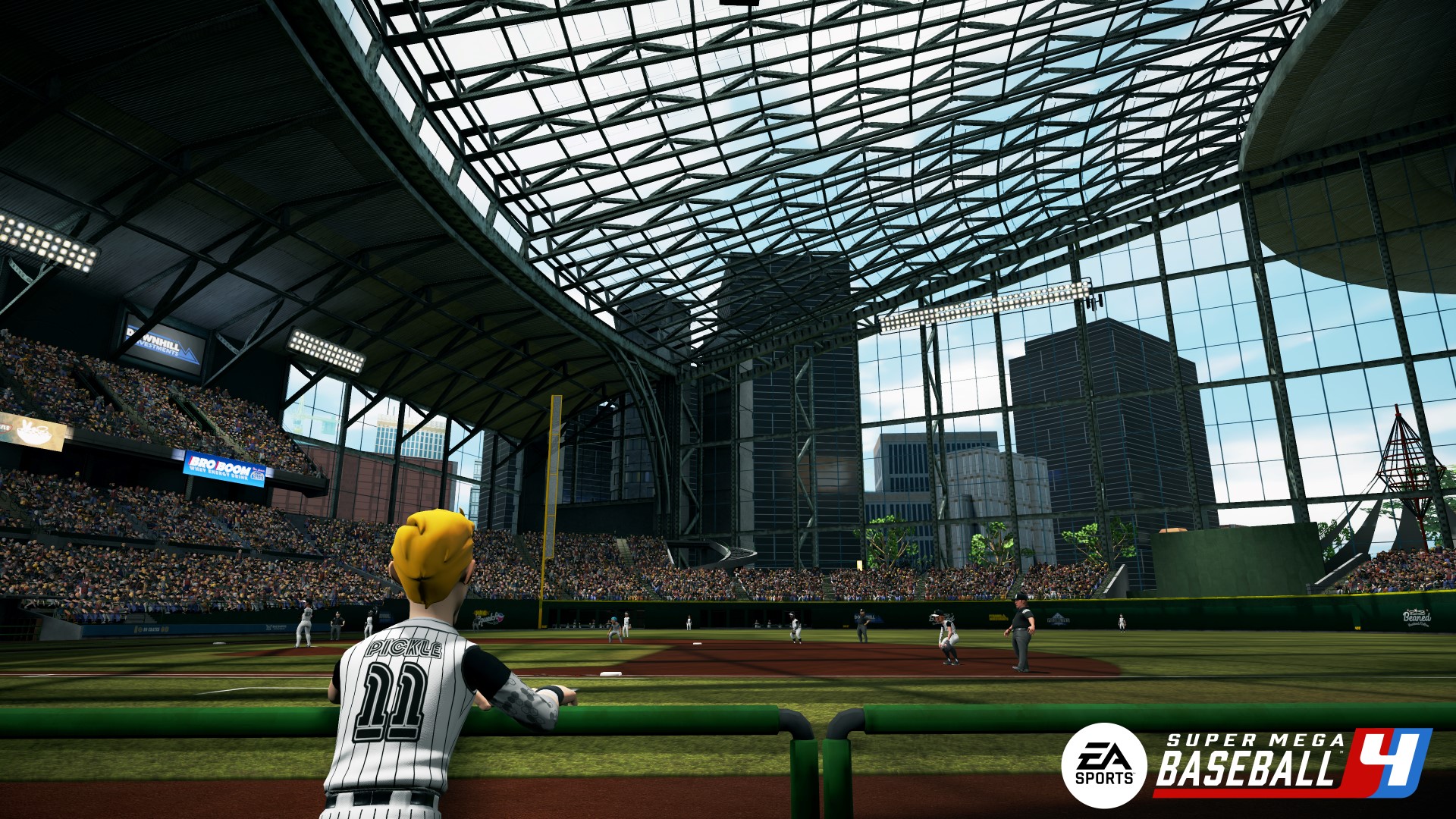 With all the different ways to play and have fun on the diamond, there are a couple things that I wish were improved on in this sequel. The "mojo" gameplay mechanic is back, affecting how well your players perform as the game goes on. For example, getting a base hit on offense or striking someone out on defense increases a player's mojo. Strike out, get into a double play, or give up a home run, and that player's mojo decreases. The amount of mojo a player gains or loses directly affects that player's stats throughout the game. It's certainly consistent but also imperfect. For example, a sacrifice fly will often result in a mojo decrease only because the player didn't get on base. Seeing a player be punished for contributing to a win just seems wrong and unfair, as in real life that player would be getting high-fives all around the dugout and surely wouldn't lose much or any confidence. It just never feels right and happens too often to not point it out.
And while Super Mega Baseball 4 boasts 20 creative and original stadiums to choose from, all with their own unique style, it's a shame there isn't a create your own stadium feature. Stadiums often feature cool backdrops such as mountains, skyscrapers, Ferris wheels, giant whales, and outlandish advertisements.  It seems like there's so much potential in creating and sharing custom stadiums if the tools are simply given to the players, and I truly hope it's something that will be considered being added for the next game.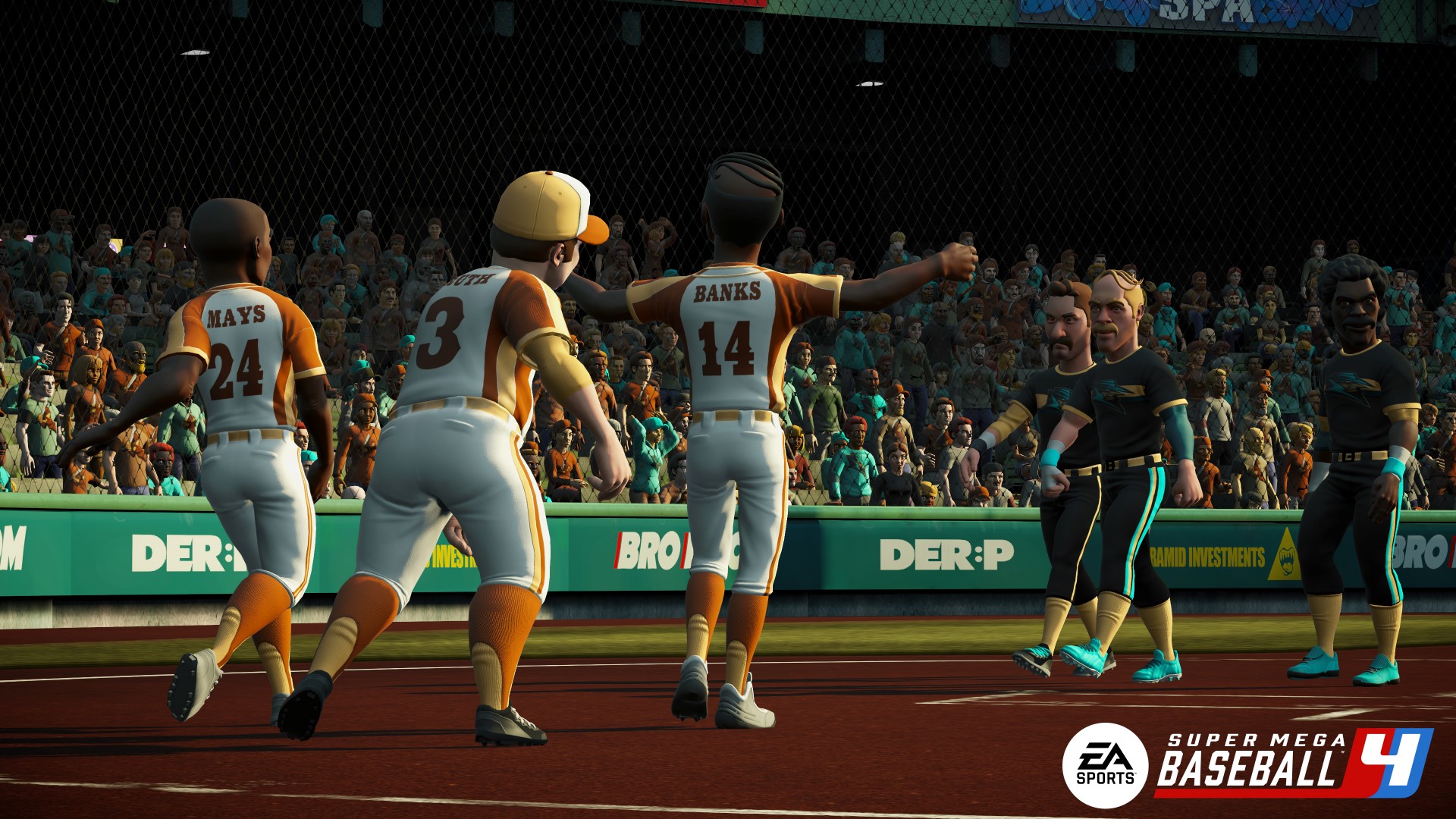 Final Thoughts?
Once again, EA and Metalhead Software have produced a seriously well-crafted baseball game without taking itself too seriously. They continue to innovate and improve while maintaining everything that made their previous installments so successful. Combining pitch-perfect gameplay with the signature cartoonish charm fans have come to love, it's all here and better than ever. It's everything a Super Mega Baseball fan could ask for and a game that all baseball fans should have in their catalog.