Games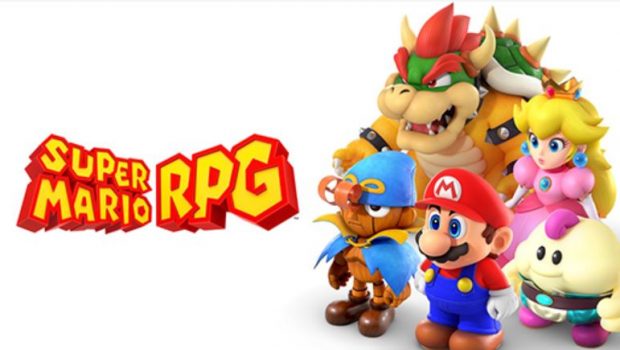 Published on November 17th, 2023 | by Adrian Gunning
SUPER MARIO RPG LAUNCHES TODAY ON NINTENDO SWITCH
Assemble a group of unlikely heroes and embark on a whimsical quest to repair the wish-granting Star Road when Super Mario RPG launches for Nintendo Switch on 17th November. Originally only released in Japan and North America on Super NES, the first-ever Mario RPG has been overhauled for Nintendo Switch with completely new graphics and a range of other new features for the first time, including powerful Triple Moves that players can unleash in battle. For an in-depth look at what the game has to offer, check out the new A Deep Dive Into Super Mario RPG trailer. 
As the game's story begins, Bowser's up to his usual tricks – he's kidnapped Princess Peach, so it's Mario to the rescue. Yet, when Mario confronts him at Bowser's Keep, an even bigger villain emerges – Exor the Giant Sword. He crashes down onto the keep, breaking the Star Road and causing a tremor so mighty, it sends everyone flying. Now, Mario must find Princess Peach, make new allies and discover what big plans the Smithy Gang are concocting before it's too late.
Players will meet like-minded characters on their travels who will join their quest. From the friendly Mallow, to the mysterious Geno…and the unlikeliest ally of all – big, bad Bowser himself! Each party member has unique Specials at their disposal. Together, our heroes will have to face the many minions of the weapon-like Smithy Gang, who are bent on world domination and have unleashed their metallic menace upon the land. Be wary of Goombas, Koopa Troopas and others who've joined forces with them. 
In the game's turn-based battles, players need to time their button presses with Action Commands to increase damage dealt or decrease damage received. Timing an attack perfectly will damage all enemies at once; doing so when defending will prevent damage altogether. Every successful Action Command will fill the Action Gauge. When it's full, players can unleash an extremely powerful Triple Move. Depending on the current party, the move will change, so players can experiment with different character combos.
Items will come in handy during battle. Players can use them to restore Flower Points (needed to use Specials), heal team members, or even put enemies to sleep. Weapons and armour are also
available to give the party some extra oomph. Equip them to augment basic attacks, increase a variety of stats and more. What's more, the newly added Breezy difficulty mode makes the game accessible for players of all experience levels, and can be switched to at any time.
Use the combined strength of Mario and his allies to restore the Star Road and make wishes a reality once again, when Super Mario RPG launches for Nintendo Switch on 17th November. The first ever Mario RPG has been overhauled for Nintendo Switch, with new graphics and new gameplay features.
Related videos:
| | |
| --- | --- |
| A deep dive into Super Mario RPG | |
| Super Mario RPG is coming to Nintendo Switch! | |
| Super Mario RPG – Tackling turn-based battles (Nintendo Switch) | |