Switch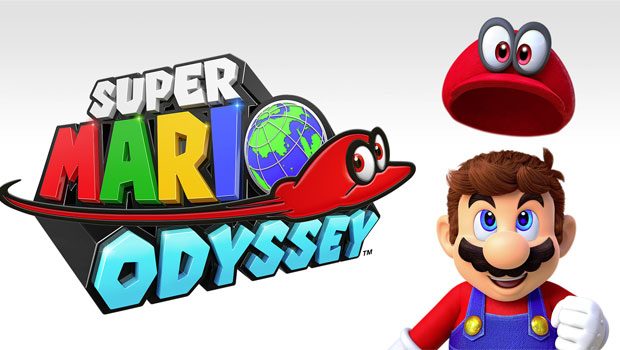 Published on October 30th, 2017 | by Tony Smith
Super Mario Odyssey Review
Summary: Let's welcome Mario to the Nintendo Switch with Super Mario Odyssey that is a thoroughly enjoyable and addictive game on this new console!
The Nintendo Switch has just received its first official Mario game with Super Mario Odyssey that once again has Mario trying to track down Bowser who scarily wants to marry Princess Peach. Hey… it's a Mario game and if Bowser wasn't up to mischief, it wouldn't be a Super Mario game but thankfully there's plenty of Nintendo twists along the way with fun characters (say "Hello" Cappy), adventure and a touch of comedy in this thoroughly enjoyable Mario title. At its core, Super Mario Odyssey is a 3D action arcade game that successfully use the innate controls of the Nintendo Switch to maximise the experience, such as the touch screen and the Joy-Cons.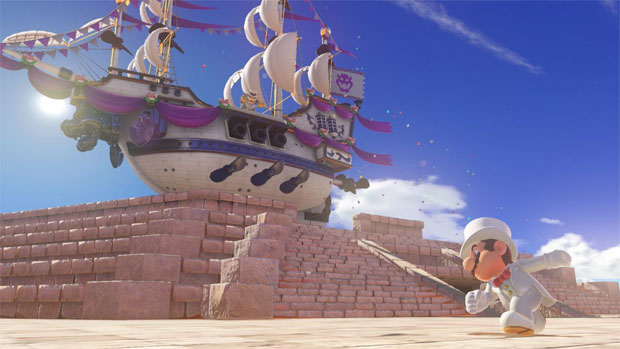 Key Features
Explore huge 3D kingdoms filled with secrets and surprises, including costumes for Mario and lots of ways to interact with the diverse environments—such as cruising around them in vehicles that incorporate the HD Rumble feature of the Joy-Con™ controller or exploring sections as Pixel Mario.
Thanks to his new friend, Cappy, Mario has brand-new moves for you to master, like cap throw, cap jump and capture. With capture, Mario can take control of all sorts of things, including objects and enemies!
Visit astonishing new locales, like skyscraper-packed New Donk City, and run into familiar friends and foes as you try to save Princess Peach from Bowser's clutches and foil his dastardly wedding plans.
A set of three new amiibo™ figures*—Mario, Princess Peach and Bowser in their wedding outfits—will be released at launch. Some previously released amiibo will also be compatible with this title. Tap supported amiibo to receive gameplay assistance—some amiibo will also unlock costumes for Mario when scanned!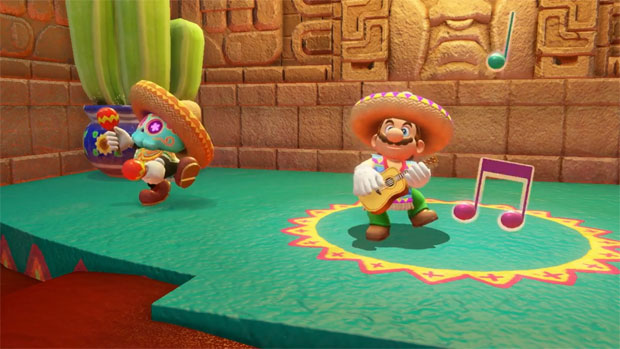 Furthermore, Super Mario Odyssey has some impressive level design and although not as complex as something like The Legend of Zelda: Breath of the Wild, it is equally as immersive as you explore this 3D world filled with diversity. More importantly, there's plenty of secrets to be found along the way and I appreciate how everything is not just flat but there's shape and dynamics to the various levels that you engage with. There's even some surprises to be found along the way like classic 2D platforming with a twist which harkens back to the original and keeps things fun and fresh for the gamer.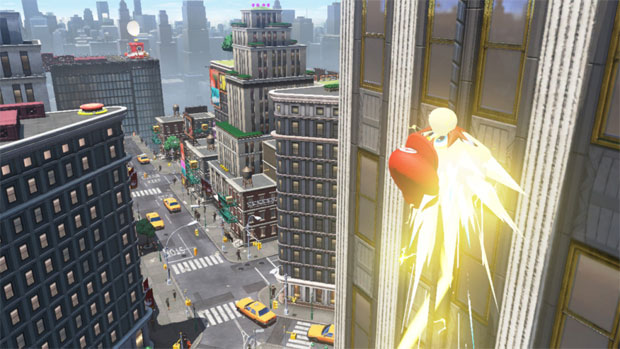 Besides exploring the world with your sentient hat called Chappy and of course, looking for a way to rescue Peach, there's plenty of things to do and see in this game. Enemies are quite diverse and the boss battles are very fun and at times a challenge but once again, each of these enemies has a particular way to defeat them. By completing objectives, you are given moons which allows Mario to access new levels thanks to your strange hat shaped craft called the Odyssey.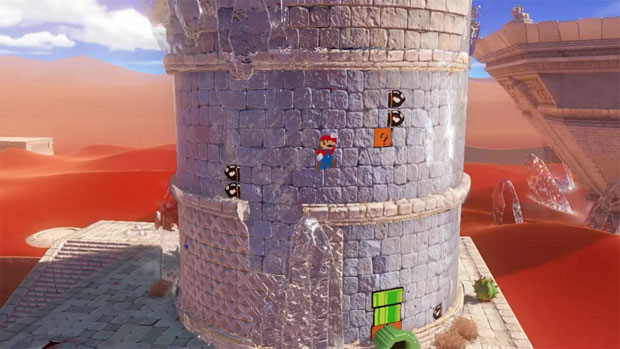 Add in fun jumping and platform mechanics and it really feels like Mario has come home but there's also other controls at your disposal like using Cappy to possess other creatures. There's areas under the sea, in the sky and even in 'New York' plus the ability to transform into a frog which is not the strangest thing in this game. So as you bounce off walls, triple jump to impossible places, find power-ups, new items and complete quests for characters, Super Mario Odyssey is a true odyssey for our once Plumber Mario as he attempts to follow the breadcrumb trail from the vile Bowser.
There's even outfits to buy thanks to the purple coins you find to the traditional gold coins as you crazily explore this interactive world upon world. Those looking for some multiplayer fun will also find it in this game as one player controls Mario and the other Cappy. The game also works well in handheld mode, the Joy-Cons and the Pro Controller which is my preferred choice… oh, there's even elements of motion control which does seem a little contrived but once again, it helps break things up a little.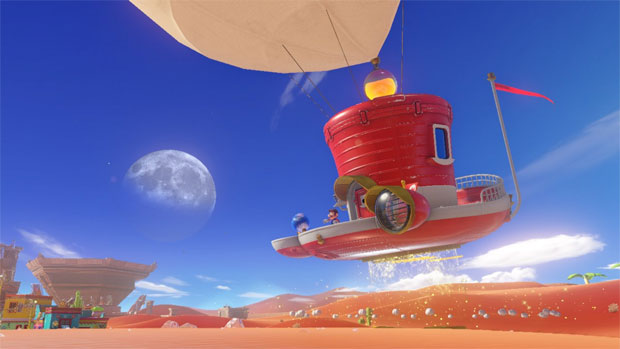 Graphics & Audio
Graphically, Super Mario Odyssey is a great looking game on the Nintendo Switch, either in tablet or TV mode. Although the game is reminiscent of the first 3D Mario title (Super Mario 64), Nintendo have truly upped the ante on the Switch and as a result, have created a living breathing environment for Mario and the player to explore. It definitely screams Saturday morning cartoon, particularly with its over the top colour palette and more importantly, the worlds that you explore are quite diverse and distinct. Add in special effects and lighting and Super Mario Odyssey really shines on the Nintendo Switch.
The soundtrack behind Super Mario Odyssey screams Mario and before long, you'll be humming the tunes in the game in the real-world. However I did find that some of the background ambience for audio did seem a little mute at times but nonetheless, the gameplay, graphics and audio all come together well which creates a very entertaining and thoroughly addictive Super Mario experience on the Nintendo Switch. It's also a title that you can come back again and again to revisit because it's that fun!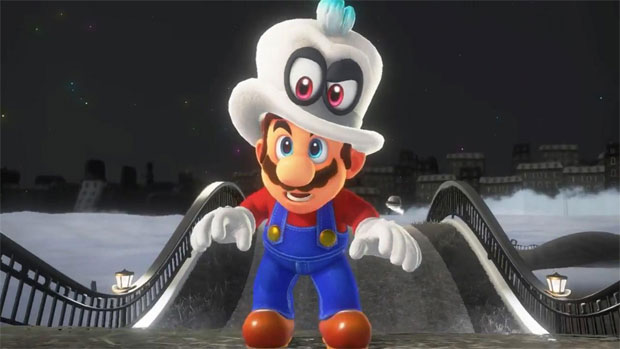 Final Thoughts?
Welcome home Mario! It's been awhile since a Mario game captured my heart and I think that Super Mario Odyssey is that game. Sure, there are elements of repetition but the gaming mechanics and controls are a thorough treat and if you're looking for a reason to purchase a Nintendo Switch, besides such as Zelda, this could really be the time to make the… uhh… SWITCH!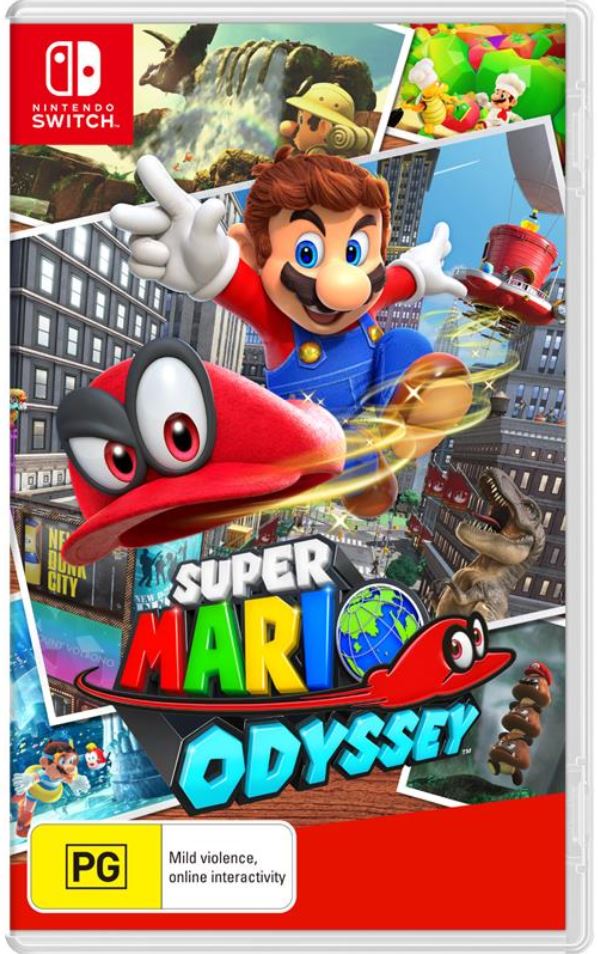 Game Details
Primary Format – Games – Nintendo Switch
Game Genre – Action & Adventure
Rating – PG
Consumer Advice – Mild violence, online interactivity
Game Developer – Nintendo
Game Publisher – Nintendo