Games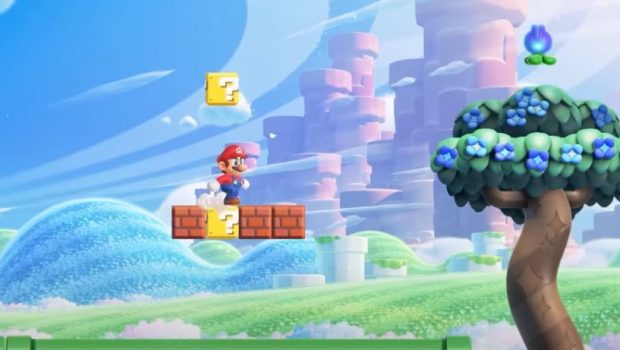 Published on October 20th, 2023 | by Andrew Bistak
Super Mario Bros. Wonder Launches Today On Nintendo Switch
Surprises await around every corner in Super Mario Bros. Wonder, out now for Nintendo Switch. Prince Florian has invited Mario and his friends to the Flower Kingdom, but a familiar foe drops in uninvited. Bowser and his minions crash the party and steal a Wonder Flower which merges Bowser with Prince Florian's castle, transforming him into a floating fortress. As the power of the Wonder Flower quickly spreads across the kingdom, all kinds of weird and wonderful things start to happen. With the Castle Bowser now on the loose, players join Mario and friends on a new 2D side-scrolling adventure full of wonder to save the Flower Kingdom.
Here are some of the features that players can experience on this wonder-ful adventure:
A Kingdom Teeming with Variety: The Flower Kingdom is made up of six distinct worlds that circle the Petal Isles, giving players a total of seven areas to explore, including open areas players can walk in freely.
A World of Wonder: Every main course contains its very own Wonder Flower, which are often hidden. When players touch a Wonder Flower, a Wonder effect will trigger, causing the course and gameplay to change completely. Pipes might start moving, the terrain may tilt, perspective can change, or players might float through space. There are even Wonders that can transform your character.
The Gang's All Here: With 12 different characters to choose from, players can take on the role of Mario, Luigi, Peach, Daisy, Blue or Yellow Toad, and even Toadette. They all play in exactly the same way. In addition, players can choose different coloured Yoshis and Nabbit, who won't take damage, so they're a smart choice if players are looking for a more easy-going experience.
Plenty of Power-ups: Super Mario Bros. Wonder features the debut of three new power-ups on top of familiar powers. The Elephant form allows players to smash through blocks, flick away enemies, and even suck up and spray water with their trunk. The Bubble form allows players to blow floating bubbles that can be used to capture enemies from a distance. The Drill form makes dealing with spiky or hard-headed enemies a breeze. It also allows players to burrow and move through the ground (or into the ceiling).
A Bounty of Badges: As the adventure progresses, players will be able to earn a variety of different in-game badges, each with their own special abilities. Make use of aerial gliding, aquatic speed boosts, super-high jumps and more. Some badges will also give players useful bonuses, such as an extra Super Mushroom, bonus coins for defeating enemies, or the ability to detect hidden items in courses.
Share the fun: Gather up to three friends in local multiplayer*. Players can revive each other's ghosts, or even have Yoshi players give others a ride. While playing online**, players can see which courses their friends are in and join the same ones. Play courses normally or turn certain courses into a race. Even when playing solo online, it's possible to encounter live player shadows and special standees placed by online players. Touch them to revive or leave your own standee to help others.
A Mario-themed Nintendo Switch – OLED Model Mario Red Edition is already available at the My Nintendo Store and in retail stores (game not included). The system, along with its two Joy-Con controllers and Nintendo Switch dock, all sport the iconic Mario Red colour. A silhouette design of Mario jumps into action on the back of the dock. Look closely, and there are also some hidden coin icons on the dock. Check the My Nintendo Store and with local retailers for availability.
Super Mario Bros. Wonder, the latest evolution of 2D side-scrolling Mario adventures, featuring new gameplay, new power-ups, and exciting Wonder effects is now available on Nintendo Switch. Also available already is the new Nintendo Switch – OLED Model Mario Red Edition featuring an iconic red colour scheme.