Games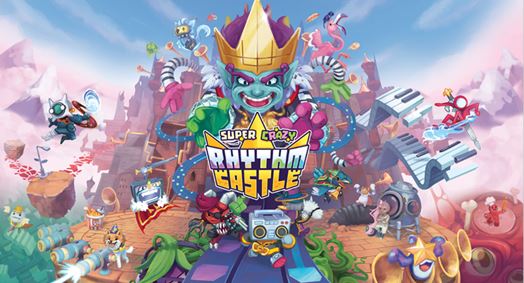 Published on July 13th, 2023 | by Adrian Gunning
Super Crazy Rhythm Castle Coming Soon
It's 'Super Crazy Rhythm Castle', The Chaotic Rhythm Adventure! An Unforgettable Journey is Coming Soon to PlayStation®5, PlayStation®4, Xbox Series X, Xbox One, and Nintendo Switch™!
From the twisted minds behind Super Crazy Guitar Maniac Deluxe, comes a spiritual successor that breaks new ground in genre-fusing style! 
Sydney, Australia – 13th July 2023Konami Digital Entertainment B.V. and British developer Second Impact Games today revealed Super Crazy Rhythm Castle, a puzzling co-op mashup unlike anything you've ever heard! A character-based rhythm game at its core, Super Crazy Rhythm Castle mixes genres to take you on a unique adventure through a bizarre castle, with a cruel king hell-bent on throwing you off your rhythm!
Solo, or with a band of up to three friends, will you conquer the castle?
Find out what awaits with the reveal trailer here!
Alongside the trailer, KONAMI and Second Impact Games have partnered with TikTok to exclusively showcase a variety of levels and play-modes on July 13th – a first for the platform – which will be shown by spectrexgaming, itsnick&cam, Magukarp and sholaheyy.
Created by UK resident micro-studio Second Impact Games, Super Crazy Rhythm Castle is an amalgamation of over 10 years honing what it means to create something 'super crazy'! Konami Digital Entertainment B.V. and Second Impact Games will be working together in a publishing partnership, bringing the game to global markets on PlayStation®5, PlayStation®4, Xbox Series X, Xbox One, and Nintendo Switch™.
Super Crazy Rhythm Castle is available to pre-order on physical now. 
【Product Overview】 
Adventure into Absurdity
An unforgettable journey with a light heart and a tapping foot. You'll become one with the music and the madness
Unlikely heroes, approach Rhythm Castle! Inside, the unhinged King Ferdinand awaits, ready to defend his crown and ruin your day. Overcome his twisted challenges and beat him in his own game. Throw beans into an ancient summoning ritual. Shut down a giant eggplant DJ. Cover tiny meat people in gravy for reasons that we promise will become clear. All while keeping the beat!
Super Soundtrack
With over 30 tracks – plus a few hidden extras – tune in for earworm rock, hip hop, dubstep, and plenty more.
Crazy Co-op
Chaotic cooperative gameplay that's fun and accessible. Not a pro at rhythm games? Each player can play their music in three-button or four-button mode – or hop out to focus on puzzling while your buddy covers the music! Whether you go solo or sync up with friends, get ready to embrace the madness and take on the challenges of Rhythm Castle.
Multitasking Mayhem
From musical escape room to elevator arcade, you'll need to think outside the beat to stay ahead of the king's mischief. Juggle music play with tricky tasks and blasting action to solve each level!
Relive the Rhythm
Gunning for a gold medal? Unlock & play every song in the Music Lab. No nonsense, just pure rhythm!