Events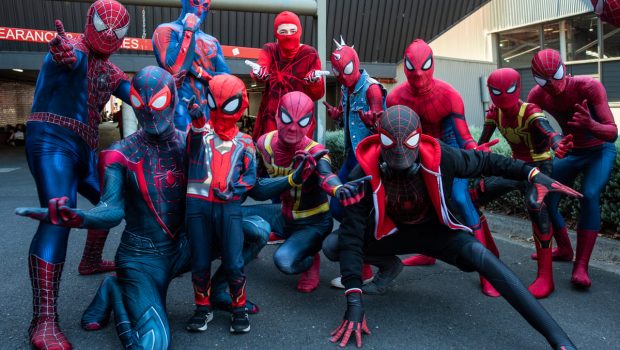 Published on April 24th, 2023 | by Daniel
Supa Sundays! @Supanova 2023
Con season is well and truly back in Melbourne. Supanova has hit our city and it's time for the fans of Comics, Gaming and Anime to crawl out of our homes. Don our cosplays and have ourselves a great time. It's my first time back at Supanova since Covid stole away all our conventions. I was unable to attend it last year, but I was definitely excited to be back at it all over again, because, when it comes down to it? This stuff is what I live for. Boasting some new stars I hadn't seen before and a brand new layout, it was time to head to the Melbourne Showgrounds for the first major convention for the year.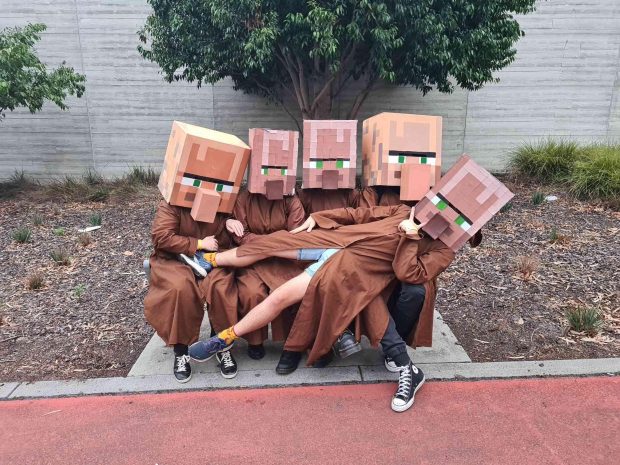 The first order of business was to tour the merch halls, check out all the gear on offer from the various vendors. Our first panel wasn't for several hours so we made use of that early time to see if there was anything that would catch our eyes. Supanova has always been several sizes smaller by comparison to the big events like PAX and Comic Con. It might seem a little harsh to judge them by this standard, as I'm aware that it's organised by a much smaller team that is mostly comprised of volunteers, but when you experience the magic of those bigger conventions, it's hard not to make a comparison like that.
All things considered though, the atmosphere in these events is always electric. Seeing so many people packed into a small warehouse, perusing through merchandise of various local and big businesses alike. Some in cosplay, others just attending for fun, is simply a feeling you don't get just by staying at home and indulging in the genres that make this event what it is. Booming voices and happy faces line the isles and echo through the giant shed, as people comb through the stalls looking for merchandise to fill their homes with their favourite shows, characters and more!
Myself, I'm a big fan of mecha anime. So of course I hit stalls like Japan Toys, to see if I can continue my trend of collecting Gunpla that I have not the space to build and display. To my dismay, there were none from the series' that I'm collecting for at the moment. Probably a good thing too, as I mentioned before, I very much don't have the space to build, display or even store them. My partner however bought herself a Shirakami Fubuki Nendoroid figure, a popular Japanese V-tuber. It was a good thing she bought it here, as it turned out it was more expensive online. So that was a welcome surprise. Our tour consisted of going lane by lane, checking out all the stores. Notable standouts were; Animetown, Tenshukaku Anime Merchandise, Critical Hit and Manga Books! 
Before long, it was off to our first Supa-Star guest.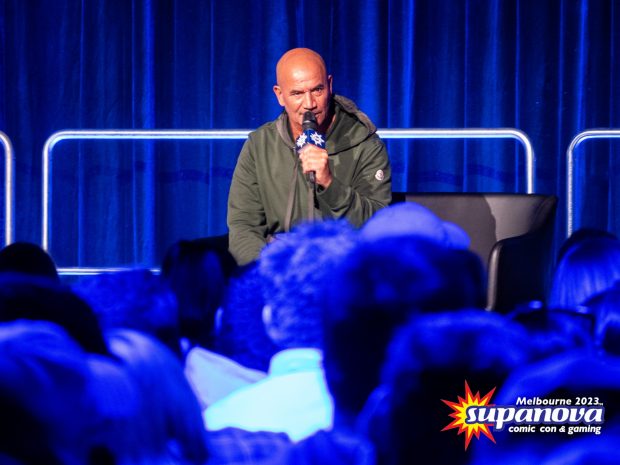 Temuera Morrison, or as he is known to the vast majority of pop culture nerds, both old and young, Boba Fett. Graced our shores with his presence, sharing experiences from his time as the aforementioned bounty hunter. Telling of secrets from behind the scenes, cracking a few jokes here and there of things that happened on set. Temuera is an insanely talented and humble individual, most noted for his role in the Star Wars franchise. But he is a well respected actor to both Australia and New Zealand, even the world beyond. His career is a relatively unknown one for those outside of NZ, his most common roles only on a national level, but his talent was beyond that. Featuring in some international titles like; Tom Curry in Aquaman and even playing Moana's father in Disney's animated film Moana.
A proud, Maori, born in Rotorua and of Te Arawa and Ngati Maniapoto Ngati Rarua descent. It is a great love of mine to see actors from all walks of life, with different cultural backgrounds, not afraid to show who they are to the world and instill some knowledge and awareness in all those who adore the works they feature it. It was great to learn of Temuera's early years, to learn the story of the actor behind such an iconic character and how he came to be. Sometimes, a 45 minute panel can drag on forever when it doesn't entertain you, but this was not the case for such an amazing talent. I really could have sat there listening to him for more than an hour, but alas our time together ended as soon as it began and it was off to our next panel.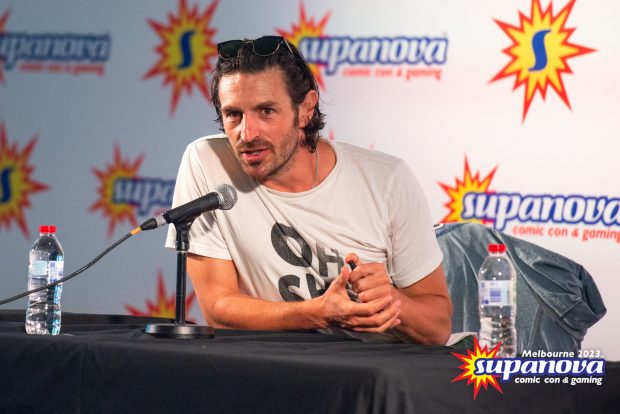 Then it was off to see Eoin Macken and boy was I surprised when I heard his accent. I was wholly not prepared to hear such an Irish accent, he doesn't necessarily look Irish and whos name doesn't instill Irish into my brain when I read it aloud. But there I was, stunned into a stupor. I remember watching him in my late teens on the medieval fantasy tv show Merlin. This might be showing some of my age, since the show's beginning started roughly fifteen years ago. But the show was a favourite of mine that I lost touch with over the years, as Channel Ten didn't broadcast it in its entirety and I never really picked it up again until a few years ago. I rewatched the series with my family and recounted at what a marvel the series actually was and how well it stands up even to this day. As a solid, well built, if somewhat rushed or cut off series it was towards the end.
Eoin talked about his experiences on set and answered questions posed by the audience. He also talked about some of his other roles, his experience writing and directing his own content. It was a surprise to me to learn he even released a novel titled Kingdom of Scars back in 2015, a novel I will surely look into as I do keep telling myself I need to get back into reading novels like I used to. I was blown away when someone in the crowd asked a question relating to his role in Resident Evil 4: The Final Chapter. I had no idea he even featured in that movie and I watched it! Though compared to others in the franchise it was rather unmemorable, so maybe this is a sign I should take to go rewatch it!
He finished off by plugging his new project that he is starring in, La Brea, a series on NBC, which I know own Channel Ten. Will we see more of Eoin on screen once more? I certainly hope so!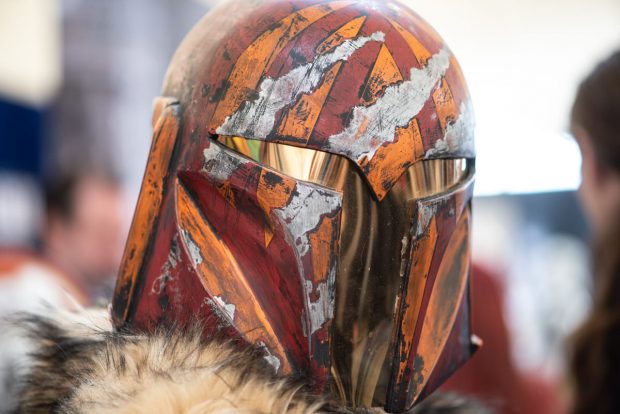 We concluded our day with a day with a tour through Artist Alley. It's always a highlight of mine, being a person addicted to and amazed by art, to visit the artist alley in every convention. And Supanova 23's artist alley, is no different! With isles and isles packed full of art of many forms, from tattoo art, to prints, stickers, key rings, t-shirts and more. All hand-crafted, drawn and painted by so many talented artists and creators. But of course they are Daniel, they wouldn't be artists if they weren't right? Of course, but as someone who likes to sketch and has wanted to be as talented an artist as some of these people are. It simply blows my mind every time when I see the level of creativity some people are able to produce.
My partner and I met up with my brother, who was also attending the event. Together, we admired and gawked at all the wares on offer. My partner even grabbed herself several pieces from the stalls; an insanely detailed Star Wars piece, depicting Ahsoka Tano and Darth Maul in battle against one another. There was another piece I wish I could have gotten myself featuring a medieval inspired Obi Wan and Darth Vader. She also grabbed some Hololive stickers (more v-tuber merch), A5 prints of Pokémon and Spirited Away and some keychains from Pokémon, Apex Legends and Final Fantasy XIV online (Who I must say made an excellent Y'shtola and Emet Selch Cosplay that I felt bad I couldn't get a shot of).
And with that, our day came to an end!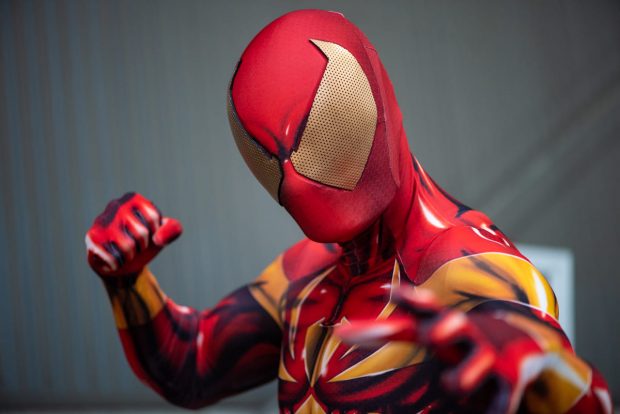 The experience as a whole for me, in all honesty, wasn't the best. I personally wasn't particularly impressed when I saw the prices of tickets both online and in person, while I'm aware of things like inflation and the long hiatus that was Covid-19, the difference in prices to these events pre-covid to now, paired with the level of content the event brings. Simply isn't worth the money, maybe it's the age in me talking, I remember when these events were no more than $50 for the weekend and now they're nearly doubled. $80+ for two days, when most of what's on offer can be explored in 3-4 hours? Compared to PAX, $170+ for three jam packed days running from early morning to late into the Friday and Saturday evenings? You start to see the comparison I'm making. It wasn't even me either, I caught whispers and mumbles of disgruntled attendees muttering what a waste of money it was to attend as I passed them by in the traders hall.
Don't get me wrong, it was a fun event, so if it's your first convention? Go, absolutely attend Supanova and experience the atmosphere. The merch, the stars, the games, the art. All of it. But if you've been to bigger events before like Comic Con, or PAX? It's going to feel lacking.  I only hope that future events can be a little bigger in its third year back after Covid, that we can see even greater stars and feature even more interactive activities!
Author's note: As a result of a camera malfunction, photos are instead a culmination of my phone, A.R.Thomas Photography, Melbourne Cosplay Community and Supanova Staff