Comics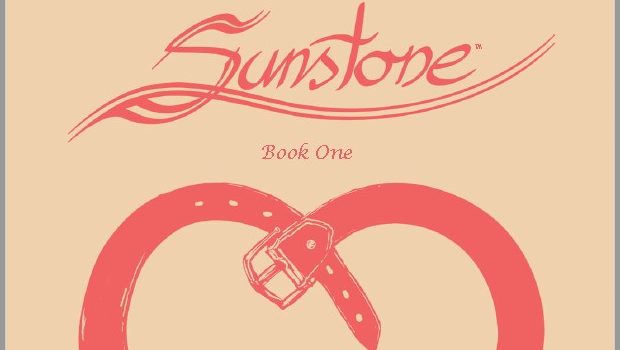 Published on April 23rd, 2017 | by Chris O'Connor
Sunstone Vol 1 HC Comic Review
Summary: What could have been just a smutty comic instead proves to be a beautiful love story.
I came to the story of Sunstone the wrong way around… that is to say I've read the last in the series and have only now read this, the first story. It didn't ruin the reading at all… in fact I felt I knew where they were going to end up and so getting a more detailed telling of how they first came together was quite lovely. But I'm getting away from myself. Sunstone is the story of Ally and Lisa, a Domme and a Sub who find each other online and decide to meet to fulfill some fantasies… but things get much more involved than that.
Writing
Stjepan really hit his stride here. From reading the lovely insight segment at the end of the book you learn that this was the rebirth of his creativity… it's lovely that is has such meaning to him because I suspect a lot of people can gather a lot of meaning from the story. It is certainly a story of a true Domme and a true Sub (yes there are variations of each within the community) but it's so much more than that. Stjepan himself plays with the notion of the themes of the book by stating early on "Wait, don't leave yet! This book has lots of hot lesbian bondage sex!!!" and yes it does… but it's not what really drew me in to the book. The true core of the book is the wonderful development of the relationship between Ally and Lisa… that fumbling self doubt that I think we can all relate to. I won't spoil the joke but the very first time the two meet in person is a comical relatable moment all in itself. The internal dialogue is just as important as the external dialogue in Sunstone and that insight into what the characters are thinking and feeling is what really draws you into the story.
Artwork
I think it's got to the point where I have to say I'm a fan of Mr Sejic's art… there's a lovely mix between the regular panels slightly simpler imagery (which is not to say the images are basic… they are anything but)… intercut with the occasional highly detailed portrait style imagery that looks like it would be right at home framed on a wall (perhaps in a room that children don't go into… depending on which of the images you would chose to frame). The overall colour tone is warm as well which both helps set the mood of passion and lust but also of that notion of romance and love which really is the backbone to the whole thing.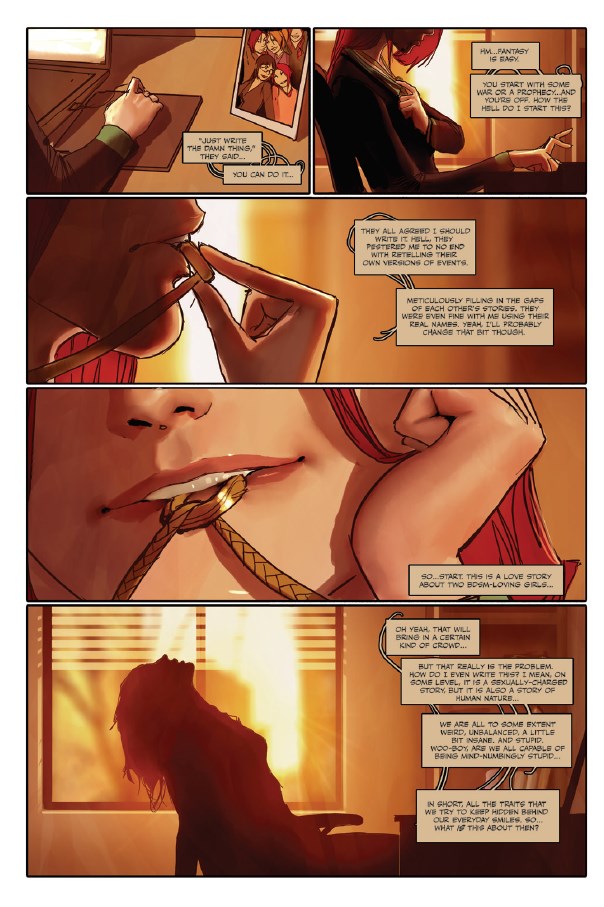 Final Thoughts
The internet can be used for many things and unfortunately these days it seems a lot of what it is used for is spreading misinformation and bullying. But one of it's main strengths remains the ability to connect people of different interests to each other when otherwise they might find it too hard to bring up the subject of their wants and desires. Sunstone captures that nervousness of taking a chance on going from an online connection to a real life relationship and beyond with such wonderful goofy, awkward human reality that you can't help but feel for the characters. I'm glad Mr Sejic found his mojo again and I look forward to reading more of his works in the future. Whether you have an interest in BDSM or not… Sunstone is a great story… if you are a romantic at heart I think you will find plenty here to give you pleasure.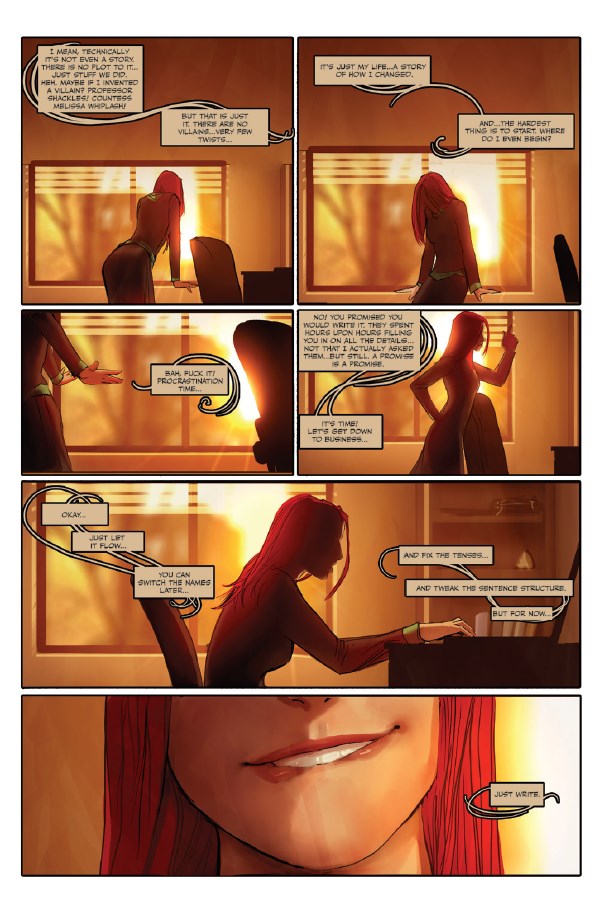 Publisher: Image
Writer: Stjepan Sejic
Artist: Stjepan Sejic
Colourist: Stjepan Sejic
Cover Artist: Stjepan Sejic
Genre: Erotica, Romance, Comedy
Format: 380pg FC, HC
Release Date: 29 March, 2017