Events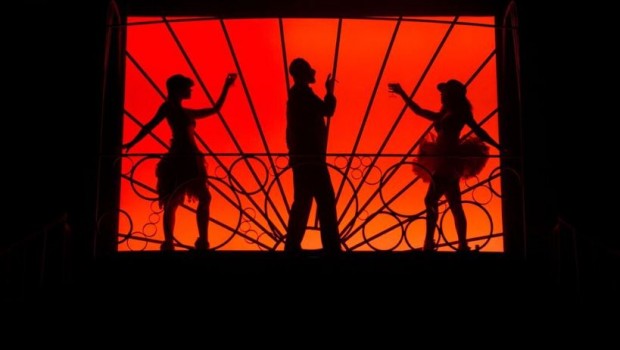 Published on January 25th, 2016 | by admin
SUMMER'S CHAMPAGNE CIRCUS – MEET THE CAST OF BLANC DE BLANC
Thursday 7 January – Sunday 28 February 2016 | Studio, Sydney Opera House
"Men and girls came and went like moths among the whisperings and the champagne and the stars."
F. Scott Fitzgerald
Sydney heat got you feeling parched? Quench your thirst with Blanc de Blanc, the sparkly high-end spectacle premiering at the Sydney Opera House in January.
A boundary-busting cast of Australian and international performers will bring verve and vim to the Opera House Studio this summer with their exquisite blend of vintage glamour, circus and comedy, all set to a bubbly DJ beat (think Frank Sinatra meets Mark Uptown Funk Ronson). They are:
Monsieur Romeo is Blanc de Blanc 's debonair maître d'. A French-born, high-fashion model turned dancer, he has toured the world with the queen of burlesque Dita Von Teese, performed with Beyoncé, Kylie Minogue and Lady Gaga, and modeled for Giorgio Armani, Vivienne Westwood and Jean-Paul Gaultier.
Dominique Domingo is the California girl with the killer dance moves. Since her first big break in Missy Elliot's Lose Control music video, her dancing feet have taken her around the world and back again. She also found Billboard chart success as part of American girl group BG5, co-managed by Keeping Up with the Kardashians' Kris Jenner.
Emma Maye Gibson, obscene beauty queen. Surreal showgirl. Clown. Glitz monster. Meet Sydney performer and feminist Emma Gibson. Better known in certain circles as her fierce performance avatar Betty Grumble, Emma challenges perceptions of the female body with her high camp performances.
Jérôme Sordillon is the chiseled acrobat on aerial straps. The French-Canadian won a medal for straps at the 35th Festival Mondial du Cirque de Demain. His unparalleled muscular control and strength will see pulses soar.
Jaimi Luhrmann, dancer, juggler, mime artist, clown – there's nothing this passionate performer can't do. From her hometown of Brisbane to the Festival Mondial du Cirque de Demain, Jaimi has travelled the world for the past decade with a suitcase full of tricks.
Masha Terentieva is the daring hula-hoop and aerial artist. Born into a family of circus performers in St Petersburg Russia, Masha grew up traveling the world, honing her craft backstage while her parents were in the spotlight. All grown up, she has performed with Cirque du Soleil and in Broadway musical Pippin. What she can do with a hotel luggage cart will leave heads spinning.
Shun Sugimoto bends the boundaries of dance, literally. Combining breakdance with contortion and the aesthetics of other athletic artforms such as yoga, he has won international circus awards, including at the prestigious Festival Mondial du Cirque de Demain in France. Living between Tokyo and London, Shun has performed solo shows across Europe and Asia and with his breakdance team, Kinetic Art.
Spencer Novich is the pale-faced harlequin who induces laughs and gasps with his original mix of comedy, mime and contortion. The award-winning clown has performed all over the globe, with credits including Cirque du Soleil's colossal KÀ in Las Vegas and Spiegelworld's darkly decadent cabaret, Vegas Nocturne.
Laura New returns to her home of Sydney having made Los Angeles her base for several years. Laura is a trained Contemporary, Jazz, Ballet and Hip Hop dancer. Her dancing career as seen her continually touring the world with performances on The Voice, MTV music awards, Pitbull, LMFAO, Black eyed Peas, and Dancing with the Stars.  Laura was also recently seen on the 2015 season of Americas got talent where she performed all the way to the finals with Freelusion. Laura is also in the upcoming movie 'Wild for the night'.
Blanc de Blanc is directed by Scott Maidment of Strut & Fret, the masterminds behind international festival sensations LIMBO and Cantina, and choreographed by Kevin Maher, the LA-based choreographer favoured by the world's biggest pop artists including Madonna, Mariah Carey and Jennifer Lopez.
Blanc de Blanc previews from 7 January 2016. Guests are invited to enter into the mood by dressing in vintage, white and gold, circus chic or a little bit of sparkle. Strictly for ages 18+.
SEASON DETAILS WHAT: Blanc de Blanc
WHEN: 7 January – 28 February, 2016
WHERE: Studio, Sydney Opera House
TICKETS: Available from $69 + BF at www.sydneyoperahouse.com/blanc or 02 9250 7777.