Events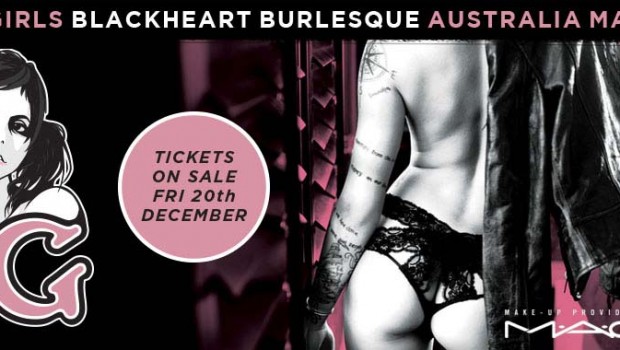 Published on February 18th, 2014 | by Admin
SUICIDEGIRLS BLACKHEART BURLESQUE TOUR ANNOUNCE MORE AUSTRALIAN SHOWS FOR CANBERRA & WOLLONGONG
Badass Bombshells. Tattooed Temptresses. Geek Goddesses
SuicideGirls – the sexiest, smartest, most dangerous collection of outsider women in the world are bringing their full Blackheart Burlesque Tour to Waves @ Wollongong on Friday 21st March!
This unique tour is unlike any other Burlesque show.
"This show was something else. The girls, besides being gorgeous as hell, are amazing and talented on stage." (The Age Of Metal).
SuicideGirls is an online community that celebrates alternative beauty and indie culture from around the world. Since 2001, tens of thousands of models have submitted millions of photos to the website hoping to earn official SuicideGirl status. The community carefully chooses the most unique, beautiful women from those submissions and invites them to join the SuicideGirls sorority of bad ass bombshells and geek goddesses. SuicideGirls are the sexiest, smartest, most dangerous collection of outsider women in the world.
"girls next door- but more colourful and with better record collections" (Spin Magazine)
The Blackheart Burlesque previously toured North America for five years achieving sold-out headlining shows as well as opening for Guns N Roses and Courtney Love, and performing at music festivals across Europe. SuicideGirls: Blackheart Burlesque is back with all new performances replete with tongue-in-cheek humour and raw erotic sexuality.
"art-sleaze phenomenon" (Los Angeles Times)
With stripteases and performances poking fun at Star Wars, Avengers, Game of Thrones, Pulp Fiction and the Rocky Horror Picture Show, choreographer Manwe Sauls-Addison (Madonna, Beyonce, Lady Gaga, Michael Jackson) has assembled a troupe of the most talented SuicideGirls dancers to create the ultimate tribute to pop-culture that Burlesque has ever seen.
Whether you're a loyal fan, burlesque connoisseur or merely curious, SuicideGirls: Blackheart Burlesque will undoubtedly provide an unconventional experience you won't find anywhere else.
Wed 12th March – Melbourne – Billboard
Thu 13th March – Adelaide – HQ
Fri 14th March –Brisbane – Tivoli Theatre
Sat 15th March – Sydney – Metro Theatre
Sun 16th March – Canberra – ANU Bar
Wed 19th March – Perth – Astor Theatre
Fri 21st March – Wollongong – Waves