Interviews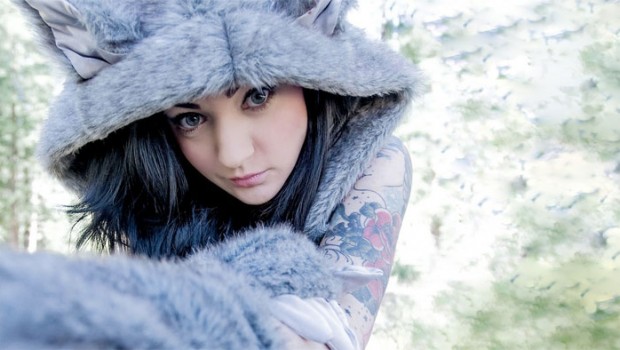 Published on February 11th, 2014 | by admin
Suicide Girl Vorpal Interview – The Blackheart Burlesque Tour
Welcome to Impulse Gamer Vorpal! Tell us how you became Vorpal?
"Vorpal" comes from Lewis Carrols Alice In Wonderland. Which is one of my favourite movies. As Suicide Girls, we have to pick a name for ourselves which then becomes our alias. I dug pretty deep to find my Suicide Girl name. The Vorpal Blade is the most powerful sword in all of Wonderland and can only be used by Alice to slay the Jabberwocky.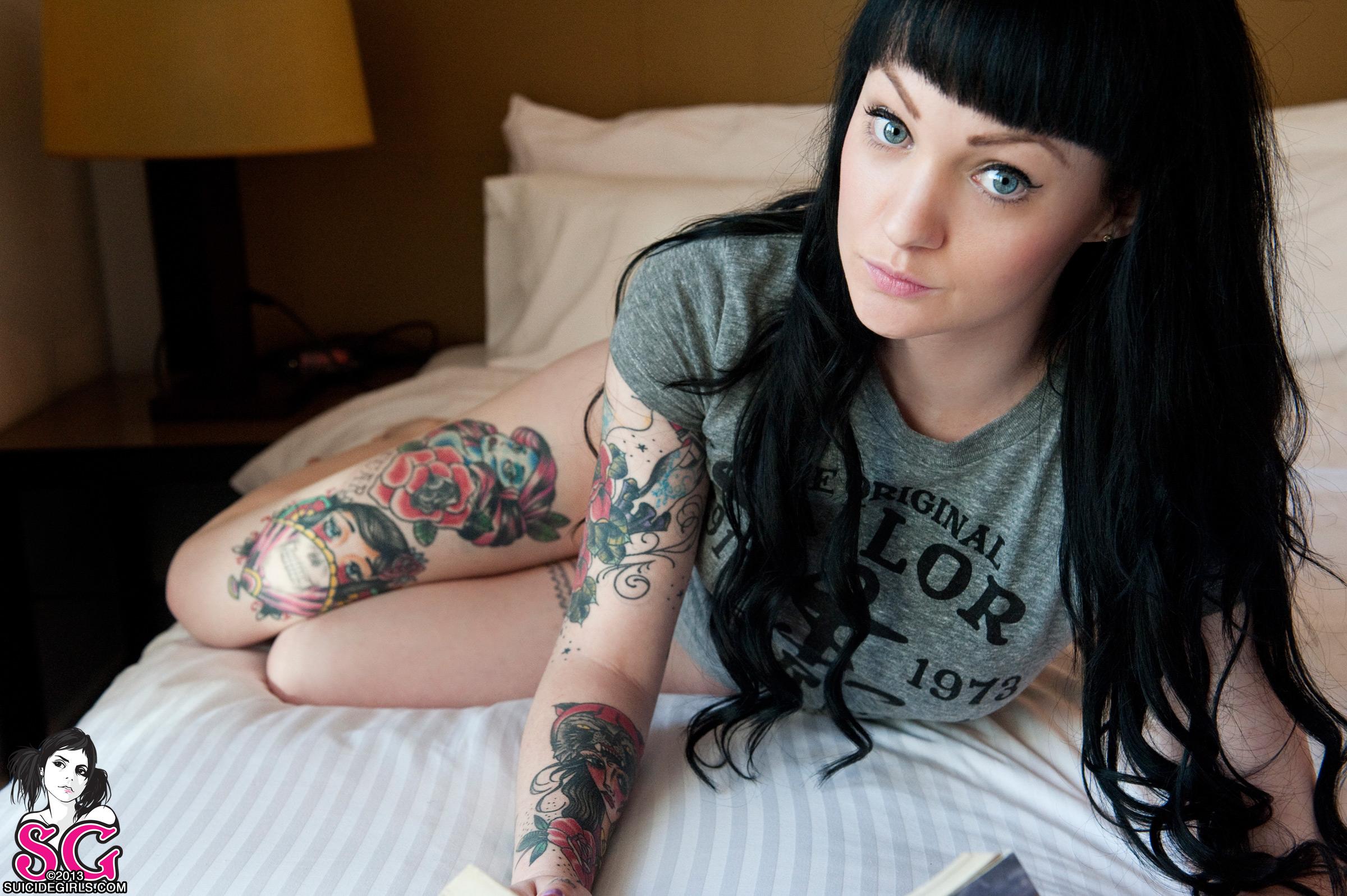 You're not related to a Vorpal Bunny are you?
I had to Google this. No, it isn't related to Final Fantasy.
What's your favourite social media format like Instagram or twitter?
I actually prefer Tumblr. Less negativity than any of the other social media sites. You can find my tumblr at – vorpalsuicide.tumblr.com.
Two questions… what is a suicide girl and how did you become a suicide girl?
1- If you Wikipedia it this is the answer – SuicideGirls is a website that features pin-up photography and profiles of alternative female models who are known as the "Suicide Girls". The site functions as an online community with member profiles, member blogs, and the option to join networking groups based upon interests. SuicideGirls also features interviews with people from popular and alternative culture, user-submitted news articles, and an online merchandise store. Access to most of the site requires a paid membership.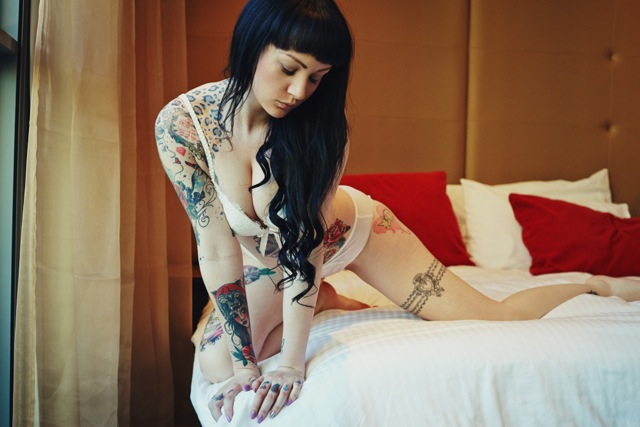 2- I became a Suicide Girl in June 2013. I never believed I would become one as it is mainly American based and there are only a few Australian Suicide Girls. The last one turning "pink" (becoming official) in 2009. I was entered into a Facebook contest with 12 other girls who were also picked by the head office, the public voted and 3 of us turned pink :)
How do you think the "term" Suicide Girl empowers women?
Being a Suicide Girl brings a whole new family to your life, it brings girls from all over the world who are there for you to talk to and love. It empowers women by allowing yourself to be truly who you are with no judgement from your SG family and 99% of the members on the site.
How did you become involved in the Blackheart Burlesque Tour?
I woke up one morning to a Skype call from Moon Suicide, who was with Sean at the time asking me if I could leave the country and fly to America within 3 hours, I laughed and asked for a day! The next day I flew to America as the current host wanted to go home and there were still a few shows left to do. I was the lucky one picked to host the last shows and tour around America on a huge tour bus.
What are some of the themes of the Blackheart Burlesque Tour?
Some themes are Game of Thrones, Kill Bill, The Big Lebowski, Portal and Dr. Who.
How important is music in the show and what are your favourite songs?
As its a Burlesque show the dances all have music to go with them. My favourite songs in the show would probably be Original Don by Major Lazer and When a fire starts to burn by Disclosure. They get stuck in my head all the time.
What do you find appealing about burlesque?
Burlesque is simply sexy. I love gorgeous women dancing around having a great time.
What is your role in the tour and what costumes do you have?
My American tour will differ to the Australian tour as there was the Portal dance and the Dr. Who dance that the previous host did, so I learnt them in a day and performed those dances. The Australian tour will still have the Portal dance, where I'm in the orange jumpsuit and have the white gun and then I throw cake all over the audience, but I will be doing my own second dance this time. Dressed as Lara Croft and pull up an audience member and give them a lap dance.
What are you looking forward to the most with the Australian tour?
Having the chance to tour Australia doing what I love doing the most, dancing and being naked.
You recently toured America for Blackheart, how was that?
America was incredible. I would go back in a heartbeat. I loved waking up in a different state everyday I was there and meeting so many amazing people and just having a great time dancing on stage and hosting.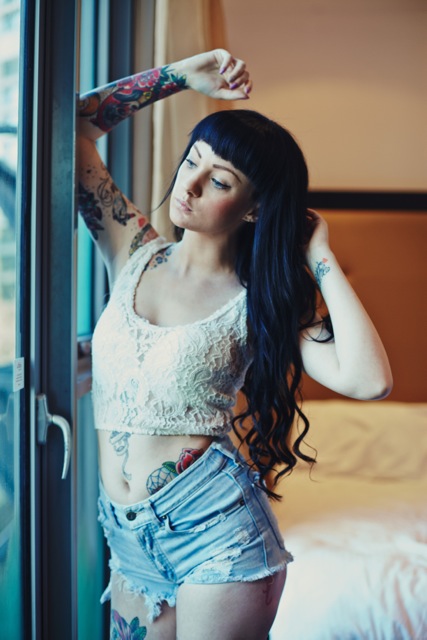 Tell us about you amazing tattoos?
I'm getting pretty covered nowadays haha, although no where near finished. I have so many I wouldn't even know where to being talking about them.
What is the significance of the open bird cage?
The birdcage is quite a funny story really. I have ornithophobia. Well, really it goes further than just birds, I don't like any animal with wings. I have a blue bird on the back of my arm where I can't see it to try to conquer the fear, and the open birdcage symbolises that as well as going further into the freedom of my life.
So why nude  modelling?
I'm comfortable with myself and I choose to model nude to also encourage others to see the beauty in the human form, no matter what size or shape you are. Its exactly what Suicide Girls is all about.
Tell us about your Clair De Lune photoshoot?
Clair De Lune was the Suicide Girls set that made me pink. I'm a "lone wolf" I spend 80% of my time alone. Hence why I wore the wolf costume. It was my debut set, since then I have had another set make it to "Set of the day" called Ascend. I honestly can not wait to shoot more sets this year.
What's your favourite game and why?
I'm literally a Sims freak. I have been since the original came out. I wouldn't be far off owning almost every single expansion. I just love creating my own worlds and building them up. I guess you could see that from my love of Alice in Wonderland. I love the idea of different worlds.
If our readers want to know about you, where can they find you?
You can find me on
Instagram, Twitter and Facebook- Vorpalsuicide
Tumblr- vorpalsuicide.tumblr.com
www.suicidegirls.com/girls/vorpal/
Thanks for your time Vorpal and all the best for your Blackheart Burlesque Tour in Australia!
The Blackheart Burlesque is touring in Australia during March 2014
Wed 12th – Melbourne – Billboard
Thu 13th – Adelaide – HQ
Fri 14th –Brisbane – Tivoli Theatre
Sat 15th – Sydney – Metro Theatre
Wed 19th – Perth – Astor Theatre
Australia. Tickets only $59 + bf available from metropolistouring.com and the venue.