Hardware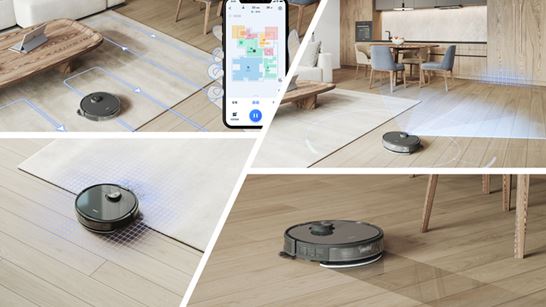 Published on March 2nd, 2022 | by Adrian Gunning
SUCTION AND SMARTS – NEW ECOVACS ROBOT VACUUM DESIGNED EXCLUSIVELY FOR AUSTRALIA LAUNCHES AT ALDI FOR UNDER $400
ECOVACS ROBOTICS, a global leader in home robotics innovation, has today announced the launch of the DEEBOT NEO, a new robot vacuum designed exclusively for Australian homes and part of this week's Special Buys catalogue at ALDI. Delivering a hands-free cleaning experience for those looking for ways to free up time from frustrating household chores, it is ECOVACS' most powerful robot vacuum yet at ALDI, featuring double the suction power of previous models and a range of other high end smart features including advanced mapping and mopping technology that can be fully customised and controlled from your smartphone. With an RRP of $799, it will be sold as part of ALDI's Special Buys for $399 while stocks last from March 9.
Now in its fourth year of collaborating with ALDI's Special Buys promotion, this is the first time ECOVACS has delivered a model especially designed for Australia, and its most powerful but cost-effective robotic vacuum in its current line-up. Its ability to both vacuum and mop at the same time depending on the surface makes it the perfect option for those looking to try a robot vacuum for the first time or add a second cleaner to their home. Featuring its revolutionary TrueMappingTM laser-based mapping and navigation technology traditionally seen in ECOVACS higher-end models and compatibility with the Auto-Empty Station, this model is a break-through in what is possible for the price.
"ECOVACS robot vacuums have been a popular part of our Special Buys program over the last three years and it's wonderful to see our Aussie shoppers responding each time with great enthusiasm. It is clear our customers enjoy not only saving money, but also freeing up time in the process with this technology!
We're very excited to be ECOVACS' retail partner in launching the new DEEBOT NEO, it offers a range of high-end features we haven't seen before at such incredible value." said Shay Stearnes, Buying Director, ALDI Australia.
"ECOVACS has been leading the charge in packing some incredible smart features into robot vacuums and changing people's perceptions in the process, and our work with ALDI has been an important part of this. As we continue to make our robot vacuums smarter, we are also challenging what is possible in its core functionality – suction power. The DEEBOT NEO is an all-round exceptional solution at an incredible price that offers impressive suction power, intelligent navigation and a suite of smart features to ensure a hands-free experience." said Karen Powell, Head of ECOVACS ROBOTICS ANZ.
"We hope with the innovation and work we continue to do with the DEEBOT NEO and our flagship models, we can prove to Australian families that you no longer need a traditional vacuum to get great suction power and an exceptional clean."
Challenging what is possible when it comes to suction power
During the design process, robot vacuum manufacturers are routinely challenged when it comes to how to maximise suction power without sacrificing other key features. One of the biggest of these challenges is space, given that a slim design is one of the other core factors adding to the products utility and appeal, enabling it to get underneath lower furniture, be nimble, and clean smaller spaces. Suction power therefore remains a core focus for ECOVACS research and innovation teams on an ongoing basis.
One important way ECOVACS ensures maximum suction power, is in placing importance on the stability of suction as well its strength. A powerful robot that lacks the ability to maintain its suction at a stable strength throughout the clean will not perform at an adequate level.
ECOVACS revolutionary pressure-retention system optimises energy, and its fan blades are reinforced with high-strength glass fibre rotating at up to 19,000RPM. The result is long-lasting pressure retention and stable suction power at up to 2600Pa – a 73% increase from ALDI's previously sold ECOVACS model. Combine this with the Floating Brush 2.0 which comes with the latest suspension and brush design, and the robot is able to sweep and vacuum dust from even deep cracks or gaps in flooring.
OZMOTM  mopping and vacuuming in one go
The DEEBOT NEO includes an electronically controlled water pump and water tank, and allows for mopping and vacuuming in a single pass. The OZMO™️ Mopping System can efficiently clean the whole house without the need for repeated stops to top up the water and remove over 99%2 of tested bacteria. When the mopping plate is installed, the DEEBOT will automatically turn on mopping mode and users can manually manage the water yield through the ECOVACS HOME app accordingly. If it encounters carpets while mopping, it will instantly detect and react by avoiding those areas so as not to wet them – if mopping mode is not on, it will automatically increase suction.
Mapping your home with twice the coverage, and four times the accuracy…
With TrueMapping laser-based mapping and navigation technology, floor maps are created in seconds. The DEEBOT NEO can intelligently navigate a user's home, choosing which rooms and floors to clean, and customising the optimum cleaning path for each respective floor.
TrueMapping uses dToF laser detection, doubling the distance recognition capabilities of previous ALDI models and with a four-fold improvement in object recognition. Detection distance is enhanced to 10 meters, with the ability to detect objects as small as 0.1 metres. Integrated with industry-leading algorithms, the DEEBOT NEO can scan, map, and plan an efficient cleaning path faster and with precision, a benefit enjoyed by those with larger homes. The Virtual Boundary™ function can be controlled via the ECOVACS Home App, allowing users to restrict the robot from entering and cleaning specific areas, if privacy is needed.
Other Key Features:
Compatible with Auto-Empty Station: Available separately from ECOVACS, the large volume of 2.5L can hold the dust and hair collected for up to 30 days, dramatically reducing the need to frequently clean the dustbin, so users can enjoy their home being cleaned for weeks with peace and ease.
Automatic charging and continuous cleaning: Even long cleaning paths are no problem for the NEO. If the battery is low, the robotic vacuum cleaner automatically returns to its docking station. As soon as it is fully charged, it continues cleaning the floor where it left off.
Mapping of several levels: Scan and store multiple maps of different floors of your home. The robot will customise its cleaning path once identifying which map it is in. You can also customize which room you'd like the robot to clean on each floor.
App control: You can use the app to conveniently control your robot from any situation and schedule a cleaning time or check the current cleaning status. Maps can be stored and individually adapted – with functions such as Virtual Boundary™, for example, which limits the robotic vacuum cleaner's operating area – or certain areas for individual cleaning tasks can be set.
Customised Cleaning: customise specific suction power, water flow and cleaning sequences for each room in the home
Smart Home Device Compatibility: Experience convenient, hands-off controls. If you are a Google Home or Amazon Echo user, by linking your smart home devices to your robot.
Stress free updates: The intuitive robot manages its own updates using 'Over The Air' technology. You can just update your APP to get the functions optimized and extended.
High Efficiency Air Filter: Breathe easy while your robot cleans. With its High Efficiency Filter, your robot will reduce airborne triggers while vacuuming.
Pricing and availability
The DEEBOT NEO is available at ALDI Australia from 9th March, for a limited time only at $399, while stocks last.