Hardware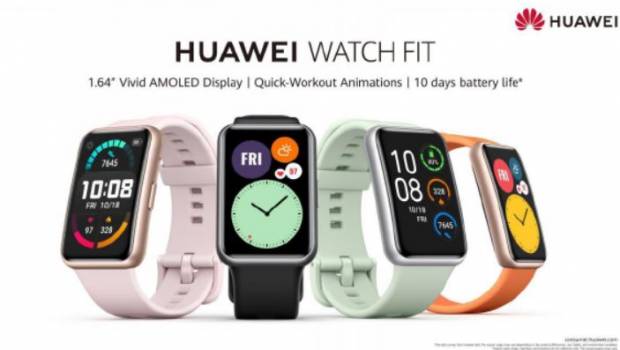 Published on September 11th, 2020 | by Alex Novus
Style up your fitness with the new HUAWEI WATCH FIT
Today at HDC 2020, Huawei announced the launch of its latest fitness watch, HUAWEI WATCH FIT. Huawei's first ever smart sports watch with a rounded rectangular face, the HUAWEI WATCH FIT encourages users to get into new forms of exercise through a variety of animated fitness courses, workout modes and scientific health tracking features. Offering unrivalled style, users will never want to take it off their wrists. Available in Australia from this month, Huawei's latest fitness watch ushers in a new era of smart wearables, challenging users to style up their fitness and reframe their outlook on their own performance and the world around them.
Reframe your fitness

In recent times, many consumers have been trying new forms of exercise. Whether pushing themselves to run long distances or experimenting with Yoga or Pilates, many people are starting a new fitness journey and need a smart companion to guide them along the way. The new HUAWEI WATCH FIT certainly delivers on this front, with intelligent features specifically designed to help users work out anytime, anywhere.
HUAWEI WATCH FIT is Huawei's first smartwatch to support an animated personal trainer covering 12 workout courses including 44 posture demonstrations. The individually animated fitness courses give users free one-on-one personal training without the need for a smartphone or any other device. Bite-sized strength training, abdominal workouts and other exercises can help users to exercise at home even if they are pushed for time. Additionally, 'stand up reminders' further encourage users to stay active, prompting them to move if they sit for longer than three minutes.
For those wanting to track their performance in detail, HUAWEI WATCH FIT supports 96 workout modes with advanced data tracking. 11 professional workout modes cover the most popular exercise types including running, walking, cycling, swimming and more. A further 85 workout modes, including fitness training, dancing, ball games, water sports, winter sports and extreme sports, ensure consumers are covered no matter how niche their athletic interests are. Users can easily select their favourite workout mode to record their performance, with the smart sensors detecting heart rate, heart rate interval, calories, exercise time and other data.
Reframe your health
Consumers are growing increasingly more conscious of their personal health data1. Many demand comprehensive health tracking features – and through heart rate, sleep, and blood oxygen saturation (SpO2) monitoring2, HUAWEI WATCH FIT offers exactly that.
1 All the features are designed neither for medical use nor diagnosing ,treating, curing or preventing any disease. All data and measurements should be used for personal reference only.
2 Oxygen saturation refers to the fraction of oxygen-saturated hemoglobin relative to total hemoglobin in the blood. This product is not a medical device, and is not intended to diagnose, treat, cure, or prevent any disease. Availability may vary by region.
Huawei's proprietary TruSeen™ 4.0 heart rate monitoring technology allows HUAWEI WATCH FIT to support intelligent background heart rate monitoring, displaying users' current resting heart rate in addition to an infographic showing how their heart rate changed over the last 24 hours. It also provides an abnormal heart rate alert function3, which notifies you when your continuous resting heart rate is too high or too low.
HUAWEI TruSleep™ 2.0 delivers sleep stage monitoring4, real-time heart rate monitoring, sleep respiration quality and big data analysis on the new HUAWEI WATCH FIT. The watch intelligently recognises when the user falls asleep and wakes up, using this data to present a comprehensive sleep analysis which shows the different stages such as light sleep, deep sleep, REM and wakefulness. Harnessing Huawei's AI technology, it can accurately identify six typical sleep problems including difficulty falling asleep, light sleeping, restlessness, early awakening, too many dreams, and an irregular work and rest schedule. Using this data and analysis, HUAWEI WATCH FIT provides hundreds of sleep improvement suggestions and personalised sleep services. Combined with a long-lasting battery life, users can track their sleep every night to improve their health.
Rounding off the comprehensive health tracking features, SpO2 monitoring, stress level monitoring and menstrual cycle management ensure users have all the data they need to keep their mind at ease. SpO2 monitoring helps you keep track of blood oxygen saturation, while stress level monitoring offers breathing exercises to help you relax and menstrual cycle management helps female users accurately grasp their physical state and predict their menstrual cycle.
Reframe your style5
HUAWEI WATCH FIT is Huawei's first ever smart sports watch with a rounded rectangular face. Measuring 1.64 inches, the large yet perfectly proportioned AMOLED HD display allows consumers to engage with the HUAWEI WATCH FIT's animated fitness courses and other unique features. With ultra-slim bezels, users can enjoy the dazzling and colourful display with minimal distractions.
3 This feature is not supported for iOS.
4 Availability may vary by region.
5 This data comes from Huawei labs
Weighing just 34g, the HUAWEI WATCH FIT has a light and sleek appearance which will complement any outfit. On-trend wrist strap colour options including Mint Green, Sakura Pink, and Graphite Black give consumers the power to express themselves as they mix and match their looks. The breathable strap design works in tandem with long-lasting battery life to ensure users can wear the new HUAWEI WATCH FIT for days or even weeks on end.
The customisation does not stop there, as HUAWEI WATCH FIT offers over 130 different watch face design options through Huawei's Watch Face Store. Users can personalise their watch faces with their own photo albums synced directly from their smartphones, and they can choose which data is on display according to their own needs. The always-on display offers six standby watch faces so users can tell the time at a glance.
HUAWEI WATCH FIT is the perfect smart sports watch to help you lead your own fitness revolution and will be available in Australia soon. Further details will be shared ahead of the local launch. All available visual assets as well as product information announced at HDC 2020 are available here.