Blu-ray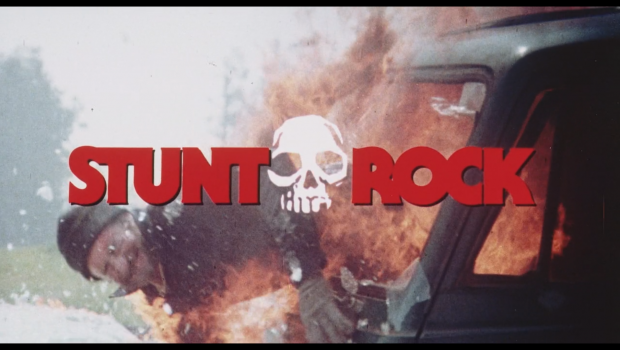 Published on January 2nd, 2022 | by Tim Chuma
STUNT ROCK (1978) (OZPLOITATION CLASSICS #8) BLU-RAY & COMIC REVIEW
Summary: Maybe one for big fans of Brian Trenchard-Smith and Grant Page. Everyone else check out Not Quite Hollywood and Man From Hong Kong first.
3
For the Grant Page super-fan
After working with Grant Page doing stunts on four of his films in the 1970s, Brian Trenchard-Smith decided to put together a star vehicle production for him to try and pitch him to the international market. He did manage to get the money together and a distributor, but only had a short amount of time to film it which meant he had to "go an get a band that you could find in a weekend" as he has said previously in the Not Quite Hollywood interviews.
It is true there is barely a plot here and is mainly a showcase of Grant Page's stunt work. Not sure why they didn't just do a documentary instead and pitch that? I understand there may have been some behind the scenes footage floating around but distributing it back in the 1970s was a lot more difficult and there wasn't something like YouTube or social media where you could easily share clips or a channel like Trailers From Hell or Corridor Digital where you could discuss various movies and grow your audience that way.
About the band Sorcery, I am not sorry but after the first song I found the extended musical numbers interminable as they really added nothing to the plot and the whole thing just stopped dead. I am not a music-hater by any means and used to go watch and photograph over 100 musical performances per year and I know enough to know when someone is taking the piss.
A lot of the special features here are from the DVD release that came out around the time of the release of Not Quite Hollywood. The expanded ones are from Mark Hartley going through his backup drives for more footage.
There are a couple of new things like the comic and in-conversation with the director and this would be the definitive version of this movie to get if you were collecting it. I can remember Brian Trenchard-Smith telling me at the time just to buy Not Quite Hollywood if that was all I could afford.
This would be great to put on for a showing with friends as you could have it on in the background for something to watch as it does not matter as much if you miss the dialogue as much as there is.
I would recommend this one to hard-core action fans who want the best version of this film and Brian Trenchard-Smith/Grant Page super fans. Everyone else maybe have a look at the other releases first and get this one later. I am looking forward to getting the Man From Hong Kong and Death cheaters.
Trailers from Hell with Brian Trenchard-Smith
Film details:
Director: Brian Trenchard-Smith
Writers: Paul-Michel Mielche Jr., Brian Trenchard-Smith
Starring: Grant Page, Monique van de Ven, Margaret Gerard, Richard Blackburn, Ron Raley, Chris Chalen, T.J. Shaner, Barbra Paskin, Lawrence D. Feinberg, Barbara S. Edelstein, Douglas Farren, Phil Hartman, Jeff Michalski, Yana Nirvana, Bob Perlow, Francine Selkirk, Rick McCullough
SORCERY
Paul Haynes – King of the Wizards
Curtis Hyde – Prince of Darkness
Greg Magie – Lead Singer
Smokey Huff – Lead Guitar
Richie King – Bass Guitar
Perry Morris – Drums – Sorcery
Doug Loch – Keyboards
Distributor: Umbrella Entertainment
No. of discs: 1
Running time: 91mins
Audio format: 2.0 DTS-HD MA
Region: ALL
Format: 1080P
Colour: COLOUR
Languages: English
Aspect ratio: 16:9
Subtitles: English HOH
Year of Production: 1978
Release Date: 17/11/21
Extras:
ALL NEW – 16-PAGE COMIC BOOK ADAPTATION BY DARK OZ (LIMITED TO 3,000 COPIES)
ALL NEW – THE ULTIMATE RUSH: A CONVERSATION WITH BRIAN AND MARGARET TRENCHARD-SMITH
EXTENDED INTERVIEWS FROM NOT QUITE HOLLYWOOD WITH DIRECTOR BRIAN-TRENCHARD-SMITH AND ACTOR/STUNTMAN GRANT PAGE
2008 AUDIO COMMENTARY WITH DIRECTOR BRIAN TRENCHARD-SMITH AND CAST MEMBERS GRANT PAGE AND MARGARET TRENCHARD-SMITH
2008 AUDIO COMMENTARY WITH DIRECTOR BRIAN TRENCHARD-SMITH, PRODUCER MARTY FINK AND ACTOR RICHARD BLACKBURN
2009 INTRODUCTION TO THE FILM
2009 INTERVIEWS – BRIAN TRENCHARD-SMITH, SMOKEY HUFFS AND MARTY FINK
2009 AUDIO INTERVIEW WITH SORCERY DRUMMER PERRY MORRIS
BRIAN TRENCHARD-SMITH'S ALAMO DRAFTHOUSE APPEARANCES
CANNES PROMO REEL
ALL NEW – BRIAN TRENCHARD-SMITH TRAILER REEL
HD THEATRICAL TRAILER
TRAILERS FROM HELL WITH COMMENTARY BY BRIAN TRENCHARD SMITH